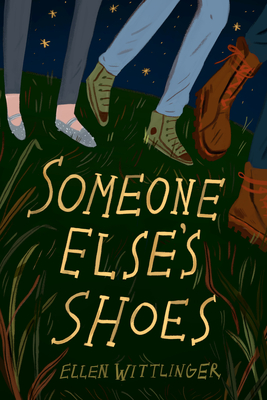 Someone Else's Shoes (Hardcover)
Charlesbridge, 9781580897495, 304pp.
Publication Date: September 11, 2018
* Individual store prices may vary.
Description
Tackling issues of suicide, depression, divorce, and step-parenting with warmth, sensitivity, and even humor, Someone Else's Shoes chronicles a road trip across the Northeast that unites three young people in search of family and acceptance.

Twelve-year-old Izzy, a budding stand-up comic, is already miserable about her father's new marriage and the new baby on the way. Then ten-year-old cousin Oliver and his father, Uncle Henderson, move in with Izzy and her mom because Oliver's mother committed suicide only a few months ago. And to make matters worse, Ben, the rebellious 16-year-old son of Izzy's mother's boyfriend, winds up staying with them, too.

But when Uncle Henderson--who has been struggling with depression after his wife's suicide--disappears, Ben, Izzy, and Oliver set aside their differences and hatch a plan to find him. As the threesome travels in search of Henderson, they find a surrogate family in each other.
About the Author
Ellen Wittlinger is the author of fifteen YA and middle-grade novels. Her novel Hard Love won both a Printz Honor Award and a Lambda Literary Award. Her books have been on numerous ALA Best Books lists, Bank Street College of Education lists, and state award lists. Wittlinger has taught at Emerson College in Boston and in the Simmons College Writing for Children MFA program. Ellen is also the author of Saturdays with Hitchock and Parrotfish. She currently lives in Haydenville, Massachusetts.
Praise For Someone Else's Shoes…
Izzy is a 12-year-old surrounded by loss. Her parents are divorced and her aunt recently committed suicide, leaving her Uncle Hen barely able to take care of himself, let alone his son and her younger cousin, Oliver. Oliver quickly becomes Izzy's responsibility. As if that wasn't enough, her mother is dating a dentist with an intimidating and possible criminal on and her father is remarried with a new family. While trying to help Oliver deal with his feelings, she learns it is not good to keep emotions bottled up. The characters are well developed and all struggle throughout the book with figuring out the "right" thing to do. VERDICT: Tweens who enjoy emotion-heavy realism will relate to Izzy and enjoy this title.
—School Library Journal

Izzy knows she's got to look out for her little cousin after his mom's death, but what about how this sucks for her? After Oliver's mom killed herself six weeks ago, Oliver and his dad moved into Izzy's house. Uncle Henderson is sleepwalking through life, though, and Oliver is super needy. Izzy loves her fifth-grader cousin and wants to protect him, but it's hard to be 12 and have someone she regards as a little kid tagging along. She means to be good, but she's coping with too much: her parents' divorce, her dad's impending baby, and her two best friends' interest in boys and popularity. Then her mom's dentist boyfriend has a family emergency, so his scary 16-year-old son needs to spend a few days in Izzy's basement. Izzy's heard horror stories about Ben Gustino, with his scary tattoos and his clompy boots. Oliver even likes Ben better than he likes Izzy, the little traitor. The sudden crisis bringing these three struggling outcasts together follows predictable patterns, but their journey—complete with a new, Big Bird hairstyle for Izzy and a car theft—leads to a satisfying if tidy catharsis. Izzy's desire to become a stand-up comic is a nice touch, though her obsession with Jerry Seinfeld and Melissa McCarthy adds reliance on cultural references that won't necessarily be common among young readers. The book adheres to the white default. An undemanding family drama.
—Kirkus Reviews

This middle grade book by Printz Honor author Wittlinger (Saturdays with Hitchcock) shows the grief, anger, and outright havoc that suicide can leave in its wake. Twelve-year-old narrator Izzy, an aspiring comic, feels low about her father's new marriage and impending baby, but that's nothing compared to her 10-year-old cousin Oliver's devastation after his mother commits suicide. Oliver and his father move in with Izzy and her mother in the aftermath; they are soon joined by Ben, the tough 16-year-old son of her mother's boyfriend, who needs a place to stay. Izzy and Ben's relationship is combative, but Oliver, whose father is barely functioning after his wife's death, immediately takes to Ben, and when Oliver's father disappears, the three embark on a road trip to find him that brings them together. The book, which starts slow, picks up speed as the trio perseveres despite limited funds and other setbacks, and Wittlinger's realistic portrayal of loss makes for a satisfying ending as the three build on their connection.
—Publisher's Weekly

Twelve-year-old Izzy lives with just her mom, until her cousin Oliver and uncle Henderson come to stay. Since his mother's recent suicide, 10-year-old Oliver has watched with quiet dread as his father sinks further into grief and depression. Meanwhile, 16-year-old Ben, the son of Mom's boyfriend, joins the household for a while, to Izzy's dismay. But gradually she notices that his harsh words and wild reputation are balanced by unexpected kindness towards Oliver and, increasingly, practicality and insight. When Henderson disappears and Oliver figures out his probable destination, Izzy and Ben put aside their differences and take the boy on an unsanctioned road trip to find his father. Wittlinger, whose novel HardLove (1999) was a Printz Honor Book, creates a cast of well-drawn characters whose personalities, emotions, and interactions drive the story. The writing is lit with lines such as, "Izzy tried to return his stare, but his anger sliced her like a knife," and "Sixteen in human years . . . a lot older in divorced parent years." The absorbing story of a girl growing up and moving beyond clichéd expectations to broader understanding.
—Booklist