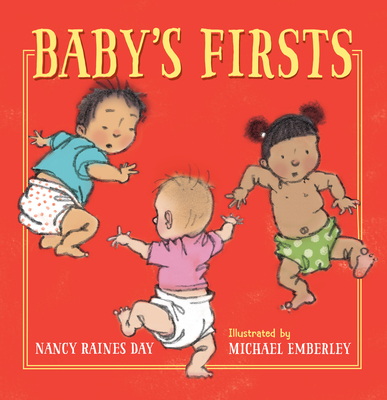 Baby's Firsts
Hardcover

* Individual store prices may vary.
Description
Endearing rhyming text highlights the developmental milestones babies encounter before their first birthday--crying, smiling, eating, teething, rolling, crawling, walking, and talking.

Join the celebration as three babies, encouraged by their families, grow more and more active, culminating in a birthday celebration for all the kids.
Praise For Baby's Firsts…
A joyful, poetic celebration of tiny moments in babies' lives. This isn't the first picture book to revel in babyhood, but in many ways it's a refreshing addition to the nursery shelf. Its striking red cover with gold foil display type acts as a visual departure from the pastel pinks, blues, yellows, and greens that dominate all things baby, and its inclusive depiction of three families of different races makes it feel, if not like a first, then like it's keeping up with the times (though it would've been even nicer to see a two-mom or two-dad family included). From the first, Day's verse has the appeal and feel of an original nursery rhyme: "First cry. / First meal. / First burp. / Warm feel." Emberley's accompanying pencil-and-digital illustrations are gorgeously human in their depictions of parents caring for their babies. A few spreads (two of babies in sequences rolling, creeping, and crawling; then the closing birthday party scene) seem like direct references to Marla Frazee's illustrations in Everywhere Babies, by Susan Meyers (2001). Those familiar with Emberley's work in Robie Harris' books about bodies and sexuality will see here, too, his efforts to depict varied body types, along with a realistic, rather than idealized vision of early parenthood. Though the babies are endlessly appealing, their obviously adoring parents are also tired and exasperated sometimes. An excellent first book for baby—and parents, too.
—Kirkus Reviews

Day focuses on the new experiences of babies and their parents during the first 12 months of life. The title starts in the hospital when a mom holds up her naked little boy with his dad standing next to her and covers other milestones like the first burp, change, and laugh. Text and illustrations work well and show moms and dads taking care of babies. For example, there is a page with text that says, "First meal." On one page, a mom is breastfeeding her child. On the opposite page, a dad feeds his baby with a bottle. Expressive cartoon artwork conveys the joy and exhaustion of being a new parent. In the illustration where the baby is on the lap, the parents are in bed with mom fast asleep, while dad stays next to her entertaining the wide-awake baby. VERDICT: This title will have an audience in public libraries because of its universal theme. Sure to be a staple in baby storytime.—School Library Journal
Charlesbridge, 9781580897747, 32pp.
Publication Date: September 4, 2018
About the Author
Nancy Raines Day made a wish on pennies in a wishing well to become a writer, and ten years later, her first picture book came out. She and her husband live on an island, where she thinks up ideas while walking on the beach and swimming in the ocean. Baby's Firsts is her ninth picture book.

Michael Emberley has been writing and illustrating children's books since 1979 and is perhaps best known as the illustrator of Robie H. Harris's books on human sexuality: It's Perfectly Normal, It's So Amazing, and It's Not the Stork. He has a sister and father (Rebecca and Ed) who also make children's books, and a wife (Marie-Louise), who also writes and illustrates children's books. www.michaelemberley.com