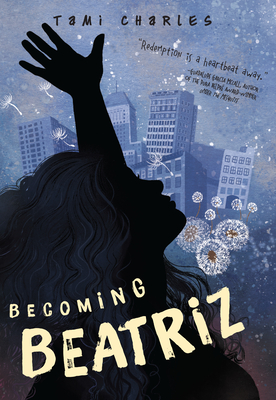 Becoming Beatriz
Hardcover

* Individual store prices may vary.
Other Editions of This Title:
Digital Audiobook (9/16/2019)
Paperback (1/11/2022)
Description
"A compelling read about the quest for fame!"
      —Debbie Allen, star of Fame

"Redemption is a heartbeat away."
      —Guadalupe Garcia McCall, author of the Pura Belpre Award winner Under the Mesquite

Beatriz dreams of a life spent dancing--until tragedy on the day of her quinceañera changes everything.

Up until her fifteenth birthday, the most important thing in the world to Beatriz Mendez was her dream of becoming a professional dancer and getting herself and her family far from the gang life that defined their days--that and meeting her dance idol Debbie Allen on the set of her favorite TV show, Fame. But after the latest battle in a constant turf war leaves her brother, Junito, dead and her mother grieving, Beatriz has a new set of priorities. How is she supposed to feel the rhythm when her brother's gang needs running, when her mami can't brush her own teeth, and when the last thing she can remember of her old self is dancing with her brother, followed by running and gunshots? When the class brainiac reminds Beatriz of her love of the dance floor, her banished dreams sneak back in. Now the only question is: will the gang let her go?

Set in New Jersey in 1984, Beatriz's story is a timeless one of a teenager's navigation of romance, her brother's choices, and her own family's difficult past. A companion novel to the much-lauded Like Vanessa.
Praise For Becoming Beatriz…
♦ It's 1984, and 15-year-old Beatriz Mendez knows there is a rule she cannot break: "blood in, blood out." Members of the Diablos, a Puerto Rican gang in her neighborhood of Newark, N.J., get jumped as initiation--and leaving the gang usually means being killed in the streets. Beatriz's older brother, Juan "Junito," is the leader of the Diablos; when he and Beatriz are attacked by the Haitian Macoutes, a rival gang, Junito is gunned down and Beatriz is beaten. Having watched her brother die, Beatriz's priorities shift drastically. Her dream of becoming a dancer like Debbie Allen is put on hold as the pressure to return to the gang builds--"time to start thinking 'bout getting back in the game, princesa"--forcing her to think about the street violence in which she has taken part.
With Junito gone, the Diablos' new leader, DQ, has big plans to up the ante in the fight against the Macoutes. As Beatriz tries to break ties with the Diablos, and begins a friendship with a new boy at school named Nasser, someone starts leaving her photographs with mysterious messages written in Creole. Slowly losing the trust of the Diablos, with the danger of being jumped by the Macoutes at every turn, Beatriz is torn between finding a form of safety in her old life and escaping violence by embracing her love of dance. 
Tami Charles's beautifully written follow-up to Like Vanessa creates a believable character in Beatriz, one with an intensity of spirit likely to draw in fans of Elizabeth Acevedo and Tiffany D. Jackson. With its realistic portrayal of life in Newark in the 1980s, Charles's author's note reveals the parts of her own life that inspired Beatriz's story. —Clarissa Hadge, bookstore manager, Trident Booksellers & Cafe, Boston, Mass.
Discover: In this rhythmic teen read, after witnessing her brother's death, 15-year-old Beatriz must choose between her life as a gang member or moving forward to a life without violence as a dancer.
—Shelf Awareness, starred review

♦ In a city where "cocaine is king," can a teenage gang leader dare to dream of another life? Newark, New Jersey. 1984. Beatriz Mendez and her older brother, Junito, lead the powerful Latin Diablos gang. Everything changes on Beatriz's 15th birthday when a Haitian gang leaves Junito for dead and Beatriz badly injured. A Like Vanessa (2018) spinoff, this page-turner opens dramatically with a visceral fight scene that introduces a fierce protagonist. Beatriz is a Spanglish-speaking Puerto Rican badass with "a blade tucked inside [her] cheek…to use on anybody who tries to step." In the aftermath of Junito's death, Beatriz struggles to maintain her standing as a Diabla, raise her grades (mostly D's and F's), and support her grief-stricken zombie of a mother. Though "dancing ain't gonna pay the bills," she allows her childhood dream of becoming a dancer to glimmer through her tough exterior each week when watching her favorite TV show, Fame. Told in the first person, this narrative is full of passion and humor, with flashbacks rooted in Beatriz's beloved salsa music. Realistic newsprint clips effectively add context. A friendship/romance with a new boy contributes depth while avoiding predictability. As Beatriz transcends her trauma and self-doubt—"No such thing as a gangbanger turned famous dancer"—readers experience a necessary portrayal of a young Afro Latina woman who makes her own path, one that isn't straightforward, told in an extremely realistic voice. Inspiring and fresh.                   —Kirkus Reviews, starred review

Fifteen-year-old Beatriz Mendez lives a split life between school and gang life, caring for her mother and enforcing gang rules, dancing with an attractive Haitian boy, and carrying a razor blade tucked in her cheek. Set in the 1980s, Tami Charles's gritty Becoming Beatriz shows Beatriz's limited choices and the strength she finds to create new ones.
Beatriz, her brother Junito, and her mother leave Puerto Rico for New York City to escape her father's abuse. Junito turns to dealing to augment the scarce income from their bodega. He forms and heads a gang, the Diablos, which leads to his death in the book's opening pages. His mother's grief renders her a vague, emotionally absent character. The dancing that once defined Beatriz now feels worlds away.
Beatriz is also in New York at a time when Fame was at its height and Debbie Allen served as the toughest taskmaster every dancer ever wanted. The only remaining bond between Beatriz and her mother is the television show, and the power of hope that is defined within it is evoked by the plot. Tryouts come to the city, and Beatriz is lured back to dance. But gang life—blood in, blood out, the trap set for Beatriz with her gang initiation at twelve—still looms.
Beatriz is an intense lead, fully aware of the fact that the people and things that she loves could destroy her. Her narration is sympathetic, even through difficult events. She wriggles through narrower and narrower choices, always striving to find another way. In the tough and hopeful Becoming Beatriz, gangs and hatred can destroy families from the inside out, but talent and grit help people to heal and rise.
—Foreword Reviews

It is the mid-1980s and Beatriz worships the TV show Fame. Her mom brought Beatriz and her brother, Junito, to New Jersey from Puerto Rico to escape their abusive father who particularly targeted Junito for not being masculine enough. Beatriz dreams of dancing professionally like her inspiration, Debbie Allen, but when Junito is murdered by Haitian gang leaders, she steps up her involvement with the Diablos, their Newark gang. A Shakespearean twist brings the beautiful and nerdy Haitian Nasser into Beatriz's life. Nasser's multifaceted brilliance inevitably wins Beatriz's heart and leads her back to her passion and commitment to music. Family and school dynamics are spot-on as authority figures range from completely clueless to vitally aware. The language is improbably tame at times for a girl who conceals a razor blade in her cheek every day, but the accurate and immersive '80s music, fashion, and historical references outweigh these scattered lapses. Some of the Spanish dialogue is defined by context, but English monolingual readers may need to translate a few phrases or miss out on details. Similar to The Hate U Give, this book offers readers painful and intimate experiences with injustice through an intensely effective first-person narrative. VERDICT Compelling romance with insightful commentary on racial, cultural, and LGBTQ discrimination alongside the realistic depiction of gang dependency and its impact
—School Library Journal

Beatriz, first introduced in Charles' Like Vanessa (2018), wanted to dance and become famous for it, until the day of her fifteenth birthday, when a rival gang drove by her family's bodega and murdered her brother, Junito. He'd been the head of the Diablos, and Beatriz a blossoming Diabla, though she still harbored her dreams of meeting Debbie Allen and making her Fame dreams come true. After her brother was taken from her, though, she stopped dancing. It takes her a year of floating along with the Diablos and trying to do what she thinks Junito would have wanted before she goes back to dreaming and, ultimately, becoming whom she was meant to be. Though the situations and story line are heavy, and the average modern reader might not easily relate to a gang in the '80s, Beatriz's often funny, descriptive first-person narrative is a welcoming avenue into her story. Readers with diverse backgrounds will feel at home with Beatriz's identities as Latina, Black, and American, and everyone will be cheering her on, right up until the satisfying, heartwarming end.                                                                                                         —Booklist

At 15, Puerto Rican Beatriz Mendez has been a Diabla for three years, but the death of her older brother, Junito, at the hands of a Haitian rival gang and the increased pressure to prove her loyalty lead her to question the criminal, often violent path she's accepted as inevitable. Charles creates a vivid sense of time and place in her second novel, set in Newark, N.J., in the 1980s. Beatriz's talent for dance leads to the chance to audition for her favorite television show, Fame. This opportunity, along with the consequences of her brothers untimely death, challenge her to make difficult choices about her present in order to become who she's meant to be, regardless of expectations from her fellow Diablos, her tight-knit family, and larger society. Her growing friendship and attraction to Nasser, a new classmate of Haitian descent, and her kinship with Fame's Debbie Allen are meaningful additions, providing outside perspectives into what Beatriz considers an inescapable, normal lifestyle. A memorable portrayal of an ambitious young woman whose growing  belief in her won skill and worth allow her to reach beyond her current circumstances.
—Publishers Weekly

Charles presents the story of an Afro-Puerto Rican teen, Beatriz Mendez, who is torn between her own desire to be a dancer and the expectations of her blood and chosen families in mid-1980s New Jersey. After the gang-related murder of her brother, Junito, Beatriz feels responsible for taking on his role as leader of the Diablos gang. Failing in school and dealing with her mom's sadness, Beatriz sets aside her love for dance. however, when her favorite TV show, Fame, announces a casting call for extras, Beatriz must try to balance her "gang life" with her "dance life." Can she navigate between the two, or will she finally be honest with herself and choose to follow her dreams? Through Beatriz's voice, Charles presents a strong, smart, and sometimes snarky teenager who is trying to gain control of her choices, to finally become her true self; and whose family has encountered abuse and injustice and developed mechanisms of survival. Integral to the story are explorations of drugs and addiction and their impact on Black and Latinx communities; machismo and homophobia in Puerto Rican communities; and media and dreams as ways to escape one's realities or to find new ones. An author's note and information about gangs and the 1980s drug epidemic, Debbie Allen (dancer, choreographer, and star of Fame), and ACT-SO (Afro-Academic, Cultural, Technological, and Scientific Olympics) are appended.
—The Horn Book
Charlesbridge Teen, 9781580897785, 272pp.
Publication Date: September 17, 2019
About the Author
Tami Charles is a former teacher and full-time author of picture books, middle grade and young adult novels, and nonfiction. As a teacher, she made it her mission to introduce her students to all types of literature, but especially diverse books. While it was refreshing to see a better selection than what she was accustomed to as a child, Tami felt there weren't nearly as many diverse books as she'd hoped for. It was then that she decided to reignite her passion for writing. Tami is the author of the middle grade novel Like Vanessa (2018) and the picture book Freedom Soup (Candlewick Press, 2019).
1. "Un secreto entre de dos, se quede entre los dos. Pero un secreto entre de tres, sabe todo el mundo." "A secret between two can stay secret—but a secret between three, the whole world knows." What do you think of this saying? Is it possible for more than two people to share a secret? Why or why not?
2. Discuss Junito's secret. Given the historic and cultural setting, what would happen if his secret was revealed?
3. Beatriz is certainly attracted to Nasser, but what else does he represent to her?
4. When truths begin to reveal themselves to Beatriz, her world shatters a little bit. But she still has dance. Would you call that an escape or a destination?
5. Throughout this book, faux newspaper articles are reproduced in the pages, giving a media perspective on the events of Beatriz's life. What do you notice about the tone, format, and scope of these articles? How do they paint a different or similar portrait of Beatriz's life compared to her own words?
6. Each flashback scene is formatted like a track in a music album (Track Five: Dance of the Rumba, December 8, 1983, for example). What does this say about the relationship between music, memory, and history?
7. Writing is an important part of Mami's healing process. What do you think of the difference between her poems and Beatriz's poems? Is there anything about Mami's writing that surprises you? Why or why not?
8. Becoming Beatriz opens with a violent episode. What do you think about how this sets the tone and pace of the story?
9. Why does Beatriz refuse to tell the police about what happened with Junito and the Macoutes?
10. "Two feelings break out in a war—hate and loyalty. And honestly, I can't shake either." Discuss this phrase: What is Beatriz's mindset when she thinks it? How does it resonate with your own life?
11. Discuss Beatriz's adult role models. Does she have strong relationships with them? Why does Beatriz resist connection with the adults in her life?
or
Not Currently Available for Direct Purchase