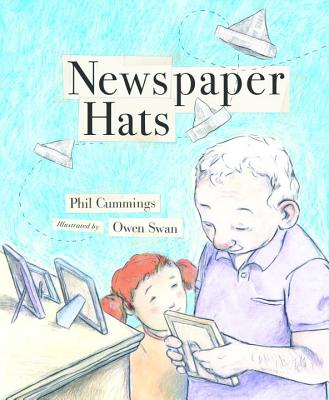 Newspaper Hats
Hardcover

* Individual store prices may vary.
Description
A touching, age-appropriate and uplifting story about a loved one with Alzheimer's disease.

Georgie visits her Grandpa at the retirement home where he lives, but he doesn't always remember who she is. Georgie sits with him as he sifts painstakingly through his remaining memories, finding points of commonality and companionship, until they come to a memory of her—and of newspaper hats, which Grandpa still remembers how to make! Together, they fold enough for all his friends.

Touching moments in this beautifully-illustrated book portray the difficulties and nuances of memory loss from a child's perspective, and an uplifting ending leaves readers with hope. A poignant and age-appropriate story about a loved one with Alzheimer's disease.
Praise For Newspaper Hats…
A little girl adds a touch of familiarity to her grandfather's world during a loving visit to his nursing home. Grandpa's memory loss is a concern for Georgie, who continually asks him "do you remember me?" Content to reread his pile of old newspapers, Grandpa seems to recall only his earlier life, marked by the photographs in his room. His memories of warm, buttered bread with honey or of a more frightening time in the Army are some of his most vivid. One photograph of Georgie wearing a newspaper hat sparks a memory of folding paper hats, something he acknowledges he remembers how to do. Together they make hats and pass them out to some of the other residents who are enjoying the home's garden, and when the wind blows Grandpa's hat away, he remembers how to make another one. Soft, pale watercolors and pencil drawings reflect both a fading memory and the tender joy a granddaughter can provide through a shared activity. Endpapers covered with newspaper clippings bearing iconic headlines of the last half of the 20th century indicate, for adult readers, what this elder has known. Georgie, Grandpa, and the other characters are all depicted with pale skin. This gentle, brief, and touching story introduces the challenges of interacting with a family member living with dementia and will spark some discussion for families in this situation.
- Kirkus Reviews

Georgie and her dad visit Grandpa, but she is not certain that he will remember her. Together, they look through old photos, and Grandpa recounts memories, but he still cannot remember Georgie. A love of making paper hats keeps the man and his granddaughter connected, despite his struggles with memory. In this title, an award-winning Australian author tackles the confusion and sadness of Alzheimer's disease and other forms of dementia from a child's perspective. There is no mention of the actual conditions, but by sticking to concepts that young children are beginning to understand, Cummings creates a very accessible story. Swan's soft watercolor and pencil illustrations help emphasize the theme of memory, from Grandpa's photos to the very detailed newspapers throughout the tale. At the end of the story, Grandpa loses his paper hat to a gust of wind. Although Georgie tries her best to retrieve it, she cannot—just like grandpa's memories. Despite the lost hat, Georgie has hope that they can make a new one together. The last section highlights Cummings's sensitive take on a difficult subject, especially for children. VERDICT This is a must-buy picture book that any family with young children and a relative with Alzheimer's or dementia would appreciate reading. Due to the subject matter, this would be best shared one-on-one.
—School Library Journal
D
Charlesbridge, 9781580897839, 32pp.
Publication Date: October 11, 2016
About the Author
Phil Cummings has written more than sixty books for children. His novel TAKE IT EASY, DANNY ALLEN (Pan Macmillan Australia) was a Children's Book Council of Australia Notable book. He lives in Adelaide, Australia.
or
Not Currently Available for Direct Purchase