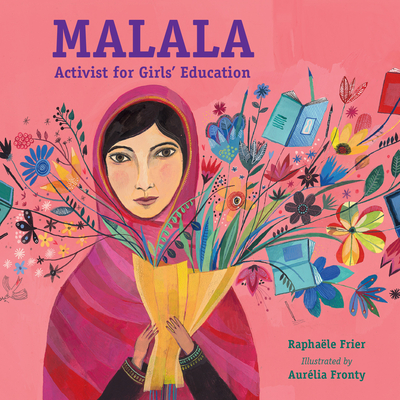 Malala (Hardcover)
Activist for Girls' Education
Charlesbridge, 9781580897853, 48pp.
Publication Date: February 7, 2017
* Individual store prices may vary.
Description
Malala Yousafzai stood up to the Taliban and fought for the right for all girls to receive an education. When she was just fifteen-years old, the Taliban attempted to kill Malala, but even this did not stop her activism. At age eighteen Malala became the youngest person to be awarded the Nobel Peace Prize for her work to ensure the education of all children around the world.

Malala's courage and conviction will inspire young readers in this beautifully illustrated biography.

Batchelder Award Honor Book

"A realistic and inspiring look at Malala Yousafzai's childhood in Taliban-controlled Pakistan and her struggle to ensure education for girls" — Kirkus Reviews

"Surpasses [similar books] in contextual scope" — School Library Journal

"A solid introduction to the Nobel Peace Prize winner"— Publisher's Weekly
About the Author
Raphaëlle Frier is an elementary school teacher. She has written fourteen books for children, including The Ogre and Maguerite (Talents Hauts) and Room with a View (Thierry Magnier). Raphaëlle lives in France.

Aurélia Fronty attended the Duperré School of Applied Arts in Paris. Aurélia has illustrated many books for children including Wangari Maathai: The Woman Who Planted Millions of Trees and I Have the Right to Be a Child (Groundwood). She lives in France.
Praise For Malala: Activist for Girls' Education…
A fight for girls' education. Opinionated, vocal, and resilient, Malala Yousafzai stood up for herself and for girls everywhere when the Taliban destroyed schools in her native Pakistan. Striking illustrations, evocative of the Pakistani landscape and of Malala's own hopes and dreams, show Malala and her world in intricate and colorful detail, while straightforward text depicts her childhood and family life in the mountains and valleys of Pakistan and describes the growth of her determination to improve opportunities for girls in her own country and elsewhere. The Taliban's assassination attempt is dealt with sensitively and honestly, with a focus on her ultimate recovery and return to work as an outspoken advocate for children, girls, and education. Children will find much to be inspired by and empathize with here, from Malala's warm and supportive family, her stalwart belief in doing what is right, her concern for the lives of others and her determination to help them, and her own words: "One child, one teacher, one pen, and one book can change the world." Extensive notes and photographs are included in the backmatter, as well as a timeline, map, and further reading. A realistic and inspiring look at Malala Yousafzai's childhood in Taliban-controlled Pakistan and her struggle to ensure education for girls.
- Kirkus Reviews

Most recent biographies of Malala Yousafzai are for early readers. This French import stands out for its vivid, naive illustrations, its present-tense narration, and the pages that stress Yousafzai's ongoing, post-Nobel efforts to bring education to girls in other nations. The paintings and folk designs are bright and positive, and the shooting scene is depicted sensitively. Translator Cormier's clear text uses mostly simple sentences and vocabulary. Five spreads (with photos and a map) at the end provide excerpts from Yousafzai's speeches and writing, her inspirations, a time line, short reading list, and additional information about girls' education in Pakistan and elsewhere. Initially, the Taliban is called "a violent group." Only in the back matter is Islam briefly mentioned, along with Yousafzai's rejection of fundamentalism. The book does not present her as a victim and emphasizes her family's support and the help she received from others: she isn't fighting cultural traditions alone. VERDICT Although similar to Rebecca Langston-George's For the Right to Learn: Malala Yousafzai's Story and Karen Leggett Abouraya's Malala Yousafzai: Warrior with Words, this work surpasses them in contextual scope.
—School Library Journal

In a clear, measured narrative, smoothly translated by Cormier, French author Frier (Angela and the Cherry Tree) details Malala Yousafzai's childhood in Pakistan and the events that drove her to become an activist. Encouraged by her father, who ran a school for girls, Yousafzai pursued knowledge and autonomy, yet her education was threatened by a 2008 Taliban ban on girls attending school. A vivid energy suffuses Fronty's vibrant folk-naive artwork; when Yousafzai is eventually shot during a bus ride home from school, Fronty shows the gunmen in silhouette and gunfire exploding around her in a halolike burst. Substantial back matter includes a timeline of Yousafzai's life, contextual information about Pakistan, and details about other major humanitarian figures, including Gandhi and Mandela. Though not the only picture book biography of Yousafzai available, this is a solid introduction to the Nobel Peace Prize winner.
—Publishers Weekly

In this vibrant picture-book biography, translated from the French, Malala Yousafzai's courageous story is retold in considerable detail, with nuances and illustrations that highlight the salient people and places in her life. The now-familiar account of a father who defied tradition by wanting his daughter to have the same rights as his son is expanded to provide a view of Mingora, Pakistan, which possesses great natural beauty (snow-capped mountains, waterfalls, orchards) and a cruel patriarchal social order that forces young girls into marriage and denies them basic civil rights. The story covers Malala's early activist years, the shooting, her recovery, her speech at the UN, and subsequent efforts to speak up for girls around the world since she was awarded the Nobel Peace Prize. If the narrative sometimes feel stiff, it is softened by Fronty's gorgeous illustrations. Highly stylized and rich in detail, texture, and color, they suffuse Malala's life with beauty. Back matter about Malala, Pakistan, girls' education, and more supplements this lovely biography.
—Booklist Online