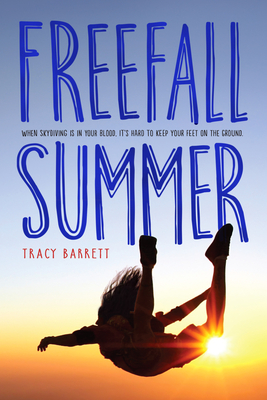 Freefall Summer
Hardcover

* Individual store prices may vary.
Other Editions of This Title:
Paperback (1/2/2080)
Description
Fans of Sarah Dessen and Gayle Forman's emotionally-charged novels will laugh and cry with Clancy Edwards as she learns about taking chances and letting go during one unforgettable summer at her family's skydiving drop zone.

Sixteen-year-old Clancy Edwards has always been "the good girl." Ever since her beautiful, daring mother died in a skydiving accident, Clancy's father has watched her like a hawk. Between her dad's rules and her boyfriend's protectiveness, she's longing for an escape.

Then Clancy meets Denny, a college freshman and new skydiving student at the drop zone where she works. Clancy lets him think she's the same age. But the lies snowball over the summer, and suddenly Clancy isn't the person she wants to be. If only making choices were as simple as taking a leap out of a plane. Before Clancy can make things right, one last act of rebellion threatens her chance to do so--maybe forever.
Praise For Freefall Summer…
Clancy, 16, lives alone with her very protective father who owns and teaches at a skydiving school, the Drop Zone. Her mother died in a freak skydiving accident 10 years ago while practicing with her exhibition team. Clancy is very focused on school, but when she is not studying archaeological digs or packing parachutes at the DZ, she spends her free time with best friend Julia and her boyfriend, Theo. He is the classic "overbearing boyfriend" who thinks Clancy is a wilting flower. When Theo unexpectedly goes away for the summer and a very interesting college boy starts frequenting the DZ, Clancy is torn between her current, comfortable, life and a future of freedom that seems closer than ever. Clancy feels constrained by her present situation but has to confront her past before she can move forward in her life. The plot is greatly influenced by the personal and political landscape brought to light by the Gamergate controversy and the #MeToo movement. There is personal hardship, adventure and adrenaline, as well as romance (there is a heavy petting scene, but it is tame enough for an older middle schoolers). This classic coming-of-age story begs to be advertised for summer reading. VERDICT Hand it to fans of Cecil Castellucci's Don't Cosplay with My Heart and anything written by Sarah Dessen.–School Library Journal
Charlesbridge Teen, 9781580898010, 272pp.
Publication Date: April 3, 2018
About the Author
Tracy Barrett is the author of more than twenty books for children and young adults, as well as being a scholar and professor. Her fiction titles include Anna of Byzantium (Penguin Random House), The Stepsister's Tale (Harlequin Teen), and the middle-grade series The Sherlock Files (Henry Holt). She knows more about ancient Greece and Rome and the European Middle Ages than anyone really needs to know, can reads lots of dead languages, and used to jump out of airplanes. She lives in Tennessee with her husband (also a former skydiver) and two Cavalier King Charles Spaniels.
or
Not Currently Available for Direct Purchase