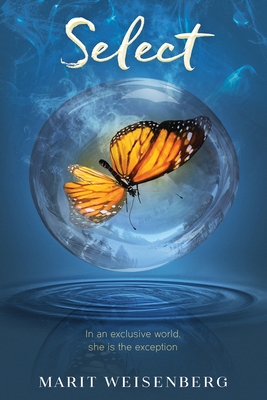 Select (The Select #1) (Hardcover)
Charlesbridge Teen, 9781580898065, 352pp.
Publication Date: October 3, 2017
Other Editions of This Title:
Paperback (9/4/2018)
* Individual store prices may vary.
Description
A modern-day Romeo and Juliet with a supernatural twist that will appeal to fans of Ally Condie (Matched) and Kiera Cass (The Selection).

Julia Jaynes has the perfect life. The perfect family. The perfect destiny. The daughter of a billionaire investor in Austin, Texas, it looks like Julia has it all. But there's something rotten beneath the surface‒dangerous secrets her father is keeping; abilities she was never meant to have; and an elite society of highly evolved people who care nothing for the rest of humanity. So when Julia accidentally jeopardizes the delicate anonymity of her people, she's banished to the one place meant to make her feel inferior: public high school. 

Julia's goal is to lay low and blend in. Then she meets him‒John Ford. He's popular, quiet, intense, and strangely compelling. Then Julia discovers she can read his mind and her world expands. Their forbidden love is powerful enough to break the conditioning that has kept Julia in the cold grip of her manipulative father.  For the first time, Julia develops a sense of self and questions her restrictive upbringing and her family prejudices. She must decide how she will define herself—and whom she will betray.
 
". . . a mighty twist at the end to look forward to." –Kirkus Reviews

". . . the perfect combination between sci-fi and YA literature." – A reviewer at NetGalley

". . . unique, fast-paced, intriguing and interesting." –A reviewer at NetGalley

"I would recommend this book to anyone who enjoyed the Twilight series and paranormal romance." –A reviewer at NetGalley

"Brilliant plot." –A reviewer at NetGalley
About the Author
Marit Weisenberg received her BA in English from Bowdoin College and her Master's Degree from UCLA's school of Theater, Film and Television. She has worked in film and television development at Warner Brothers, Universal, and Disney. She lives in Austin with her husband and two daughters.
Marit's debut YA novel is Select, and she worked on the first draft of the book over the course of eighteen months during Amanda Eyre Ward's class 'Write a Novel in a Year.' As of now, there will be two books in The Select series. The series continues with Select Few.
Praise For Select (The Select #1)…
Julia Jaynes has always known she's special, just as she's always known she has to hide her special talents and abilities; she's a member of a select community of just a handful of families: human in many respects while so much more in others, they live among ordinary people but hold themselves apart. Her father has made it very clear that to be accepted into their clan, she must maintain a low profile, keep her abilities under wraps, and never, under any circumstances, mingle with an outsider but stay only with her own handful of beautiful young peers. Her own glossy, well-groomed white family, Julia notes, looks "like they'd externalized being members of the One Percent." She wants to do as he asks, to be included in the tribe when they relocate to their next place, but she knows that she's different. And when a chance meeting with a handsome, young outsider with tan skin and "almond-shaped eyes" shows her a new and very possibly unique ability, she's faced with a choice: to blend in and be accepted or to live a very singular life out on her own. Weisenberg frames teen issues in an eerie, unusual environment where nothing is quite as simple as it seems. Julia narrates, slowly revealing the rules of her peculiar community in a first-person narration that relies on concept rather than style to turn the pages. Readers who stay with Julia have a mighty twist at the end to look forward to
—Kirkus Reviews

Julia is rich, talented, smart, and almost immortal, part of a private ruling class of superhumans hiding in plain sight. She's also in big trouble. At a gathering gone awry, her powers overwhelm her, exposing her to the suspicious human world, and as punishment, her father sentences her to life in a human high school. It's there that she's drawn to star tennis jock John, who has secrets she's determined to uncover. Likewise, John is bound and determined to find out her secrets, especially when she's not trying too hard to conceal her own truth. Away from her friends and family, among the "outsiders," Julia has to decide what's important to her, and how to go on when the most important people in your life have left you. Debut author Weisenberg is off to an ambitious start, mixing mystery with a heaping dose of science fiction. While her premise is intriguing, it's slow to start, and this does drag a little, making it best for larger collections.
—Booklist

What begins as a seemingly average addition to the literary world of super humans with extraordinary powers turns quickly into a page-turning adventure to determine if the leader of the Jaynes family is clever enough to save the Puras from extinction. People of the Puras lineage are smarter, prettier, more athletic, and take seriously the need to "fit in" in order to not raise attention to their differences. Julia Jaynes has lived her whole life repressing her incredible skills while living in her little sister's shadow in a seemingly perfect family. One heroic act thrusts the spotlight upon Julia's exceptional people and she is exiled to live among ordinary teenagers. This new life forces her to examine the fabric of her family, question her father's secrets, and to decide where she truly belongs.
—School Library Connection
or
Not Currently Available for Direct Purchase