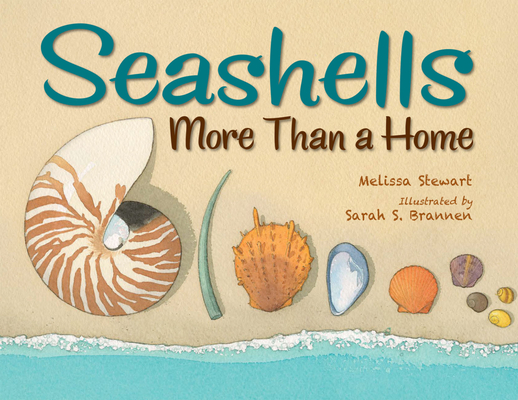 Seashells
More Than a Home
Hardcover

* Individual store prices may vary.
Other Editions of This Title:
Paperback (3/27/2020)
Description
Prolific, award-winning nonfiction author Melissa Stewart reveals the surprising ways seashells provide more than shelter to the mollusks that inhabit them.

Young naturalists discover thirteen seashells in this elegant introduction to the remarkable versatility of shells. Dual-layered text highlights how shells provide more than a protective home in this expository nonfiction exploration. The informative secondary text underscores characteristics specific to each shell. Elegant watercolor illustrations create a scrapbook feel, depicting children from around the world observing and sketching seashells across shores.
Praise For Seashells: More Than a Home…
♦ In this handsome companion volume to the ALA Notable book Feathers: Not Just for Flying (2014), Stewart and Brannen provide insights into why seashells vary so greatly in shape, size, and color. Beyond providing protection for aquatic animals, shells sometimes offer forms of locomotion, disguise, warnings, tools, and waste removal. A double-page spread on the nautilus opens, "Seashells can rise and sink like a submarine," and explains that the animal creates vertical movement by pumping in or releasing water from its spiraled shell, which has chambers containing a lightweight gas. A marine-blue underwater scene features a close-up of a nautilus with a dark gray submarine visible in the distance, while a separate drawing of the nautilus shell points out its gas chambers and the movement of water. The large-print text that runs across the tops of the pages makes excellent use of similes, while short, clearly written paragraphs of pertinent information appear below the illustrations. From the book jacket to the typefaces to the layouts, the book's design is inviting. The beautiful watercolor paintings work seamlessly with the text to clarify concepts, while keeping the book's audience in mind. Suggesting new ways to think about seashells, this volume is highly recommended for science collections.
—Booklist, starred review

A well-researched addition to the ocean biome canon, Seashells is unique in that it pairs form with function. Both the text and illustrations present information that is easy to digest and understand. Introducing the concept that seashells come in various shapes and colors due to their different jobs, the author and illustrator then launch into examples such as the scallops that can flit like a butterfly. This is paired with an illustration of a butterfly, a diagram of a shell and how its movement mirrors a butterfly, the shell in its environment, and corresponding text. The language is not too informational or too -poetic; it is just the right amount of colorful and interesting. An appendix of sorts and additional resources are included. VERDICT A delightful addition to an elementary library's nonfiction collection.

—School Library Journal



An essential book for young beachcombers, Seashells: More Than a Home provides a fascinating overview of 13 kinds of shells. In her accessible text, author Melissa Stewart covers the form, function and native habitat of each shellfish, from the beautifully curved chambered nautilus and the heart-shaped cockle to the Atlantic bay scallop with its rows of fine ridges. Stewart uses analogies from everyday life to help readers understand how these "treasures from a secret world beneath the waves" house clams, snails, oysters and other creatures. Artist Sarah S. Brannen brings the narrative to life through watercolor scenes of boys and girls exploring the seashore and collecting specimens. Precise sketches and diagrams of the shells lend a naturalist feel to the proceedings. Suggestions for further reading and a listing of mollusk types round out the volume. This fun, fact-filled book will inspire up-and-coming collectors while equipping them with important information.
—BookPage
Charlesbridge, 9781580898102, 32pp.
Publication Date: April 2, 2019
About the Author
Melissa Stewart is the award-winning author of more than one hundred fifty science books for children. She holds degrees in biology and science journalism. Recent books include Feathers: Not Just for Flying; No Monkeys, No Chocolate; and Can an Aardvark Bark?. She lives in Acton, Massachusetts.

Sarah S. Brannen is the author and illustrator of Madame Martine, Uncle Bobby's Wedding and the illustrator of Feathers: Not Just for Flying; Digging for Troy: From Homer to Hisarlik; and At Home in Her Tomb: Lady Dai and the Ancient Chinese Treasures of Mawangdui. She lives in Massachusetts. sarahbrannen.yellapalooza.com