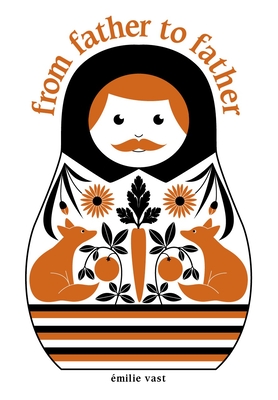 From Father to Father (Board book)
Charlesbridge, 9781580898140, 14pp.
Publication Date: March 20, 2018
* Individual store prices may vary.
Description
From generation to generation, and with the help of matryoshka, a father traces his child's ancestry.

Looking back at Baby's lineage, Father describes how long, long, long, long ago, the father of the father of the father of his dad welcomed to the family the father of the father of his dad. And so it goes, tracing Baby's ancestors through to the present day. Russian nesting dolls (matryoshka) illustrated on each spread get smaller with each turn. Each is a different color, decorated with animals, flowers, and other nature-based items.
About the Author
Illustrator, author and visual artist Émilie Vast plays with pure lines, solid color and contrast. Inspired by the graphic arts of the past, in love with nature, she stages plants and animals, like so many characters coming to tell their stories in stylized illustrations, sweet and poetic. Émilie lives and works in Reims, in the north of France.
Praise For From Father to Father…
Stylish matryoshka nesting dolls describe the concept of generations.It's a lovely conceit. Nesting dolls fit together much as an intergenerational family does. "My father's father's father's father's dad saw the birth of… / my father's great-great-grandfather," and the text continues to follow the lineage to the parent addressing his "very own child." Companion title From Mother to Mother focuses on matrilineal heritage. Set on a tall, narrow trim, successive nesting dolls become smaller as the book progresses, until it reaches the last page's diminutive child figurine. Black-outlined bodies on clean white backgrounds are accented by a single vivid color. Patterns on the figures are intricate, with crisply lined flora and fauna twisting around each other to create symmetrical, balanced compositions. The blue father doll features elegant, solid-colored lilies, blueberries, and a dragonfly, each with the barest amount of detailing. Sections of colored text match the accent color from the previous page, creating a further tie across generations. It's all pleasingly harmonious. But as a read-aloud, it founders with its many recitations of family history, and it's unlikely the intended audience will grasp such an abstract concept. It isn't clear from the identical faces that these are descendants, and only a tiny missing moustache demarcates the ultimate child. While this will be a wildly appealing baby-shower gift, it's as a color concept book that the pieces really come together.
—Kirkus Reviews