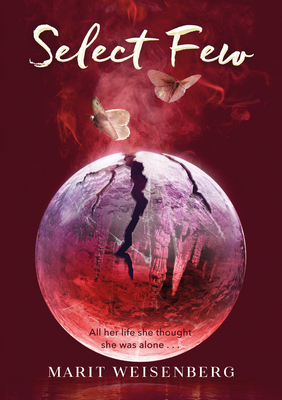 Select Few (The Select #2)
Hardcover

* Individual store prices may vary.
Description
After rejecting the cult-like influence of her father's family, Julia moves into a fancy hotel in downtown Austin. But she finds herself alone except for her boyfriend, John--and her fears. Once again she's suppressing her abilities, afraid her family will come for John when they find out he's been developing abilities of his own in her presence. The FBI is also keeping a close eye on Julia hoping she can lead them to her father, Novak, as he's wanted for questioning in his former assistant's death.

With tensions high, Julia and John agree to go separate ways for the summer, paving the way for Julia to reunite with Angus, fellow outcast. Together they set out on a road trip to California to find Julia's mom and a way into Novak's secret underground world. Along the way Julia will learn the Puri perhaps aren't the only humans evolving into something different. . . and that maybe she's the leader her people have needed all along.
Praise For Select Few (The Select #2)…
No one said having a superpowered family was easy, and Julia Jaynes was already estranged from hers when they disappeared off the face of the planet. Julia has graduated high school and escaped to California with her boyfriend, John, but even though she's hiding her magical powers, she still doesn't feel safe. The FBI has been tailing her since her father disappeared, and one wrong move could change all her plans in an instant. When the only other Puri left in Texas, Julia's friend and confidante Angus, reappears, she finds that the FBI isn't the only one following her every move. All she really wants is to move on with John and start a college career, but can she get everything she wants without bringing more danger to her loved ones? Told in alternating viewpoints—Julia in the present, John in the future—this sequel (Select, 2017) adds suspense and mystery to the original story line. It's a romance cloaked in the trappings of the lives of the rich, and best suited for larger collections.
—Booklist
Charlesbridge Teen, 9781580898294, 384pp.
Publication Date: October 9, 2018
About the Author
Marit Weisenberg received her BA in English from Bowdoin College and her Master's Degree from UCLA's school of Theater, Film and Television. She has worked in film and television development at Warner Brothers, Universal, and Disney. She lives in Austin with her husband and two daughters.
Marit's debut YA novel is Select, and she worked on the first draft of the book over the course of eighteen months during Amanda Eyre Ward's class 'Write a Novel in a Year.' As of now, there will be two books in The Select series. The series continues with Select Few.
or
Not Currently Available for Direct Purchase