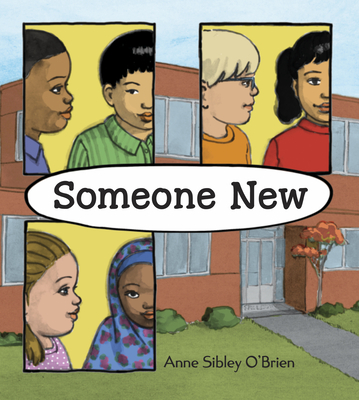 Someone New (Hardcover)
Charlesbridge, 9781580898317, 32pp.
Publication Date: July 10, 2018
* Individual store prices may vary.
Description
In this companion story to I'm New Here, three elementary schoolers--who aren't new--begin to understand and embrace three immigrant students.

Are you new here? Do you know someone new? In I'm New Here and Someone New, young readers explore the immigrant experience through both "windows" and "mirrors." In I'm New Here, readers meet three recent immigrants trying to adjust to a new country and school. In Someone New, the same story is told from the perspective of the students who welcome the newcomers. An honest and heartwarming look at diversity, inclusion, and friendship.

"Informative and genuine"—Kirkus Reviews (starred review)
About the Author
Anne Sibley O'Brien's passion for multiracial, multicultural, and global subjects grew out of her experience of being raised bilingual and bicultural in South Korea. She is the author and illustrator of many books for children, including I'm New Here, A Path of Stars, After Gandhi, and The Legend of Hong Kil Dong: The Robin Hood of Korea. She is also the author of Abracadabra, It's Spring!, Hocus Pocus, It's Fall!, and In the Shadow of the Sun. Anne lives on an island in Maine.
Praise For Someone New…
In I'm New Here (2015), O'Brien told the story of three new immigrants from their perspectives. Here, she tells the same story from the perspectives of the peers who welcome them. Jesse, Jason, and Emma are struggling to connect with their new peers—Maria from Guatemala, Jin from South Korea, and Fatimah from Somalia—who seem so different from them. Jesse, a white boy, sees Maria watching his team play soccer. He wonders if she even knows how to play, thinking, "Our team is already great as it is. I don't want to mess it up." Jason, a black boy, wants to share his comics with Jin, but since Jin can't read or write English, Jason wishes he "had a superpower to help him." Emma, a white girl, tries to explain to Fatimah, who wears hijab, what's happening in class, but Fatimah does not understand. Each student uses a talent of theirs (soccer, writing, and drawing) to connect with their new classmate and make a friend. O'Brien's watercolor-and-digital illustrations again make effective use of white space to positively depict the students who are already "home" moving through discomfort and confusion to welcoming their new classmates. The author includes a note discussing intergroup anxiety, how to overcome it, and strategies for dissolving barriers. Informative and genuine, the book offers much to learn about connecting, expanding understanding, and overcoming differences—a great companion to the previous title.—Kirkus Reviews (starred review)

In this companion to I'm New Here, O'Brien conveys the confusing emotions, and how to conquer them, of those who are already inside a group when someone new arrives. Through three simple tales, readers see the story of how three different children formulate their thoughts and figure out how to welcome three new friends into their class. The text and vocabulary are very simple and sometimes interspersed with dialogue between characters to show exactly how one can be welcoming. The watercolor illustrations assist with the stories beautifully, showing exactly what the students are doing and how that can sometimes inaccurately represent their thoughts and emotions. O'Brien has taken great care in detailing her character's emotions, from nervousness to happiness, through facial expressions, body posture, and shading. Together, text and illustration combine to set a great example of creating connections and welcoming new members into a close-knit community. VERDICT A great book to help students of all ages understand how they can welcome new members into their classrooms and communities.
—School Library Journal

This companion to I'm New Here (2015) focuses on the same new-to-the-U.S. children (Maria from Guatemala, Jin from South Korea, and Fatimah from Somalia), but from the perspective of their classmates...Once the ice is broken, friendships follow. O'Brien's watercolor illustrations portray multi-ethnic teachers and students involved in typical primary-grade activities. Most scenes depict the children involved in specific tasks (organizing a soccer game, sitting at the writing table, creating art), and the use of white space as background highlights the kids and their feelings. Satisfyingly, most of the rapprochement is handled without adult intervention; an author's note for adult facilitators is appended.
—Booklist