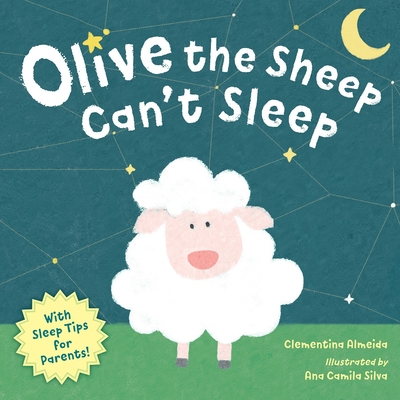 Olive the Sheep Can't Sleep (Hardcover)
Charlesbridge, 9781580898386, 32pp.
Publication Date: August 7, 2018
* Individual store prices may vary.
Description
Olive the Sheep is having trouble falling asleep--she'd rather stay up and play. Backed up by sleep science, this gentle story shares practical tips for how to make bedtime go smoothly as Olive falls asleep.

Adorable Olive had a long day with her friends and is tired. She has a warm bath, is wrapped in a soft towel, rocks with her mom, stretches, and settles in for a good night's sleep. Using techniques based in neuroscience to help children relax, fall asleep, and stay asleep, author and child psychologist Clementina Almeida presents a charming and practical story for parents and children to share together.
About the Author
Author and researcher Clementina Almeida has a PhD in clinical psychology with a specialty in infants and young children and is certified in infant mental health. She is the founder of the For Babies Project based in Porto, Portugal.

Camila Silva is passionate about illustration and design for children. She is the illustrator of Olive the Sheep Can't Sleep and lives in Portugal. Design is a big part of her life. She has a big interest in branding, infographics and editorial design, and she is also aiming to explore more about web design. Drawing always has been present in her life, culminating in a big passion about illustration for children.
Praise For Olive the Sheep Can't Sleep…
A bedtime book with parenting tips to help kids get the sleep they need. This handsomely designed Portuguese import features the adorable, fluffy sheep Olive, whose mother helps her overcome sleeplessness after a long day of play. A frontmatter "Note for Grown-Ups" introduces the book's reliance on neuroscience research to help improve children's sleeping habits, and backmatter "Bedtime Tips" offer an overview of the ideas introduced in the book proper. These same tips are embedded in Olive's story as her mother finds different ways to soothe her little lamb and help her ready her body and mind for rest with: a bath, deep breathing, cuddling, warm milk, soothing imagery, and so on. The somewhat flat aesthetic of Silva's digital illustrations doesn't undermine their cuddly appeal, since the forms are rounded and lines curved. Movement from a bright palette to a more subdued one as Olive settles in for the night provides a logical, calming visual shift for sleepy readers. While none of the advice reads as revolutionary, having it integrated into a story could aid children in calming themselves at bedtime while affirming caregivers' nurturing efforts to support them. It's as purposive as The Rabbit Who Wants to Fall Asleep but both gentler and more artful. This book makes the most of its dual audience.—Kirkus Reviews