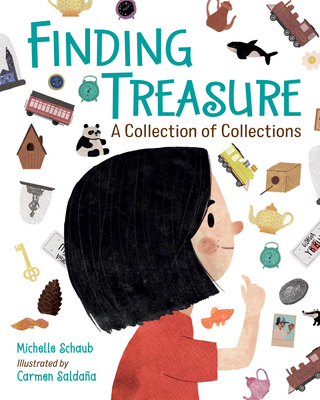 Finding Treasure
A Collection of Collections
Hardcover

* Individual store prices may vary.
Description
Clever poems tell the story of one inquisitive child's quest to start just the right collection to share at school.

While everyone else is excited about presenting their treasures, one creative elementary schooler is stressed about her class's show-and-tell assignment. How is she supposed to share her collection if she doesn't collect anything? Polling her parents, visiting with Granny and Grandpa, and searching for the secret behind her siblings' obsession with baseball cards, she discovers she does, in fact, have something to share: a collection of stories and poems!
Praise For Finding Treasure: A Collection of Collections…
When a teacher asks his students to bring in something they collect, one girl is at a loss since she doesn't collect anything. Checking with her family members and friends, she discovers that they all collect something: teapots, snow globes, baseball cards, trains, and clocks are a few of the highly prized items. The brightly colored, digitally created illustrations reveal the many types of collections people own. At least one full page is devoted to each collection and the child describes them in a variety of poetic forms from rhyming couplets to free verse. One example of her poetry is called "My Mother's Button Box" and begins: "Shiny ones/of shell and glass./Pearly circles,/swirls of brass./Anchors snipped/from navy coats./Plastic hearts,/wooden boats." Readers will be both surprised and pleased when they find out what the child has decided to collect. The author provides information on how to begin a collection, including a web address for clubs for collectors. VERDICT This title will inspire children to at least consider beginning a collection if they don't already have one.
—School Library Journal
Charlesbridge, 9781580898751, 32pp.
Publication Date: September 17, 2019
About the Author
Michelle Schaub is the author of Fresh-Picked Poetry: A Day at the Farmers' Market, and her poems have appeared in And the Crowd Goes Wild, A Global Gathering of Sports Poems, and The Poetry Anthology for Celebrations. She has contributed poems to Highlights High Five, Ladybug magazine, and the SCBWI national bulletin. She is the author of This and That Sports and Vehicles of WWI.

Carmen Saldaña lives in Gijon, a little rainy city in the north of Spain. She is the illustrator of several books for children including Bunny Bear by Andrea Loney (Albert Whitman) and Bug Bear by Patricia Hegerty. She loves furry animals, birds, bugs, leaves, and everything related to nature, which is her main source of inspiration. www.carmensaldana.es
or
Not Currently Available for Direct Purchase