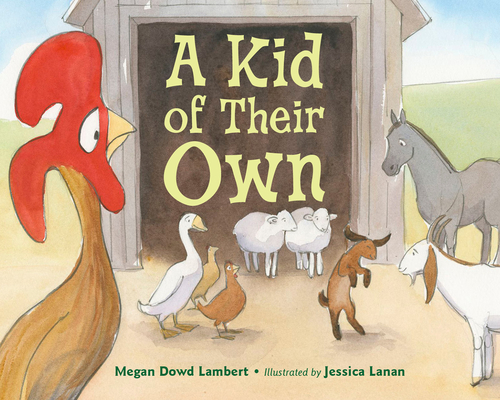 A Kid of Their Own
Hardcover

* Individual store prices may vary.
Description
In this fresh and funny follow-up to the Ezra Jack Keats Honor Book A Crow of His Own, rooster Clyde is forced to adjust to new roommates on the farm when Fran the goat and her kid, Rowdy, take up residence. Can Clyde handle having a new kid in town?

Rooster Clyde has just settled in and found his voice when everyone demands that he take his hard-earned crow down a notch so as to not disturb newcomer Rowdy. That doesn't sit well with Clyde. Neither does the fact that motherly goose Roberta seems to have taken the new animals' side. The farm community learning to deal with a young member of the group is the main story in text and is paired with a wordless story in illustrations that shows Farmer Jay and Farmer Kevin getting ready for their adopted child to arrive on the farm.
Praise For A Kid of Their Own…
♦ In this companion book to A Crow of His Own (illustrated by David Hyde Costello, 2015), Clyde the rooster returns with his star wake-up crow.Regularly lapping up universal praise and adoration, Clyde is living a comfortable life on the farm until farmers Jay and Kevin introduce Fran the goat and her kid, Rowdy. Everyone is delighted to have a kid on the farm except for a jealous Clyde, who devises a plan to regain everyone's attention. The next morning he uses a megaphone to make an extra loud wake-up call, but the noise doesn't allow Rowdy the sleep he needs. His friend Roberta the goose asks him to tone it down, but he dials it up with amps and drums, crowing every time Rowdy tries to rest. Soon everyone is upset, and Clyde realizes he must do something to make up for his "foul behavior." Lambert depicts how hard the change brought about by a new young one in the family can be while also addressing inclusivity and celebrating everyone's unique voice. The charming watercolor illustrations include little hints that the two white, male farmers are preparing for another new arrival. As with the author's first book, the vocabulary sets this title apart from many others for this age group. Rarely using verbs like "said" or "asked," the text allows readers to discover "gushed," "huffed," and "gasped" alongside other crunchy vocabulary: "Resolve," "bereft," and "righteousness" are just a smattering.A sweet and unusual new-baby story with an uncommonly broadening vocabulary.
—Kirkus Reviews, starred review

Clyde the rooster struggles to share his limelight with a new farmyard addition. Clyde has just welcomed the dawn with his signature "Cock-a'doodle-doo," when farmers Jay and Kevin drive up and announce the arrival of two new goats. Rowdy, the kid, quickly wins over everyone, and Clyde feels he's lost his spotlight. He resolves to win it back in the morning with an extra-loud, extraordinary crow. His extra-loud crow serves only to wake the young Rowdy from his slumber and earns the ire of the other animals. Eventually, the others' disdain for his showboating helps Clyde realize the error of his ways, and peace and restful silence are restored with the help of a fuzzy pair of earmuffs for Rowdy. This delightful sequel will please fans of A Crow of One's Own, as well as readers new to the series. Lanam's illustrations are reminiscent of Jon Agee, with line-drawn animals and great big, blocky text. The text is full of action words and playful animal puns, and clearly delineated text bubbles give each animal its own distinctive personality. The farmer's adoption of their own "kid" at the story's conclusion provides an easy transition to conversations about new siblings and growing families. VERDICT The lesson that there is room and love for everyone in the family is one that parents and caregivers will be happy to share.
—School Library Journal
Charlesbridge, 9781580898799, 32pp.
Publication Date: February 11, 2020
About the Author
Megan Dowd Lambert is the author of A Crow of His Own, Real Sisters Pretend, and Reading Picture Books with Children. She is an instructor at the Center for the Study of Children's Literature at Simmons University, where she earned her master's degree. She writes about books and parenting for Horn Book Magazine, has served on a Caldecott Committee, and worked at the Eric Carle Museum of Picture Book Art for many years.

Jessica Lanan is the illustrator of Out of School and Into Nature: The Anna Comstock Story, The Story I'll Tell, and Good Fortune in a Wrapping Cloth. She attended Scripps College and has a BA in fine art. She lives with her husband and a three-legged cat in Colorado. www.jessicalanan.com
or
Not Currently Available for Direct Purchase