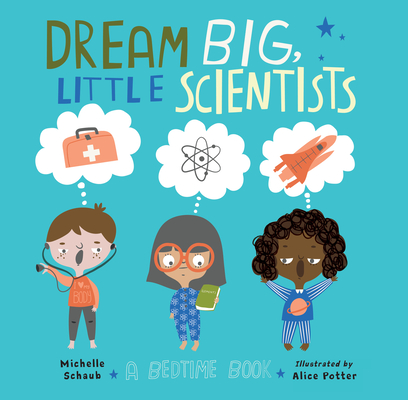 Dream Big, Little Scientists
A Bedtime Book
Hardcover

* Individual store prices may vary.
Description
Twelve kids. A dozen bedtimes. Endless sweet ways to say goodnight with science!

Spark curiosity and exploration with this innovative bedtime story for budding scientists that introduces eleven branches of science. From astronomy to physics to chemistry to geology, this STEM picture book will help kids get excited to explore. Includes further information about each branch of science.
Praise For Dream Big, Little Scientists: A Bedtime Book…
Budding scientists bed down.It's time to go to sleep, and kids all over the neighborhood are exhausted. Each page of this book features a different, racially diverse child climbing into bed in a room decorated according to their preferred STEM field. A dark-skinned, curly-haired tot, for example, is a sleepy budding astronomer who sits cross-legged on a quilt decorated with planets under posters showing the moon's phases. A lighter-skinned child wearing a hearing aid is a botanist who checks their potted plants before bedding down under posters of Thomas Meehan and George Washington Carver. A beige-skinned physicist who uses a wheelchair falls asleep next to a poster of Stephen Hawking and beneath a blanket patterned with positive and negative ions. An Asian child in a pair of orange pajamas pulls out a bedroll in a room dedicated to anthropology. The rhyming text cleverly weaves context clues about each branch of science into the couplets, and the simple, clear language is fun and easy to read. The cartoon illustrations are packed with details, including a poster that declares, "Climate Change is Happening Right Now" in the room of meteorologist twins, and numerous photos of diverse scientists and activists including Gabriel Fahrenheit, Wangari Maathai, and Mary Anning. Children and adults alike will discover something new with each reading. A clever and inclusive bedtime book about science and possibility.
—Kirkus Reviews
Charlesbridge, 9781580899345, 32pp.
Publication Date: February 18, 2020
About the Author
Michelle Schaub is the author of Finding Treasure: A Collection of Collections and Fresh-Picked Poetry: A Day at the Farmers' Market, and her poems have appeared in And the Crowd Goes Wild, A Global Gathering of Sports Poems, and The Poetry Anthology for Celebrations.

Alice Potter is a London-based illustrator and children's-wear print designer. Dream Big, Little Scientists is her first picture book. www.alicepotter.co.uk