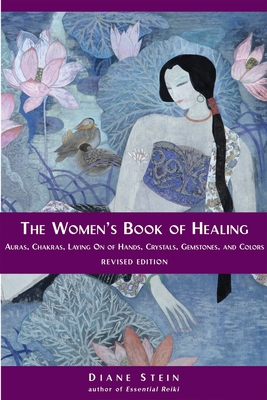 The Women's Book of Healing: Auras, Chakras, Laying on of Hands, Crystals, Gemstones, and Colors (Paperback)
Auras, Chakras, Laying on of Hands, Crystals, Gemstones, and Colors
Crossing Press, 9781580911566, 328pp.
Publication Date: May 19, 2004
Description
Women are naturally healers. Throughout time, they have performed curative roles as mothers, midwives, caregivers, and wisewomen, but modern medicine has suppressed this important tradition. Ancient women healers knew that the body is more than what is seen: through body, emotions, mind, and spirit, we can connect with the Goddess and actively choose to heal ourselves and others. By relearning and using ancient skills like aura and chakra work, creative visualization, meditation, laying on of hands, psychic healing, and working with crystals and gemstones, women can prevent or transform many dis-eases of the body and spirit before they become matters for modern medicine. In THE WOMEN'?S BOOK OF HEALING, Diane Stein, author of the best-selling ESSENTIAL REIKI, demystifies, explains, and teaches these skills in ways that modern women can learn and use. She first introduces basic healing, then applies those skills to healing with crystals and gemstones-a beautiful, effective, and empowering aspect of the ancient woman''s healing methods. A comprehensive guide from a knowledgeable healer, THE WOMEN'?S BOOK OF HEALING proves that well-being is within a woman''s choice and natural abilities, and reaffirms her timeless role as healer of herself and others.An affirmation of woman''s traditional role as healer, speaking to a national trend toward alternative medicine and natural healing methods.Demystifies, explains, and teaches the healing capabilities of auras, chakras, laying on of hands, crystals, gemstones, and colors.Thoroughly revised and updated, with a new introduction.Diane Stein''s books have sold more than 600,000 copies.
About the Author
DIANE STEIN is a popular and acclaimed healer and the best-selling author of Essential Reiki and 25 other books in the fields of metaphysical healing, women's spirituality, and alternative health. She lives and teaches in Florida. THE AUTHOR SCOOP Read any good books lately?My favorite reading is science fiction, there are new good books coming out every day. Look at Sharon Shinn, Tamora Pierce, Ann Bishop, and so many more talented women fiction writers.If you had to boil your book's message down to one sentence, what would it be?Serve the Light, trust the Light, make a difference in the world with who you are and what you do. What are you working on now?I prefer to keep future books a secret until they are finished. No one will know until the manuscript is mailed in.Do you eat your vegetables?I have been a vegetarian since 1983. I do eat my vegetables.If you had a superpower, what would it be?Wonder Woman, of course.How long did it take you to write this book? I have been working with herbs for over 35 years, so you could say it took that long to write it.
Praise For The Women's Book of Healing: Auras, Chakras, Laying on of Hands, Crystals, Gemstones, and Colors…
A knowledgeable, insightful book, filled with the miracles of our bodies and powers of our mind. Gems and crystals, the gifts of the earth, are truly the trusted old friends of self-healing. Diane Stein, you have done it again! Brava!-Z Budapest
Advertisement