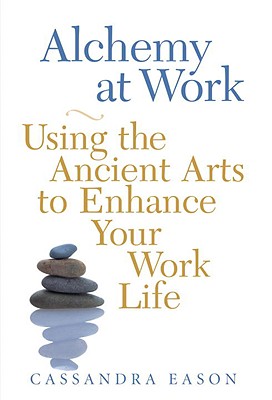 Alchemy at Work: Using the Ancient Arts to Enhance Your Work Life (Paperback)
Using the Ancient Arts to Enhance Your Work Life
Crossing Press, 9781580911580, 329pp.
Publication Date: August 1, 2004
* Individual store prices may vary.
or
Not Currently Available for Direct Purchase
Description
Alchemy is an ancient path of spiritual transformation through which practitioners aim to purify themselves by eliminating the "base" material of the self and achieving the "gold" of enlightenment. In ALCHEMY AT WORK, Cassandra Eason applies the age-old art of alchemy to the modern workplace and offers new methods of attaining career happiness and prosperity.

Drawing on our ancestors' powerful connections to seasonal, lunar, and solar cycles, Eason clearly and accessibly explains how to develop your intuitive powers to maximize opportunities, protect yourself from negative attitudes by following traditional folk remedies, tap into proven divinatory systems to formulate strategies for the future, and more. No matter what your job is, you will harmonize your inner rhythms with those of the business world and take control of your destiny for a more successful and satisfying career.

A guide to using the ancient art of alchemy as a means of achieving career satisfaction and prosperity, from a renowned British author and psychic.

Features sections on visualization and breathing exercises, automatic writing, numerology, aura and dream interpretation, divination, totem animals, white magic, and much more.
Start Media Reviews
About the Author
CASSANDRA EASON is the author of more than 50 books on the subjects of psychic and spiritual experience, folklore, and superstition. She makes her home on the Isle of Wight in England, where she is a well-known psychic, teacher, and radio personality.
Praise For Alchemy at Work: Using the Ancient Arts to Enhance Your Work Life…
It would be hard to find an experience in the psychic field that would surprise [Eason], because she's interviewed thousands of people about their psychic experiences . . . and she's had quite a number herself. -Good Housekeeping (London)
Advertisement