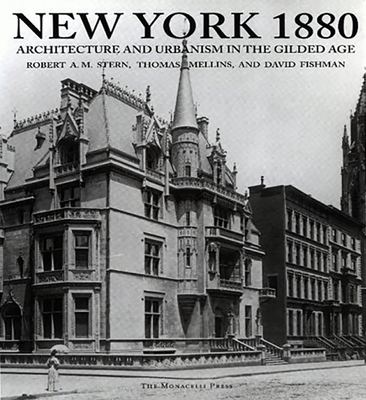 New York 1880
Architecture and Urbanism in the Gilded Age
Hardcover

* Individual store prices may vary.
Description
This is the fourth volume in architect and historian Robert A. M. Stern's monumental series of documentary studies of New York City architecture and urbanism. The three previous books in the series, New York 1900, New York 1930, and New York 1960, have comprehensively covered the architects and urban planners who defined New York over the course of the twentieth century.

In this volume, Stern turns back to 1880 -- the end of the Civil War, the beginning of European modernism -- to trace the earlier history of the city. This dynamic era saw the technological advances and acts of civic and private will that formed the identity of New York City as we know it today. The installation of water, telephone, and electricity infrastructures as well as the advent of electric lighting, the elevator, and mass transit allowed the city to grow both out and up. The office building and apartment house types were envisioned and defined, changing the ways that New Yorkers worked and lived. Such massive public projects as the Brooklyn Bridge and Central Park became realities, along with such private efforts as Grand Central Station.

Like the other three volumes, New York 1880 is an in-depth presentation of the buildings and plans that transformed New York from a harbor town into a world-class metropolis. A broad range of primary sources -- critics and writers, architects, planners, city officials -- brings the time period to life and allows the city to tell its own complex story. The book is generously illustrated with over 1,200 archival photographs, which show the city as it was, and as some parts of it still are.
The Monacelli Press, 9781580930277, 1164pp.
Publication Date: April 1, 1999
About the Author
Robert A. M. Stern, principal partner of Robert A. M. Stern Architects, founded in 1969, is also dean of the Yale School of Architecture. In addition to the series on New York, which includes New York 1900: Metropolitan Architecture and Urbanism, 1890-1915, New York 1930: Architecture and Urbanism Between the Two World Wars, and New York 1960: Architecture and Urbanism Between the Second World War and the Bicentennial, Stern has published numerous books, including monographs on his firm's work, such as Robert A. M. Stern: Houses and Robert A. M. Stern: Buildings and Projects, 1999 -- 2003.

Thomas Mellins is an architectural historian and writer educated at Columbia University and the City University of New York. He is a coauthor of New York 1930, New York 1960, and a script collaborator on Pride of Place, the PBS documentary series on American architecture hosted by Stern.

David Fishman, a graduate of Columbia College, collaborated with Stern on New York 1930, New York 1960, Pride of Place, and the exhibition "42nd Street Theaters."
or
Not Currently Available for Direct Purchase