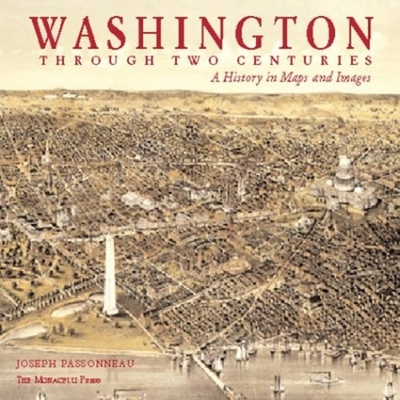 Washington Through Two Centuries: A History in Maps and Images (Hardcover)
A History in Maps and Images
Monacelli Press, 9781580930918, 288pp.
Publication Date: June 1, 2004
* Individual store prices may vary.
or
Not Currently Available for Direct Purchase
Description
The history of Washington, D.C., the capital of the United States, is as complex and fascinating as that of the nation itself. Built on an almost untouched plot of land on the Potomac River, the city has grown from a collection of small villages into a major metropolis with a central position on the world stage. Author Joseph R. Passonneau has crafted an account that complements a comprehensive and detailed text with an exceptional array of images, both archival and contemporary.
Passonneau weaves his discussion around the continuous growth, change, and renewal of the city, focusing on various physical and social components -- federal structures both formal and utilitarian; central and suburban neighborhoods; transportation technologies, from the stagecoach and the railroad to the Metro and the airplane; patterns of settlement based on ever changing demographics. Illustrations include elegant hand-tinted perspective drawings, photographs from all eras of Washington's history, and visionary sketches. Foremost among the visual material is a series of spectacular fold-out maps prepared by the author that show every structure in central Washington and Georgetown at key points in the city's history. As the city continues to develop into the twenty-first century and beyond, these maps and this book will provide a fascinating reference and a fundamental guideline.
About the Author
Joseph R. Passonneau is an architect and civil engineer in Washington, D.C. His firm, Joseph Passonneau & Partners, has completed some of the most politically and technically difficult transportation projects in the United States, and he has received numerous awards for transportation engineering and urbanism. He was the dean of architecture at Washington University in St. Louis and has taught at the Harvard Graduate School of Design, Princeton University, and the Universities of Maryland, Pennsylvania, Virginia, and Southern California.
Advertisement