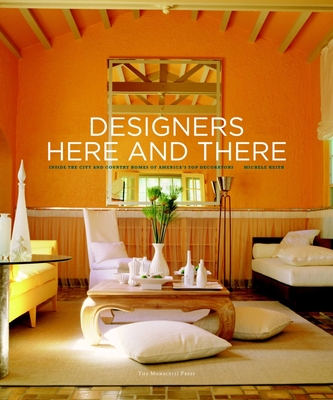 Designers Here and There: Inside the City and Country Homes of America's Top Decorators (Hardcover)
Inside the City and Country Homes of America's Top Decorators
Monacelli Press, 9781580932462, 224pp.
Publication Date: April 20, 2010
* Individual store prices may vary.
or
Not Currently Available for Direct Purchase
Description
During the week, interior designers select fabulous fabrics, furniture, paint, lighting, and accessories for clients' homes. On the weekends, they can devote themselves to beautifying their own. Materials and finishes that later appear in commissioned work often appear here first, as designers use the rooms and walls of their primary and secondary residences like a blank canvas for perfecting details and techniques central to their trade.
Thirty-eight private primary and vacation residences belonging to today's most renowned decorators from around the country inspire with full-color images of exquisitely appointed chic city apartments, elegant townhouses, minimalist midcentury gems, quaint cottages, historic mansions and farmhouses, cozy log cabins, and beachside retreats in locations ranging from Palm Desert to Palm Beach, Austin, Chicago, East Hampton, and Boston.
Michele Keith's lively, accessible text brings each distinct personality to life, revealing how and why the designers gravitate to styles ranging from firmly traditional to coolly contemporary to Hollywood Regency, how the attributes of each location--setting, proportions, and character--influence design direction, and how designers including Martha Angus, Barclay Butera, Eric Cohler, Andrew Fisher and Jeffry Weisman, Benjamin Noriega-Ortiz, Eve Robinson, and Vicente Wolf choose to spend time in the intensely personal spaces they have created. Each designer's top five favorite decorating tips encourage all eager to perfect their own homes to begin.
About the Author
Michele Keith is a freelance writer based in New York City. Her work has appeared in numerous magazines and newspapers, including the "New York Times, Departures, Traditional Home, New York Spaces, " and "O, The Oprah Magazine." Her previous books include "Country Living Easy Makeovers" and "Great Country French Style."
Praise For Designers Here and There: Inside the City and Country Homes of America's Top Decorators…
"Creating a solid library should be a pleasure and a prerequisite for any design addict. First we gathered our top picks of recent and forthcoming releases. Of particular note . . . The Monacelli Press's Designers Here and There visits the addresses of decorating greats."
—Departures, The Style Issue's Required Reading List

"Michele Keith indulges our voyeuristic desires with this tour through 38 primary and vacation residences owned by the country's hottest decorators."
—Luxe

"The homes of 19 designers provide endless inspiration—and evidence of experimentation—in these vivid photo essays. Be sure not to miss top tips from each pro."
—Traditional Home

"Ms. Keith documents the wide array of spaces designers create for themselves . . . Read and be inspired, or jealous. Or both."
—The New York Times

"Michele Keith does what most of us long to do: She takes a long, extended glance into the domestic domains of some of America's most talented interior designers, to see how they deck their own halls. Pick up a copy and see from where inspriation springs."
—Papercity

"Style-minded pros open their primary and secondary residences for your viewing pleasure in Michele Keith's fascinating Designers Here and There: Inside the City and Country Homes of America's Top Decorators. What a treat it is to compare and contrast two dwellings inhabited by each designer revealing different aspects of the same creative spirit."
—Veranda

"This is a beautiful book. If you're interested in interior desgin as much as I am and you like to collect coffee table books, or you're looking for a gift for a friend who fits that profile, I would definitely suggest picking up a copy!"
—CasaSugar

"Find yourself inspired by . . . Designers Here and There."
—Town & Country

"From Designers Here and There: Inside the City and Country Homes of America's Top Decorators, it is evident that these designers have a passion for life and it shows in the spaces they carve out for themselves and their loved ones."
—Texas Home & Living

"Michele Keith is on to something. San Francisco's interior designers work like no others because they're surrounded by beauty: the bay, the ocean, the headlands, the city's landscape and unique topography . . . Unusual for an interior design coffee table book that surveys a wide field, Keith begins with San Francisco and wends her way back to New York City and environs via places like Santa Fe, N.M., Dallas, Houston and Chicago."
—San Francisco Chronicle

"[Designers Here and There] gives you a glimpse into the tastes and likes of  the decorators themselves—their own personal style. It's also a fabulous resource because it covers a range of different design styles—every time I pick up the book I notice something new."
—Ladies' Home Journal

"Take a sneak peak into designers' private homes, including the pads of L.A.'s Michael Berman, Molly Luetkemeyer and Barclay Butera."
—Los Angeles Times

"If reading interior-design coffee-table books is a crime, we plead guilty. But can you blame us? We just couldn't put down Designers Here and There: Inside the City and Country Homes of America's Top Decorators . . . Another favorite feature of this book: two pages of design tips from the profiled designers."
—Fort Worth Star-Telegram

"More than just pretty pictures . . . so brimming with information and tips that you'll come down with a case of cabin fever!"
–Modern Luxury Dallas

"There is nothing more fascinating than getting a peek into the homes of others. When this group of top designers allowed Michele Keith to open the door not only to their urban dwellings but also to their second homes, we were given an opportunity for aspirational voyeurism that is unique. Grab the book, cast yourself on a sofa and go on one of the most revealing designer tours of all, the designers' own homes."
–Clodagh

"Michele Keith provides great insight into the lives and personalities of some of our most celebrated designers through beautiful photographs of their homes. This book is for everyone who would like to discover how those who design for others design for themselves."
–Mary Douglas Drysdale

"Up close and personal views of some of my favorite interior designers—plus their favorite decorating tips—make this book a must-read."
–Amy Lau
Advertisement