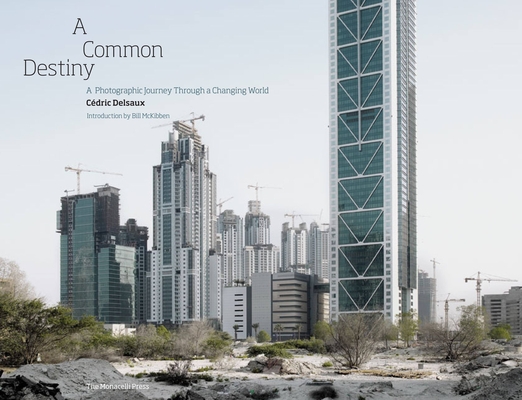 A Common Destiny: A Photographic Journey Through a Changing World (Hardcover)
A Photographic Journey Through a Changing World
The Monacelli Press, 9781580932554, 216pp.
Publication Date: November 17, 2009
* Individual store prices may vary.
or
Not Currently Available for Direct Purchase
Description
An artful photographic voyage documenting the impact of modern industry and consumerism on our planet, A Common Destiny presents a hauntingly beautiful vision of a world perched on the edge of an abyss. Juxtaposing images of pristine wilderness with photos of mines, abandoned nuclear reactors, large industrial farms, and spaces that exemplify artificiality and our increasing distance from nature—such as indoor ski slopes in Dubai, large-scale suburban housing development sites, and lavish casinos—Cédric Delsaux creates a powerful meditation on our ruthless hunger for mass production and energy.

Industries rarely accessible to the public are shown here in 135 oversized, full-color plates-petroleum fields, quarries, steel mills, meat-packing plants, poultry farms, enormous greenhouses, and assembly lines. Of equal interest are dozens of images that bear witness to today's dizzying pace of construction throughout the world, revealing how our attempt to accommodate an ever-growing population often overlooks the needs of its least fortunate. Glamorous skyscrapers abut the poorest slums, closely placed residential towers block out natural light, and thoughtless sprawl ensures that residents of large cities spend their lives in a maze of concrete.

Each striking, thought-provoking photograph is a work of art that allows us at once to marvel at our own industriousness and be shocked at its ramifications; we are asphyxiating the planet with our own inventions. Guided by thought-provoking essays from prominent environmental writers and activists including best-selling author Bill McKibben, renowned scientist James Lovelock, and Nobel Peace Prize winner Wangari Maathaï, the volume takes the reader on a journey from the least populous places on earth to the most densely inhabited, and urges us to reflect on our own habits and to resolve to take a more conscientious, active role in preserving natural resources.
About the Author
Cedric Delsaux lives and works in Paris, France. After studying cinematography and journalism, he worked as a bookseller and in advertising. He has devoted himself to photography full-time since 2003. He received the Kodak prize for landscapes and architecture with his "Star Wars on Earth" series in 2005.

Best-selling author Bill McKibben has written several hundred pieces for "The New Yorker." His writings on nature have also appeared in "The New York Review of Books, The New York Times, Rolling Stone," and other national publications. He and his wife live in the Adirondack Mountains of New York.
Praise For A Common Destiny: A Photographic Journey Through a Changing World…
A Common Destiny is a hauntingly beautiful narrative, a meditation almost, reflective of how each action of our lives results in an impact, a consequence, a reaction somewhere else, near and far. In a decidedly ethereal manner, photographer Cédric Delsaux frames the collision of man and nature and the fragility of their dance together.
—Robert Redford

"Startlingly beautiful and chilling"
—Discover magazine
 
Advertisement