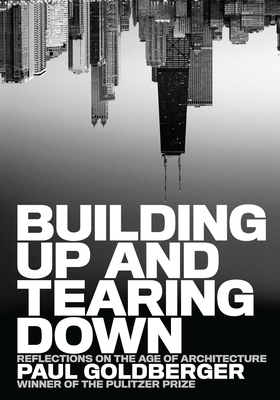 Building Up and Tearing Down
Reflections on the Age of Architecture
Hardcover

* Individual store prices may vary.
Description
PAUL GOLDBERGER
ON THE AGE OF ARCHITECTURE
The Guggenheim Museum Bilbao by Frank Gehry, the CCTV Headquarters by Rem Koolhaas, the Getty Center by Richard Meier, the Times Building by Renzo Piano: Pulitzer Prize–winning critic Paul Goldberger's tenure at The New Yorker has documented a captivating era in the world of architecture, one in which larger-than-life buildings, urban schemes, historic preservation battles, and personalities have commanded an international stage. Goldberger's keen observations and sharp wit make him one of the most insightful and passionate architectural voices of our time. In this collection of fifty-seven essays, the critic Tracy Kidder called "America's foremost interpreter of public architecture" ranges from Havana to Beijing, from Chicago to Las Vegas, dissecting everything from skyscrapers by Norman Foster and museums by Tadao Ando to airports, monuments, suburban shopping malls, and white-brick apartment houses. This is a comprehensive account of the best—and the worst—of the "age of architecture."

On Norman Foster:
Norman Foster is the Mozart of modernism. He is nimble and prolific, and his buildings are marked by lightness and grace. He works very hard, but his designs don't show the effort. He brings an air of unnerving aplomb to everything he creates—from skyscrapers to airports, research laboratories to art galleries, chairs to doorknobs. His ability to produce surprising work that doesn't feel labored must drive his competitors crazy.

On the Westin Hotel:
The forty-five-story Westin is the most garish tall building that has gone up in New York in as long as I can remember. It is fascinating, if only because it makes Times Square vulgar in a whole new way, extending up into the sky. It is not easy, these days, to go beyond the bounds of taste. If the architects, the Miami-based firm Arquitectonica, had been trying to allude to bad taste, one could perhaps respect what they came up with. But they simply wanted, like most architects today, to entertain us.

On Mies van der Rohe:
Mies's buildings look like the simplest things you could imagine, yet they are among the richest works of architecture ever created. Modern architecture was supposed to remake the world, and Mies was at the center of the revolution, but he was also a counterrevolutionary who designed beautiful things. His spare, minimalist objects are exquisite. He is the only modernist who created a language that ranks with the architectural languages of the past, and while this has sometimes been troubling for his reputation . . . his architectural forms become more astonishing as time goes on.
Praise For Building Up and Tearing Down: Reflections on the Age of Architecture…
"Goldberger's seemingly-effortless prose takes us through the frenzy of the building boom to the burst of the housing bubble, from Dubai to Chicago, and every starchitect-crossed destination in between." —FastCompany

"Paul's greatest contribution is his writing about cities. How architecture hits the pavement, how projects relate to their surroundings, how physical change affects how we feel about places is his genius." —Kent Barwick, President of the Municipal Art Society of New York

"[Paul Goldberger is] a great journalist whose writing has been invaluable in promoting a deeper and more intelligent understanding of urbanism, city making and sustainable urban development." —Darren Walker, Rockefeller Foundation

"[Paul Goldberger's criticism is] at once elevated and street smart, able to convey sweeping cultural meaning yet precise in its description of architectural detail." —Blair Kamin, architecture critic for the Chicago Tribune
The Monacelli Press, 9781580932646, 320pp.
Publication Date: October 13, 2009
About the Author
Pulitzer-prize winning journalist Paul Goldberger started his career at the New York Times and is currently the architecture critic for The New Yorker magazine. He is a frequent contributor to books on architecture and the author most recently of Up from Zero: Politics, Architecture, and the Rebuilding of New York and Counterpoint: Daniel Libeskind in Conversation with Paul Goldberger.
or
Not Currently Available for Direct Purchase