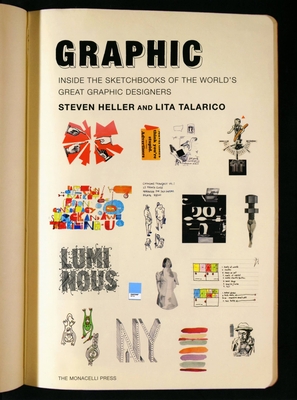 Graphic: Inside the Sketchbooks of the World's Great Graphic Designers (Paperback)
Inside the Sketchbooks of the World's Great Graphic Designers
Monacelli Press, 9781580932974, 351pp.
Publication Date: October 26, 2010
* Individual store prices may vary.
or
Not Currently Available for Direct Purchase
Description
We are constantly surrounded by design--in advertisements, in books and magazines, on the Internet, on television--and each graphic element we see was carefully constructed through a designer's very personal process. Yet only the finished article is presented. Rarely do we gain insight into how visual solutions have been reached or the exploration, experimentation, and ideas behind them. In this ambitious publication, some one hundred of the world's leading graphic designers and illustrators open up their private sketchbooks to offer a privileged glimpse into their creative processes. The result is a visual tour de force. Among the many artists featured are Milton Glaser, an icon of American graphic design and creator of the seminal I Love New York logo, who was the first designer to receive the National Medal of Arts, in 2009. Michael Bierut, a partner of Pentagram Design, is known as an advocate of the power and influence of design and co-founded the online journal Design Observer; he has clients ranging from the Walt Disney Company to Princeton and Yale to the New York Jets. Ed Fella, a prolific photographer as well as an iconoclastic typographer and designer, is known for fusing high- and low-culture sources and began mixing, changing, and matching fonts long before it was possible--and popular--with desktop publishing. Bruce Mau is the designer of the seminal S, M, L, XL and now has a client list including MTV, Coca Cola, and Frank Gehry. Samples range from small, discrete typographical explorations to full-fledged illustrations, from a few scrappy scribbles and eccentric handwriting to photographic collages and other offbeat forms of visual inspiration. Concise and informative texts by Steven Heller and Lita Talarico--leading authorities on graphic design--provide invaluable commentary on the artists' creative development, design philosophies, sketchbooking techniques, and visual influences. The combined effect of such high-level creativity is a treasure trove of design inspiration in a lively, engaging presentation that is a design object in itself.
About the Author
Steven Heller, a recipient of the AIGA Medal for Lifetime Achievement, is co-chair of the MFA Designer as Author program at the School of Visual Arts, New York. He is formerly the senior art director of the New York Times and is a contributing editor and writer to numerous publications including Print, Eye, Metropolis, and Grafik. He is the author of many books on graphic design, most recently Handwritten, New Vintage Type, and New Ornamental Type. Lita Talarico is co-chair of the MFA Designer as Author program at the School of Visual Arts, New York. She was the founding managing editor of American Illustration & Photography and has written for numerous other publications, including as a reporter-at-large for Graphis. She is a founding associate of Bill Lacy Design.
Advertisement