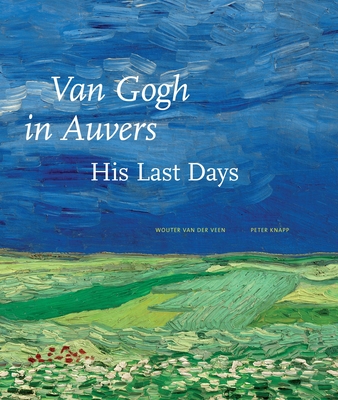 Van Gogh in Auvers: His Last Days (Hardcover)
His Last Days
Monacelli Press, 9781580933018, 304pp.
Publication Date: October 26, 2010
Description
In the last seventy days of his life, Vincent van Gogh experienced an unprecedented burst of creativity. He painted at least one canvas per day, often more, and wrote dozens of eloquent, personal letters to family, fellow artists, and friends. For the rst time, this volume gathers all that he produced during these last few months and presents it in a day-by-day chronology that reveals his intense focus on the continuing development of his signature artistic method as well as his innermost thoughts and concerns.
Persuaded by his doting brother, Theo, to move to the artistic enclave of Auvers-sur-Oise in 1890 for a change of scenery and a chance at a life free from temptation, and with the intent of concentrating solely on painting and restoring his full mental health, van Gogh arrived in May just as the town and its nearby bucolic elds were bursting into full springtime glory, providing him ample material for inspiration. Stunning reproductions of his last paintings display his daily explorations of this charming hamlet's streets and buildings, including its now-iconic church and thatched cottages, its inhabitants including his friend and mentor Doctor Gachet, immortalized on canvas and the wide, open elds that roused him to paint masterpieces such as "Wheat Field with Crows" and "Landscape with a Carriage and a Train." Despite these idyllic surroundings, his encouraging pace of production, and mounting critical recognition, van Gogh chose to end his own life a mere two and a half months later, leaving the letters and paintings duplicated here as the only clues to the internal anguish that led him to an act of such desperation.
The full complexity of van Gogh's personality, emotions, and relationships is presented here through reproductions of historical documents, letters, and glorious full-color plates of over seventy paintings, each of which is also accompanied by incisive commentary from author Wouter van der Veen, a renowned van Gogh scholar. A nal chapter fully explores the often overlooked role played by his sister-in-law, Johanna Bonger, in cultivating and establishing his posthumous legacy.
About the Author
Wouter van der Veen, scientific advisor at the Van Gogh Institute in Auvers-sur-Oise, devoted a decade to studying van Gogh's correspondence and assisted in the production of the first complete catalog of his letters. He teaches at the University of Strasbourg. His other books include Van Gogh: A Literary Mind (Musee Van Gogh/Waanders, 2009) and In Vincent's Room (Editions Desmaret, 2004). Artistic director Peter Knapp has twice received the French prize for best art book of the year, and is also a world-renowned cinematographer who produced the documentary Last Days in Auvers (2007) and an Imax documentary, Me, van Gogh in 2009. Axel Ruger is director of the Van Gogh Museum in Amsterdam.
Advertisement