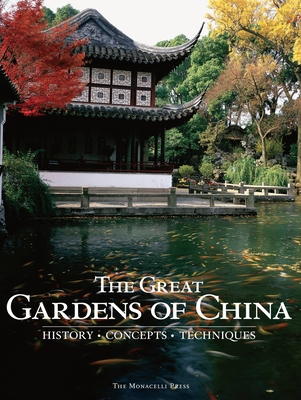 The Great Gardens of China
History, Concepts, Techniques
Hardcover

* Individual store prices may vary.
Description
The garden—a place for refined pleasure and spiritual relaxation—has its roots in ancient China. Western travelers from Marco Polo onward marveled at the intricacy, the elaborate buildings, the subtle design, and the assured use of plants, water, and natural materials in Chinese landscapes. The Great Gardens of China shows, through stunning original photography and cogent text, both the visual splendors of China's finest gardens and explains their ideas and techniques in accessible terms. Now every gardener, architect, or designer can understand China's garden heritage and be inspired to use it to dramatic effect.

Beginning with an introduction to Chinese beliefs and the historical development of garden design, this book discusses the basic aesthetics and landscaping elements—architecture, rock stacking, waterscapes, plants, borders, and scenic routes—used in Chinese garden design. The author, an expert in the history and theory of Chinese and international gardens, also describes specific gardens, from famed world cultural heritage sites like the Summer Palace in Beijing and the gardens of Suzhou—Lion Grove, Humble Administrator's, Lingering, and Master-of-Nets Gardens—to the lesser known. The Great Gardens of China serves as a compendium—in text and illustration—of all facets of the Chinese garden.

This book allows a total immersion in the enticing art of Chinese classical gardens . . . The book has helped me greatly to understand how Chinese gardens work and how to borrow from them for our own gardens in the West. I believe that Chinese gardens will strongly influence global garden design once their unique versatility is properly understood.
—Janet Wheatcroft
Craigieburn Garden & Nursery, Scotland
The Monacelli Press, 9781580933032, 260pp.
Publication Date: September 28, 2010
About the Author
Fang Xiaofeng is a professor at the Academy of Arts and Design, Tsinghua University in Beijing. He specializes in the history and theory of Chinese and international gardens, garden design, city planning, and architectural design. He is also the deputy executive editor for Decorations magazine.
or
Not Currently Available for Direct Purchase