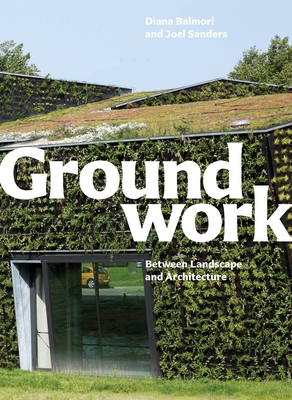 Groundwork
Between Landscape and Architecture
Hardcover

* Individual store prices may vary.
Description
The current environmental crisis calls for a unified practice of landscape and architecture that would allow buildings and landscapes to perform symbiotically to heal the environment. Over the past ten years, a diverse group of architects, landscape architects, and artists have undertaken groundbreaking projects that propose an integration of landscape and architecture, dissolving traditional distinctions between building and environment. Groundwork: Between Landscape and Architecture examines twenty-five projects, on an international scale, that consider landscape and architecture as true reciprocal entities.

Groundwork divides the projects into three design directions: Topography, Ecology, and Biocomputation. Topographic designers create projects that manipulate the ground to merge building and landscape as in Cairo Expo City in Egypt (Zaha Hadid Architects), Island City Central Park Grin Grin in Fukuoka, Japan (Toyo Ito & Associates) and the City of Culture of Galicia in Santiago de Compostela, Spain (Eisenman Architects). Ecologic designers develop environments that address issues such as energy climate and remediation, such as I'm Lost In Paris in France (R&Sie(n)), Turistroute in Eggum, Norway (Snøhetta) and Parque Atlántico in Santander, Cantabria, Spain (Batlle i Roig Arquitectes). Biocomputation designers use digital technologies to align biology and design in projects such as the Grotto Concept (Aranda/Lasch), North Side Copse House in West Sussex, England (EcoLogicStudio) and Local Code: Real Estates (Nicolas de Monchaux.)
 
What these projects all have in common is a desire to pay attention and homage to the liminal space where indoors and outdoors meet. The critical connection between natural and synthetic, exterior and interior space, paves the way toward a more inclusive—and indeed more alive—conceptualization of the physical world.

Praise For Groundwork: Between Landscape and Architecture…
"With Groundwork, [architect Joel Sanders] and the landscape architect Diana Balmori accomplish on paper what they'd like other designers to attempt in the world: a demonstration of the seamless unity of nature and culture that is demanded in an age of increasing environmental threat. The authors believe that green materials and technologies provide a common medium for interdisciplinary design approaches, just as glass and steel defined the inside/outside continuity of modernism. Much of the book is made up of their examples: from a Parisian house buried among 1,200 hydroponic ferns to a sculpture park built on a former brownfield along Seattle's waterfront to the authors' own design for an equestrian facility that morphs into a public park, which they proposed for New York's 2012 Olympics bid." —Julie Lasky, Designers & Books
The Monacelli Press, 9781580933131, 208pp.
Publication Date: September 27, 2011
About the Author
Diana Balmori (1932–2016) was a landscape and urban designer who founded Balmori Associates in 1990. Joel Sanders is principal of Joel Sanders Architect and teaches at Yale University.
or
Not Currently Available for Direct Purchase