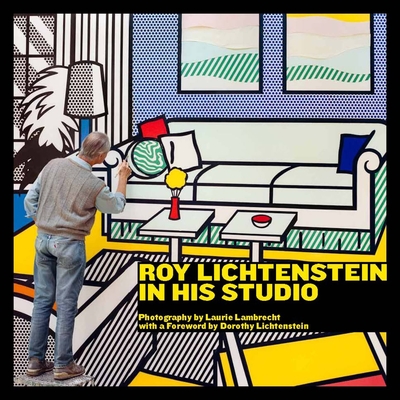 Roy Lichtenstein in His Studio (Hardcover)
Monacelli Press, 9781580933186, 128pp.
Publication Date: October 25, 2011
* Individual store prices may vary.
or
Not Currently Available for Direct Purchase
Description
Roy Lichtenstein in His Studio is a portfolio of vivid and engaging photographs by Laurie Lambrecht, who was an administrative assistant to Lichtenstein for three years. She and the artist worked together daily, and the bond between them is evident in the photographs. Lichtenstein is shown working on two major series, Reflections and The Interiors. He is completely absorbed, oblivious to the camera, as he mounts ladders, assembles colors, composes, and steps back to consider the effect.
 
During this period Lambrecht assisted in gathering material for a major retrospective at the Guggenheim Museum in New York. As a result, the photographs include scrapbooks and sketchbooks and other archival material that document Lichtenstein's entire career. There are stencils of Ben-Day dots, clippings from newspapers and comic books, Polaroid snapshots, rolls of tape, and boxes of colored pencils.
 
Lichtenstein encouraged Lambrecht to make photographs and was often pleased and amused by the results. These images offer fascinating insight into Lichtenstein's working processes and source materials, as well as being vibrant works of art in their own right.
 
In her essay Dorothy Lichtenstein, wife of the artist, recalls the collegial atmosphere of the studios in New York and Southampton in the early 1990s, a time of extraordinary productivity. Edward Robinson, an associate curator at the Los Angeles County Museum of Art, describes Lambrecht's process and approach.
About the Author
Based in New York City and Bridgehampton, Laurie Lambrecht travels widely on photographic assignments and for her personal work. She is represented by the Drawing Room in East Hampton, Victoria Munroe Fine Art in Boston, and Rick Wester Fine Art in Manhattan. Her work has been exhibited around the world, including solo exhibitions at FotoFest in Houston and the Lishui Photo Festival in China; galleries in London, Los Angeles, Boston, and New York; and the Griffin Museum of Photography in Winchester, Massachusetts. Dorothy Lichtenstein is president of the Roy Lichtenstein Foundation. Edward Robinson is associate curator of the Wallis Annenberg Photography Department at the Los Angeles County Museum of Art.
Praise For Roy Lichtenstein in His Studio…
"The photographs are in a striking square format, the product of a 1990 purchase [of a Hasselblad camera] that proved serendipitous. . . . Over the years, [Lambrecht] thought about creating a book of her Lichtenstein photographs, and in 2009 she decided to put together a proposal. 'That's when I started going into the negatives' with greater purpose, she said; when she got the contract for her coming book, she continued to dig into her files and print what she called the 'latent images' of her negatives, which then 'came to life' The process has been 'a wonderful journey of rediscovering things' about Mr. Lichtenstein—who died in 1997—and her time in his studio." —The New York Times

"Lambrecht took these pictures casually, over the course of several years . . . . whenever she looked down into the viewfinder lens of her Hasselblad camera, the change of perspective turned all the bustle and mess of the busy studio—the very stuff of Lichtenstein's creative process—into a discrete composition, a single sharp-edged image inside a frame." —Town & Country
Advertisement