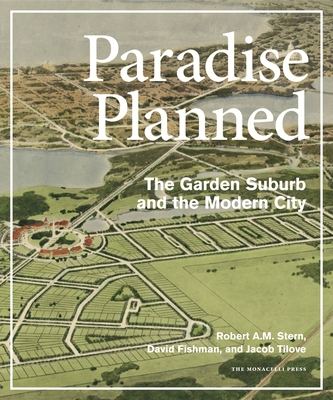 Paradise Planned
The Garden Suburb and the Modern City
Hardcover

* Individual store prices may vary.
Description
Paradise Planned is the definitive history of the development of the garden suburb, a phenomenon that originated in England in the late eighteenth century, was quickly adopted in the United State and northern Europe, and gradually proliferated throughout the world. These bucolic settings offered an ideal lifestyle typically outside the city but accessible by streetcar, train, and automobile.
 
Today, the principles of the garden city movement are once again in play, as retrofitting the suburbs has become a central issue in planning. Strategies are emerging that reflect the goals of garden suburbs in creating metropolitan communities that embrace both the intensity of the city and the tranquility of nature.
 
Paradise Planned is the comprehensive, encyclopedic record of this movement, a vital contribution to architectural and planning history and an essential recourse for guiding the repair of the American townscape.
Praise For Paradise Planned: The Garden Suburb and the Modern City…
"When Paradise Planned arrived at my home—all 1,072 extra-thick high-gloss pages—my first instinct was to set the volume down on its own half-acre lot, give it a peaked roof, and simply move in. All this bulk has a larger purpose: to prove overwhelmingly that the topic is not marginal or slight—that you can't fathom the modern city without understanding the immemorial longing for a house in a bower, just outside the city walls. The authors deploy industrial quantities of homework and buckets of elegant prose—not to mention maps, drawings, then-and-now snapshots, close-up details, and aerial views—to rescue a 'tragically interrupted, 150-year-old tradition' from modern disrepute." —Architectural Record 

"Paradise Planned, a massive history of the garden suburb, comes out next month. It's vintage Stern, contrarian and sweeping: At a time when it's fashionable to give the suburbs up for dead, he puts out an exhaustive ode to the bucolic enclave. That has always been Stern's strength. He's so old-fashioned that he's practically countercultural." —New York magazine

"'A 1,072-page behemoth, beautifully designed by Pentagram, that is a global Baedeker to the long and interesting history of the planned suburb. The book documents projects all over Europe and North America, and also ranges as far as Brazil, Israel, Japan, and Australia. There is no doubt that Paradise Planned will become the prime source on the subject. The book provides ample information about the backgrounds of scores of projects, many today forgotten, most rarely published. It shows how deeply the idea of the garden suburb was embedded in the public consciousness, and how it influenced not only garden city advocates, but architects and planners worldwide, including modernist pioneers Eliel Saarinen in Finland, Lewerentz in Sweden, Dudok in Holland, and Le Corbusier in France. . . . A gauntlet flung in the face of modernist urban theory. 'Suburbs will not go away nor should they,' Stern and company write. 'Planned as part of the metropolitan city, the garden suburb is the best template yet devised to achieve a habitable earthly paradise.'" —Witold Rybczynski, Designers & Books

"From architect Robert A. M. Stern's firm comes a comprehensive history of the garden suburb movement, which emerged in England during the 1830s. The volume also serves as a guide for current and future urban planning." —Architectural Digest
  
"You realize skimming through that there's a reason why some of the highest priced real estate outside big cities is often in garden suburbs (Beverly Hills, Calif., Chestnut Hill, Pa., Highland Park, Il.); though as the authors take care to point out, they were also commonly built for working-class communities. But from the first full-page picture in the book, an inviting image of a Tudor home on a leafy, gently curving street next to a sidewalk and a streetlamp in Forest Hills Gardens, Queens to images of grand, leafy neighborhoods with majestic oaks and wide, green-space boulevards, it's further proof that we did something right before suburban sprawl ate everything up. Planners and developers should, and will, take note. Paradise Planned is an important study of an oft overlooked, important chapter in our residential and sociocultural history—and it is a model we should draw from when thinking about how our communities can better meet the needs of the changing American Dream. Besides, it's hard not to agree with Stern, who points out you do get your money's worth. 'Pound for pound, you cannot find a better book'" —Fortune

"The writers reveal to denigrators that there is a great divide between good suburban planning and the banal sprawl too often seen as its inevitable byproduct. There is an ever greater community of modern practitioners who will keep Paradise Planned in ready, well-thumbed proximity to their desks. There could be no better prop for prospective client meetings, especially among elected and appointed officials making land-use decisions at a time of shrinking available land and rising property values." —The Architect's Newspaper
 
"The writing is clear and fluent, free from pretension and packed with relevant information; and each entry includes a good bibliographical note listing the main sources. Given that more than 1000 projects are covered, this is no mean feat. The visual documentation is exceptional. Most projects get at least four images (and some many more), the majority in color, typically including the layout plan and/or aerial photo and a number of street views." —RIBA Journal

"A comprehensive record of one of the Industrial Revolution's offshoots: the garden city movement, which germinated in England and spread green suburbs across the States, the Continent and beyond. The movement's principles are making a hybrid comeback." —New York Spaces
The Monacelli Press, 9781580933261, 1072pp.
Publication Date: December 3, 2013
About the Author
Robert A. M. Stern is the founding partner of Robert A. M. Stern Architects and dean of the School of Architecture at Yale University. He is the principal author of the monumental five-volume history of architecture and urban design in New York City, culminating with New York 2000, co-authored with David Fishman and Jacob Tilove.
or
Not Currently Available for Direct Purchase