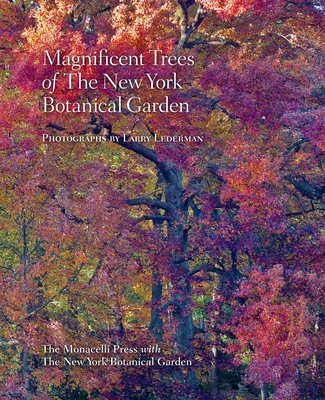 Magnificent Trees of the New York Botanical Garden
Hardcover

* Individual store prices may vary.
Description
Magnificent Trees celebrates the 30,000 specimens that adorn the landscape of The New York Botanical Garden, a National Historic Landmark. This new visual tribute features lavish photographs by Larry Lederman accompanied by descriptions by Todd Forrest, Vice President for Horticulture and Living Collections at the Garden.
 
Trees evoke wonder in all who observe them. They are at once visions of majesty, and symbols of shelter and peace. The beauty inherent in trees is both perennial and ever-changing; their shapes and colors transform in every change of season, in every sunrise and sunset. The New York Botanical Garden is recognized throughout the world for stewardship and connoisseurship of its vast collections, some in forests, some in groves, and some standing in solitary majesty.
 
An authority on the diverse species present in the garden, Todd Forrest writes vividly about the Garden's past, detailing the incredible histories of the trees in the collection—from their vital role in Native American life and culture, to their wartime function as neutral territory during the Revolutionary War.
 
Each tree has a story to tell, and just as Forrest gives their collective past words, Lederman captures their grandeur in hundreds of stunning images. He portrays the diversity of this collection with photographs that reveal the trees in a myriad of fascinating perspectives: in landscape views that convey the Garden's genius loci; portraits illustrating the architecture and profound visual impact of selected trees; remarkable details of flowers, fruit, bark and leaves; and impressionistic images, abstract in character but beautiful in composition.
Praise For Magnificent Trees of the New York Botanical Garden…
"This book is beautiful, but it will also be useful to any gardener puzzled about what to add to her landscape. Currently on my wish list because of Lederman's photographs are the sawtooth oak, the American fringe­tree and the little-leaf linden, a stalwart on city streets because it stands up so well to urban pollution — but whose beauty really emerges when it has room to spread. I was very taken with the handsomely burled Siberian elm, but my heart belongs to a senior white oak, photographed in winter, its graceful canopy arching over a rocky outcropping. If Lederman's book doesn't send you straight to the nursery, it should at least give you a good reason to visit the New York Botanical Garden, a national treasure nestled in the heart of the Bronx." —Dominique Browning, New York Times

"Shapes and colors are new, not like anything we have seen before.... Lederman has artfully documented his own communion with these creatures.... We can get lost in these photographs." —Garden Design magazine

"After spending time with the extraordinary photographs of Larry Lederman in Magnificent Trees of the New York Botanical Garden you will never look at a tree in the same way again. The pictures open your eye to every detail of form, color, texture of these mighty trees in all seasons. You will want to take walks in the winter just to see the sensuous trunks. One thing that grows more beautiful with age is the trunk of a tree and this book will make your walks in the garden or wherever there is a stand of trees ever so much more meaningful." —Bunny Williams
The Monacelli Press, 9781580933339, 272pp.
Publication Date: October 30, 2012
About the Author
Larry Lederman has been photographing landscapes for the past ten years, with a focus on The New York Botanical Garden, where he is a member of the Board of Advisers. In addition to inclusion in private and corporate collections, his work has been exhibited in the Ross Gallery at the Garden;  at the landmark Four Seasons Restaurant in New York City; and at Olana, historic home of famed Hudson River painter Frederic Edwin Church. A well-known attorney, Lederman is Counsel to Milbank, Tweed, Hadley & McCloy, where he was Chairman of the firm's Global Corporate Practice. He is a distinguished adjunct professor at New York Law School and the author of Tombstones: A Lawyer's Tales from the Takeover Decades, published by Farrar, Straus and Giroux. Lederman lives in New York City and Westchester, New York.
or
Not Currently Available for Direct Purchase