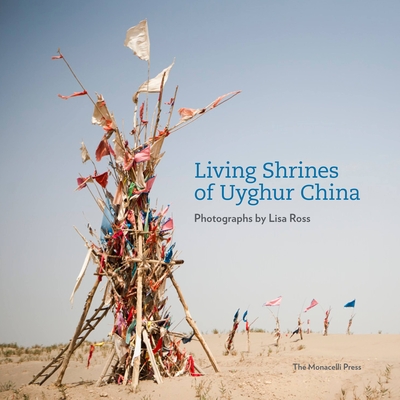 Living Shrines of Uyghur China
Photographs by Lisa Ross
Hardcover

* Individual store prices may vary.
Description
Lisa Ross's ethereal photographs of Islamic holy sites were created over the course of a decade on journeys to China's Xinjiang region in Central Asia, historically a cultural crossroads but an area to which artists and researchers have generally been denied access since its annexation in 1949. These monumental images show shrines created during pilgrimages, many of which have been maintained continuously over several centuries; visitation to the tombs of saints is a central aspect of daily life in Uyghur Islam, and its pilgrims ask for intercession for physical, mental, and spiritual ailments. The shrines, adorned with small devotional offerings that mark a prayer or visit, are poignant representations of collective memory and a pacifistic faith, and endure despite vulnerability to natural forces of sand, heat, and powerful winds. Their simplicity and austerity as captured by Ross invoke ideas of spirituality, eternity, and transcendence.
 
Three essays—by a historian of Central Asian Islam, a Uyghur folklorist, and the curator of an accompanying exhibition at the Rubin Museum of Art—situate the photographic content in context. This volume emerges at a critical time, as modernization and new policies for development of China's far west bring about rapid, extreme, and irrevocable change; the region is its largest source of untapped natural gas, oil, and minerals. Many of the sites in Ross's work are threatened by political and economic pressures—her images are valuable, therefore, not only for their intrinsic beauty, but as an important record of a rich and vibrant culture.
Praise For Living Shrines of Uyghur China: Photographs by Lisa Ross…
"Ms. Ross returned repeatedly to the Xinjiang region of far western China, accompanied by an Uyghur folklorist, Rahile Dawut, and a French historian of Central Asia, Alexandre Papas. Both have contributed essays to Ms. Ross's recently published book of photographs of the shrines. And a selection of pictures from the book makes up the small exhibition, organized by Beth Citron, at the Rubin Museum of Art. With its expanses of pale earth and wide sky framing wind-whipped Uyghur forms, the show is a heart lifter, confirming the idea that belief is, and always has been, a wellspring of visual invention, and that evanescence has an aesthetic all its own." —The New York Times

"Lisa Ross's luminous photographs are not our usual images of Xinjiang. One of China's most turbulent areas, the huge autonomous region in the country's northwest was brought under permanent Chinese control only in the mid-twentieth century. Officially, it is populated mostly by non-ethnic Chinese—Turkic peoples like Uighurs (also spelled Uyghurs), Kazakhs, and Kyrgyz, as well as Mongolians and even Russians—and its population has long had difficult relations with Beijing. In 2008, 2009, and 2012, Xinjiang was the site of bloody protests. Instead of representing these political conflicts, however, Ross's photographs are unassuming and quiet; people are never present and the objects she captures—stone on sand, cloth on stone, the skeleton of a dried animal—have an incandescent glow, as if lit by another sun. In fact, these images reveal a little-known religious tradition in Xinjiang—its desert shrines to Sufi saints. Taken in the Xinjiang's Taklamakan Desert, they are collected in Ross's addictive new book Living Shrines of Uyghur China." —New York Review of Books

"Lisa Ross is a hunter and gatherer of rare grace. With the patience and resolve of a true pilgrim, she travels to impossible places and captures ephemeral notions (such as prayer, history, isolation, migration, hope, grief, longing, etc.). These notions, she transforms with a quiet alchemy into photographs that inhabit the viewer's mind and soul forever. Quite simply, my admiration for this work has no bounds." —Elizabeth Gilbert, author of Eat, Pray, Love

"An awareness of transience lies at the heart of all devotion, and it finds an apt emblem in these grave markers, bent and tattered by the wind . . . In time, and not much time, [modernization] could transform Ms. Ross's exquisite anthropological images of living monuments into documents of relics." —Holland Cotter, The New York Times
 
"I have an obsession with saints and the desert, things that are bigger than we are. When I first saw Lisa's work I was moved by the colors and beauty of the imagery, and learning where they were made and what concerned her made me even more impressed by their silence and serenity. Lisa found a place and really found a way to find herself in that place." —Nan Goldin
The Monacelli Press, 9781580933506, 128pp.
Publication Date: February 12, 2013
About the Author
Lisa Ross is a Brooklyn-born photograph and video artist who has been exhibiting her work, lecturing, and teaching photography for almost twenty years. In 2012, the University of California-Berkeley held an exhibition of Ross's work; she has also been featured in six solo gallery exhibitions and numerous group exhibitions in the U.S., Europe, and North Africa. Ross has lectured at Indiana University, Georgetown University, UNC Chapel Hill, the Silk Road House, and the School of Oriental and African Studies in London.

Beth Citron is an assistant curator at the Rubin Museum of Art.
 
Rahilä Dawut is a scholar and Uyghur folklorist.
 
Alexandre Papas is a historian of Central Asian Islam.
or
Not Currently Available for Direct Purchase