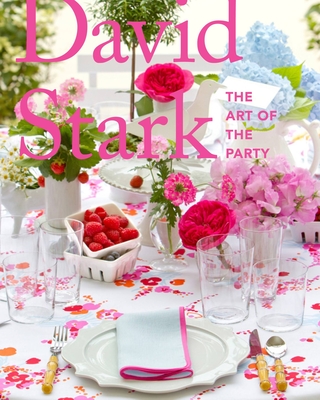 David Stark
The Art of the Party
Hardcover

* Individual store prices may vary.
Description
Renowned event planner David Stark reveals whimsical, artistic, unexpected designs often created from sustainable, industrial, or low-cost materials to inspire readers—whether planning a wedding, dinner party, or holiday gathering—looking for ideas for their own events.

Twenty-five of David Stark's events are featured—both private celebrations and charitable galas— and showcase how he developed the inspiration for the overarching theme, color palette, and the thoughtful, coordinated details he's known for, and which truly make an event memorable.

From the New York Metropolitan Opera opening gala to Target's large-scale charitable events and pop-up shops, David Stark's inimitable influence is sweeping the design world—and thanks to his books, becoming more accessible for his legions of fans.

No matter the event, The Art of the Party is sure to inspire creativity and become an essential resource for years to come.
Praise For David Stark: The Art of the Party…
"There are two ways to enjoy David Stark's new book, The Art of the Party. You can admire it as a coffee table book full of images from his show-stopping events, or treat it like a handbook for imbuing your own parties with the joie de vivre and excitement Stark's events are known for." —Elle Decor


"David Stark—joy, daring, humor, charm, freedom of expression, generosity of spirit, a relaxed elegance, a perfectly calibrated measure of extravagance, and a disciplined, exquisitely articulated commitment to beauty. Along with a deep, abiding social conscience. And a lot of laughter and a beautiful friendship. Maybe the best thing about David is the way he listens: he listens and listens, then he thinks and thinks, and then he makes magic." —Mariska Hargitay

"When we held our HuffPost Game Changers party two years ago, we new we needed a designer as innovative, thoughtful, and risk-taking as the people we were honoring. David brought his singular style, passion and creativity to the job—the same qualities that distinguish his new book." —Arianna Huffington

"David Stark is simply one of a kind. His creativity is inspiring, his ideas are fun, and, best of all, he's a treat to work with. Our collaborations make me want to throw party after party!" —Darcy Miller, Celebrations Expert & Editorial Director, Martha Stewart Weddings

Praise for David Stark Design:

"The scale and visual impact of David Stark's installations rival those by many contemporary artists at the Whitney Biennial or any Chelsea gallery."
—David Byrne

"To do what David does, he has to be a consummate politician, a shrink, an accountant, and a brilliant visual artist, with the unshakable calm of a Zen master. He is all that and more. He has great taste, a fabulous sense of humor, and is blessed with an uncanny sixth sense about how to present an event so that everyone knows when they walk in the door that they are in for an unforgettable experience."
—Glenn Close

"When we asked David to help plan and design HuffPost's Pre-Inaugural Gala in Washington D.C., a free-wheeling party for over 3,000 of our closest friends, we knew we were setting the bar high. He more than cleared it. His innovative visual ideas and elegant designs were magical. He brings the same creativity and passion to this stylish new book."
—Arianna Huffington

"A visually stunning monograph"
—Design Milk

"What we're dealing with here is a new kind of art and artist that touches at the very core of creativity. With his latest book, David Stark Design, Stark has secured his place in the field and become a rock star in the design world."
—PensEyeView

"If you're looking for party inspiration (or major eye candy), this is the book to pick up . . . no two events are alike."
—HGTV.com

"One finds benefit parties decorated with drifting tendrils of paint strips or else walls upholstered in Post-its or centerpieces constructed from 18,000 donated pencils later to be passed along to schoolchildren. One finds 6,000 tons of recycled waste paper used to create fantasy décors. One does, that is, if David Stark is involved . . . David Stark Design [is] a just-published monograph about Mr. Stark's forays into the New York night."
—The New York Times
The Monacelli Press, 9781580933520, 224pp.
Publication Date: May 7, 2013
About the Author
A graduate of the Rhode Island School of Design and the School of Visual Arts, David Stark began his career as a painter before starting his own business as an event designer. His previous books include David Stark Design, Napkins with a Twist, To Have & to Hold: Magical Wedding Bouquets, and Wild Flowers: Projects and Inspirations.
or
Not Currently Available for Direct Purchase