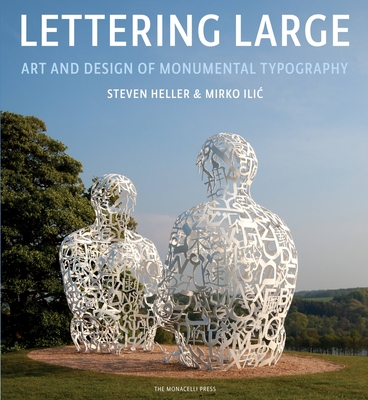 Lettering Large
The Art and Design of Monumental Typography
Hardcover

* Individual store prices may vary.
Description
Typography has jumped off the printed page to stand on its own as branding, sculpture, and even architecture. Lettering Large examines this phenomenon through a diverse collection of images collected from a vast range of sources around the world. As technology has made construction and production of monumental letters possible, the demand for their design has grown exponentially. This book is the first to chronicle letters as presences in the urban landscape. Preeminent graphic design and typographic commentator and historian Steve Heller teams with Mirko Ilić, a noted graphic designer, to select the most dramatic and telling examples culled from sites across the United States and throughout Europe and Asia.
Praise For Lettering Large: The Art and Design of Monumental Typography…
"Heller and his co-author Mirko Ilić look at the diverse ways that artists and architects are using 'monumental typography' in buildings, sculptures, and outdoor displays. 'It might seem curious to think of type as an art,' they write in the book's introduction, noting that letters have traditionally been used more for practical than aesthetic purposes. But as you can see in the book and the images below, type is evocative apart from any particular message it might carry. In some buildings, like Ogijima's Soul in Japan (third image, below) three-dimensional type is used to create an irregular, appealing lattice form. In others, two-dimensional printed lettering creates a sense of frenetic intellectual activity, as if to say what's going on in this building is so turbo-charged, ideas are actually condensing onto the walls." —The Boston Globe "Brainiac" 

"From inscriptions on Mesopotamian temples to the street art of 21st-century Brooklyn, man has been scrawling words and symbols on walls for millennia. It's that very urge that's chronicled in the new book Lettering Large, a global survey of what co-author Steven Heller calls 'extroverted typography.'" —The Wall Street Journal

"Big type used to be known as 'Supergraphics,' a high visibility offshoot from late period modernism when the building started evolving into a billboard. But where the Supergraphic genre was brash and commercial, the more artistic expressions of big scale type design are rarely chronicled. Lettering Large corrects the balance, assembling a huge overview of installations, inscriptions and artworks that use the power of the printed work to make their point. Whether letters are cut, carved, painted or punched, the book looks at ways in which typography and the built (and natural) environments have come together, with new works supported by plenty of historical precedents." —Wallpaper

"While carving a sign from a slab of marble or slapping supergraphics on the side of a building is nothing new, a recent boom in techniques like computer-aided milling and large-format printing has aided the ability of artists and designers to see their characters writ large—like, really, really large. The book traces the history of letterforms in the urban landscape, from rune stones to architectural signage to oversized corporate logos to entire buildings made from type, including massive sculptures of laser-cut paper lyrics that float in the wind." —Gizmodo

"Like these words you're reading now, we typically experience typography at a scale of only a few millimeters. Across our built environment, however, type stands tall, even monumental. These mammoth words fascinated Steven Heller and Mirko Ilić. The duo documented hundreds of examples writ large in art and architecture and delved into society's collective interest in tall type." —Designers and Books
The Monacelli Press, 9781580933599, 224pp.
Publication Date: October 29, 2013
About the Author
Steven Heller is the 2011 recipient of the Smithsonian National "Design Mind" Award. He is the co-chair of the MFA Design/Designers as Author + Entrepreneur program at the School of Visual Arts in New York and the editor and/or co-author of more than 140 books on design and popular culture. He writes The Daily Heller blog and is a columnist for The Atlantic online and the New York Times Book Review.
 
Mirko Ilić has collaborated with both Milton Glaser and Steven Heller as co-author on multiple books and as a teacher at Cooper Union and the School of Visual Arts.
or
Not Currently Available for Direct Purchase