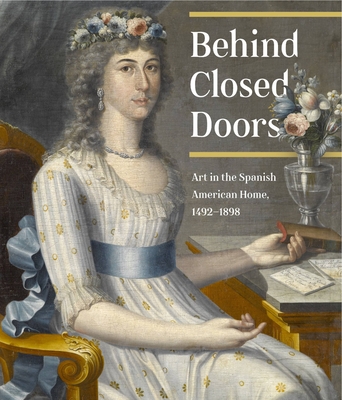 Behind Closed Doors
Art in the Spanish American Home 1492-1898
Hardcover

* Individual store prices may vary.
Description
A critical contribution to the burgeoning field of Spanish colonial art, Behind Closed Doors reveals how art and luxury goods together signaled the identity and status of Spanish Americans struggling to claim their place in a fluid New World hierarchy.

By the early sixteenth century, the Spanish practice of defining status through conspicuous consumption and domestic display was established in the Americas by Spaniards who had made the transatlantic crossing in search of their fortunes. Within a hundred years, Spanish Americans of all heritages had amassed great wealth and had acquired luxury goods from around the globe. Nevertheless, the Spanish crown denied the region's new moneyed class the same political and economic opportunities as their European-born counterparts. New World elites responded by asserting their social status through the display of spectacular objects at home as pointed reminders of the empire's dependence on silver and other New World resources.

The private residences of elite Spaniards, Creoles (American-born white Spaniards), mestizos, and indigenous people rivaled churches as principal repositories for the fine and decorative arts. Drawing principally on the Brooklyn Museum's renowned colonial holdings, among the country's finest, this book presents magnificent domestic works in a broad New World (Spanish and British) context. In the essays within, the authors lead the reader through the elite Spanish American home, illuminating along the way a dazzling array of both imported and domestic household goods. There, visitors would encounter European-inspired portraiture, religious paintings used for private devotion and also as signifiers of status, and objects that spoke to the owner's social and racial identity.
Praise For Behind Closed Doors: Art in the Spanish American Home 1492-1898…
"Obsessions with race, bloodline and birthplace—some particular to the Spanish colonies, others more widespread—haunt Behind Closed Doors. It leaves us in the strange position of marveling at the opulence of domestic life in the Spanish colonies while pondering some of the ugliest aspects of colonialism. These glimpses of the good life—and enough decorative installations to fill many an interior designer's inspiration board—are what we expect from a show on the homes of the wealthy. But the severity of colonial subjugation is just as visible and, in the end, more affecting."
—Karen Rosenberg, The New York Times

"Behind Closed Doors promises geographical and cultural scope as well as a gorgeous array. Its 160 paintings, sculpture, prints, textiles and decorative art objects will serve as signifiers of faith, status and taste, perhaps proving that the rich, while not like you and me, may often be very much like one another regardless of time or place."
—Roberta Smith, The New York Times

"Old things that astonish and enlighten keep emerging from the shadows. Focused on Hispanic imperialists who flaunted wealth and influence, Behind Closed Doors explores how European conquerors and members of native ethnic groups intermarried and then furnished their homes with Chinese export porcelain and Flemish tapestries. Commissioned portraits show the families slathered in pearls that had been harvested along a desolate stretch of Venezuelan coast. A recently purchased Mexican screen about nine feet long is encrusted with mother-of-pearl scenes of victorious Hapsburg soldiers, and a Peruvian painting depicts masters and slaves dancing by a riverbank." —Eva Kahn, The New York Times

"Behind Closed Doors provides an excellent birds eye view on how Spanish American households were run, social rituals and often connects the collection of major objects to the owner's Spanish roots. —Hispanically Speaking News





The Monacelli Press, 9781580933650, 224pp.
Publication Date: September 10, 2013
About the Author
Richard Aste is Curator of European Art at the Brooklyn Museum. In 1999 he co-curated Giulio Romano: Master Designer at the Hunter College Art Gallery. He was formerly Associate Curator of European Art at Museo de Arte de Ponce in Puerto Rico.

Mia L. Bagneris is Visiting Assistant Professor of Art History at Tulane University, where she teaches African Diaspora art history and studies race in Western Art.

Michael A. Brown is Mayer Curatorial Fellow in the New World Department at the Denver Art Museum.

Jorge F. Rivas Pérez is Spanish Colonial Curator of the Colección Patricia Phelps de Cisneros. His curatorial credits include The Arts in Latin America, 1492-1820 (2006).

Art historian and writer Suzanne Stratton-Pruitt is the author of The Immaculate Conception in Spanish Art (1994), recipient of the American Society for Hispanic Art Historical Studies' award for that year's best book on Spanish art published in English.
or
Not Currently Available for Direct Purchase