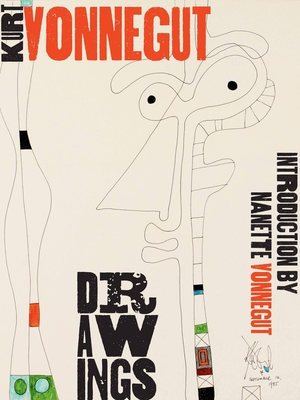 Kurt Vonnegut Drawings
Hardcover

* Individual store prices may vary.
Description
Those who know Kurt Vonnegut as one of America's most beloved and
influential writers will be surprised and delighted to discover that he was also a
gifted graphic artist. This book brings together the finest examples of his funny,
strange, and moving drawings in an inexpensive, beautifully produced gift
volume for every Vonnegut fan.

Kurt Vonnegut's daughter Nanette introduces this volume of his never before
published drawings with an intimate remembrance of her father. Vonnegut always
drew, and many of his novels contain sketches. Breakfast of Champions (1973)
included many felt-tip pen drawings, and he had a show in 1983 of his drawings at
New York's Margo Feiden Gallery, but really got going in the early 1990s when he
became acquainted with the screenprinter Joe Petro III, who became his partner in
making his colorful drawings available as silkscreens.

With a touch of cubism, mixed with a Paul Klee gift for caricature, a Calder-like ability
to balance color and line, and more than a touch of sixties psychedelic sensibility,
Vonnegut's aesthetic is as idiosyncratic and defiant of tradition as his books. While
writing came to be more onerous in his later years, making art became his joyful
primary activity, and he made drawings up until his death in 2007. This volume, and a
planned touring exhibition of the drawings, will introduce Vonnegut's legion of fans to
an entirely new side of his irrepressible creative personality.
Praise For Kurt Vonnegut Drawings…
"Kurt Vonnegut is known less for his graphic art than for satiric masterpieces like Slaughterhouse-Five and Breakfast of Champions. But as a writer who draws, he's not alone—Victor Hugo, Tom Wolfe, Günter Grass and John Updike have all sketched and doodled. In Kurt Vonnegut Drawings, with an introduction by his daughter Nanette Vonnegut and an essay by the critic Peter Reed, the drawings—witty and Paul Klee-inspired—are referred to as doodles, as if to distinguish them from the art of Saul Steinberg, his neighbor and friend (who Vonnegut admitted made him feel stupid). But Vonnegut liked to play with color and ideas too. 'Had my father been granted two lifetimes,' Nanette writes, 'I have no doubt he would have mastered some aspect of the visual arts. And he would have cursed it and wished he had chosen to be a poet instead.'"
—The New York Times Book Review

"There's a little Cubism, and a Ben Shahn-like linear quality, to novelist Kurt Vonnegut's drawings, but 1960s psychedelics seem to be more essential to understanding these (often colored) drawings. More than doodles, they have a precision that might surprise even his fans, and of course a sense of humor. The introduction by Vonnegut's daughter Nanette and essay by his friend, Peter Reed, reveal just how important visuals were to the visionary writer." 
—The Star-Ledger (Newark)

The wildly various works include the caricatures of the 'Self-Portraits,' the bright whimsy of 'Abstraction,' and the playful 'Letters' with their curving, bubbly lines. 'Lines,' 'Things,' and 'Looking at Things' invite yet defy insights into Vonnegut's fiction, and the last 'Words' seem to mock the whole enterprise of creation, the concluding image a canopied staircase inscribed with: 'There is a ceiling on human thoughts.' Perhaps so, but the refreshing images featured here 'illustrate beautifully a creative mind at play,' and will delight Vonnegut fans."
—Publishers Weekly
The Monacelli Press, 9781580933773, 176pp.
Publication Date: May 13, 2014
About the Author
Nanette Vonnegut, a painter and writer, is the daughter of Kurt Vonnegut. She lives in Northampton, Massachusetts.

Peter Reed is an emeritus professor of English at the University of Minnesota. A longtime friend of Vonnegut, he has written extensively on the author's work.
or
Not Currently Available for Direct Purchase