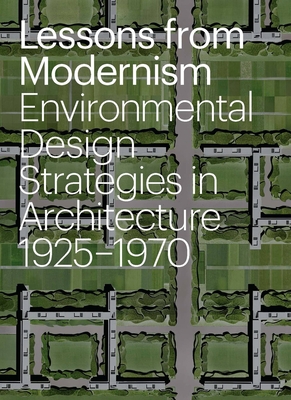 Lessons from Modernism
Environmental Design Strategies in Architecture, 1925 - 1970
Hardcover

* Individual store prices may vary.
Description
This valuable reference for today's green building movement examines twentieth-century modern architecture, including buildings by Le Corbusier and Oscar Niemeyer, through the lens of sustainability.
 
The hottest topics in contemporary architectural design and architectural history—the focus on sustainability and the evaluation of the modern movement—meet in Lessons from Modernism, a partnership with The Cooper Union that explores the ways in which the straightforward functional approach of modernist design creates environmentally sensitive solutions.
 
Lessons from Modernism provides new insights into 25 buildings by a diverse selection of architects, including Frank Lloyd Wright, Paul Rudolph, Jean Prouvé, and Arne Jacobsen, and demonstrates how these architects integrated environmental concerns into their designs. Buildings are located across the United States, Central and South America, Cuba, Japan and more—and include houses, art centers, commercial buildings, and civic buildings. Lessons from Modernism is an affordable reference work for all interested in how architecture intersects with the green movement, pairing full descriptions of all buildings with analytical essays, featuring charts of climate zones and solar movement, and concluding with a comprehensive chronology that details how environmental consciousness evolved throughout the twentieth century.
Praise For Lessons from Modernism: Environmental Design Strategies in Architecture, 1925 - 1970…
"By reducing green design to a set of checklists that are then used as shopping lists, LEED and similar environmental rating systems may actually increase consumption. And by turning sustainability into the province of consultants, such systems take the responsibility for making buildings ecologically sound out of the hands of architects. It didn't have to be that way, Kevin Bone makes clear in this important new book. The outgrowth of a 2013 exhibition at New York's Cooper Union, it demonstrates that many significant Modernist buildings were green by virtue of their small size and sensitive siting." —Architectural Record
The Monacelli Press, 9781580933841, 224pp.
Publication Date: May 13, 2014
or
Not Currently Available for Direct Purchase