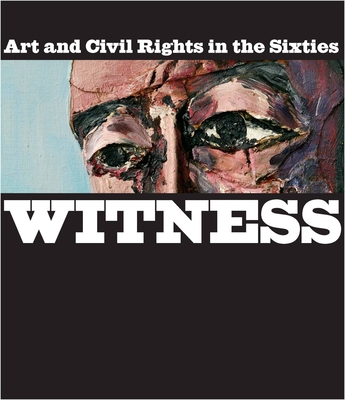 Witness (Hardcover)
Art and Civil Rights in the Sixties
Monacelli Press, 9781580933902, 176pp.
Publication Date: March 18, 2014
* Individual store prices may vary.
Description
Over 100 works by African American artists and others from the 1960s Civil Rights Movement show powerful responses in art to events of black history. Marking the fiftieth anniversary of the Civil Rights Act of 1964, "Witness "accompanies an exhibition organized by the Brooklyn Museum and demonstrates the array of aesthetic strategies through which 1960s artists engaged in the struggle for racial justice. Personal recollections from artists including Mark di Suvero and Jack Whitten intertwine with rich illustration, engaging essays, and documentary photos--including Dr. Martin Luther King, Jr. and freedom marchers on the Selma-to-Montgomery March, and Gordon Parks's photos of the Black Panther Party and Muhammad Ali--along with a comprehensive chronology of the period from 1954 to the 1970s.
African American artists featured include Romare Bearden, Elizabeth Catlett, David Hammons, and Melvin Edwards. Represented as well are notable artists who recorded aspects of the Civil Rights struggle, including Richard Avedon, Bruce Davidson, Andy Warhol, Robert Indiana, and Philip Guston. This collection of emotionally resonant artworks lets us see the Civil Rights movement with new eyes and is a fitting tribute to a turbulent period in history, whose struggles continue to shape America.
About the Author
Dr. Teresa A. Carbone joined the Brooklyn Museum in 1985 and is the Andrew W. Mellon Curator of American Art. She is the curator and exhibition publication co-author of "Youth and Beauty: Art of the American Twenties"; a co-curator of "Eastman Johnson: Painting America"; and the principal author of the two-volume "American Paintings in the Brooklyn Museum: Artists Born by 1876."

Dr. Kellie Jones, an authority on African American and African Diaspora artists, is Associate Professor in the Department of Art History and Archaeology at Columbia University. She is the author of "EyeMinded: Living and Writing Contemporary Art"; and "Taming the Freeway and Other Acts of Urban HIP-notism: African American Artists in Los Angeles in the 1960s and 1970s." She served as the curator of "Now Dig This! Art and Black Los Angeles, 1960-1980"--part of the Getty Foundation's Pacific Standard Time initiative--which originated at the Hammer Museum, Los Angeles in 2011.
Praise For Witness: Art and Civil Rights in the Sixties…
"Co-curators Teresa A. Carbone and Kellie Jones present four convincing essays that address aspects ranging from representational strategies of artists, the use of photography beyond simple reportage, the impact of this work on the art history canon, and the globally situated struggle for emancipation. Jones's deeply complex analysis cites numerous lushly illustrated works; her material, social, and political examination discusses the myriad ways African American artists, often segregated from the art world, articulated racial portraits of blackness as a means of accessing political authority. A variety of media are considered, including gestural and geometric abstraction, assemblage, minimalism, and pop imagery. This richly illustrated catalog will appeal to art and cultural historians, students, and those with an interest in the representative and political power of art created during the civil rights era." —Library Journal

"This thoughtful catalog of brilliantly wide-ranging aesthetics explores the complex relations between visual art and the fight for racial justice. The text moves away from rote historical narratives, instead opting to focus on the role of the photographer in shaping action and emergent discourses, of the influence of Ghana and Cuba on politics and aesthetics, and of the tensions of politics in Pop art. These essays help guide what might otherwise be an overwhelming diversity of images, including a David Hammons body print, an iconic poster by Emory Douglas, Betye Saar assemblages, and Norman Rockwell paintings, among many others. The images themselves, brought into conversation with one another, are a valuable and resonant resource, allowing not only a deeper understanding of art from the 1960s, but of the ongoing historical reality of race in the United States. As Cynthia A. Young points out in one essay, the Civil Rights Movement was not monolithic: 'In fact, it encompassed a series of movements . . . with sometimes similar and often vastly different strategies, goals, and outcomes'. In guiding us to better understand this reality, this book is exciting and successful." —Publishers Weekly