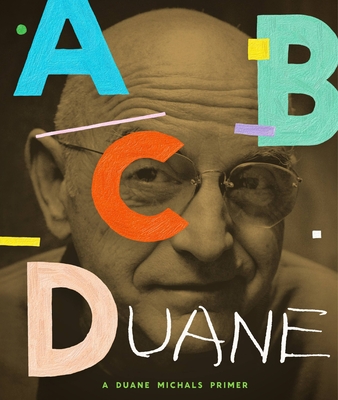 ABCDuane
A Duane Michals Primer
Hardcover

* Individual store prices may vary.
Description
The legendary photographer relates intimate themes of his life and art in a scrapbook memoir illustrated by his works—from portraits of Magritte to Warhol, to painted tintypes, and the revolutionary multiple-image sequences and handwritten texts for which he is best known—and by pieces from his personal art collection, now donated to Pittsburgh's Carnegie Museum of Art.
 
Whether a portrait of Eugène Atget by Berenice Abbott, collages by Joseph Cornell, or drawings by David Hockney, the works of Michals's artistic lodestars sit alongside his own haunting images—some never-before-published—and his mordantly funny, playful, humble, and heartbreaking observations on art, photography, and life—revealing the creative obsessions of a uniquely beloved artist.
 
The images and texts by Duane Michals assembled here are, like the artist himself—impossible to categorize; perhaps there is no better way to organize them than alphabetically. Whether recalling encounters with many of the past century's most illustrious artists (Balthus, Duchamp), celebrating literary heroes (Whitman, Joyce), addressing essential human concerns (Grief, Children's Stories, Homosexuality, God), or revealing deeply personal snippets of life with a partner suffering from dementia (Fred Said)—ABCDuane is a creative autobiography and the perfect primer for Michals's vastly influential body of work—both for those who have loved it for the past half-century, and those being delighted by it for the first time.
Praise For ABCDuane: A Duane Michals Primer…
A TIME Best Photobook of 2014

"What is disarming—and unique—about Duane Michals' ideas is the humble means by which he chooses to translate them. His repertoire of special effects is stubbornly unflashy. Instead of smoke machines or lens distortion or solarized tone reversal, or anything in the digital toolbox, he makes long exposures and has his actors move. The treat of Mr. Michals' own art collection inlcudes drawings by Balthus, David Hockney, an etching by Giorgio Morandi and lithographs by Magritte. Most artists wouldn't risk the comparison. Mr. Michals has nothing to fear. His art doesn't look like anyone else's."
—The Wall Street Journal

"Michals has continually rebelled against and expanded the documentary and fine art traditions. As an expressionist, rather than going out into the world to collect impressions of the eye, he looked inward to construct the images of his mind, exploring the unseeable themes of life, death, sensuality, and innocence. Once a radical outlier, now a father of dominant trends, he inspired generations of photographers from Jim Goldberg and Cindy Sherman, to the countless others staging, scribbling over, and painting on their photographs today."
—American Photo

"This is a retrospective not of Duane Michals' work but, rather, his sensibility. Here in one small volume is all the wit, charm, serious intent, and artfulness of Michals himself, plus his signature antic wisdom to make it a joyful ride."
—TIME 

"Duane Michals shares stories and work, much of it previously unpublished. Many of the stories are highly personal anecdontes, while others reveal something of his inspiration and philosophy."
—Photo District News

"A delectable smorgasbord of creative output. . . . Duane Michals is as skillful and entertaining in his writing as in his visual art, and the book's A-to-Z structure allows for serendipitous leaps, from the personal foibles of Lucien Freud to a poignant narrative of the death of Michals's mother, from a stunning photo of postfame Veronica Lake to irresistible Edward Lear sketches-cum-rhymes inspiring Michals's own doggerel. This quirky memoir-collage collage communicates an intelligence and generosity of spirit that derives from an alchemical amalgamation of childlike playfulness unmarred by the wisdom of experience."
—Publishers Weekly
The Monacelli Press, 9781580934053, 184pp.
Publication Date: November 4, 2014
About the Author
Duane Michals (b. 1932) is an American photographic artist noted for his creative extension of the possibilities of the photographic medium. Alongside a career as a freelance photographer working in fashion and advertising, Michals explored multiple exposures, sequences, series, and combinations of text and drawings. Ever since his first major solo exhibition, at the Museum of Modern Art in 1970, his work has been consistently published and exhibited worldwide.