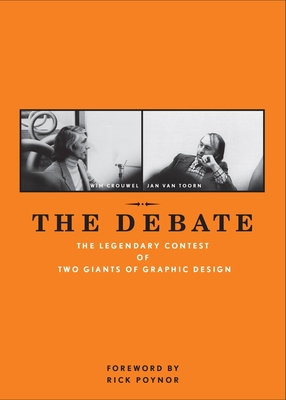 The Debate
The Legendary Contest of Two Giants of Graphic Design
Hardcover

* Individual store prices may vary.
Description
A PRINT magazine and Design Observer Best Book of the Year

The first English translation of a famous 1972 debate between Dutch graphic designers Wim Crouwel and Jan van Toorn, a public clash of subjectivity versus objectivity at Amsterdam's Museum Fodor that helped set the stage for bold philosophical showdowns to come in design culture.
 
Held in response to an exhibition of Van Toorn's work at Stedelijk Museum, including student posters protesting the Vietnam War—in an era of youth culture and increasing resistance to authority, capitalism, and the power of media—the stakes were aesthetic, ethical, and politically charged.
 
Crouwel defended his approach of neutrality and austere rationalism, attention to typography and worksmanship, and professionalism in service of the client's message. Van Toorn argued for his use of chaos, collage, and photographs of everyday life; that a designer's ideas, personality, and political commitments are integral to the work.
 
Dialogue on The Debate has reverberated in graphic design circles for the four decades since, and it is often referenced in modern design criticism as a key marker for the philosophical positions that continue to define the profession. The first English transcript of this key event in design history will allow a contemporary audience to discover the ongoing relevance of The Debate in an increasingly complex visual culture.
 
Along with the transcript, this pocket-sized clothbound book contains a foreword by prominent design critic Rick Poynor, and essays from Dutch design historian Frederike Huygen, who discusses the historical context of the debate, and curator Dingenus van de Vrie, who looks more closely at these two giants' different perspectives on graphic design. A color gallery juxtaposes a representative selection from the oeuvres of Crouwel and Van Toorn, including exhibition designs, calendars, posters, brochures, artist book designs, postal stamps, and fascinating works such as the script of a 1969 stage production based on a story by Jorge Luis Borges, sealed in a tin can, and a many-gatefolded catalog for Ed Ruscha's "Dutch Details" at Groninger Museum.
Praise For The Debate: The Legendary Contest of Two Giants of Graphic Design…
A PRINT magazine Best Book of the Year
A Design Observer Best Book of the Year

"Designed by Chris Vermaes, who has shown that Wim Crouwel's systematic method and Jan Van Toorn's more intense idiosyncratic approach can be integrated, the book's compact size makes it a pleasure to hold. It should be of considerable interest to design historians as it treats in depth a significant event in Dutch graphic design history, while it ought also to engage graphic designers who can experience the intensity and nuances of a debate about design practice that have rarely existed elsewhere. Most of all, the book is a testament to the way that graphic design, thought by some to be a minor art, can support the weight of a thick and incisive discourse." 
—Victor Margolin, Journal of Design History

"The civil yet impassioned discussion would be one of few within the world of graphic design that would make the books—though not literally. For years, the talk had lived on among select enthusiasts, chiefly through hearsay and memory, surfacing only as fragments or asides in scant publications. It has now been translated in English, in full, for the first time. Accompanying texts by design critic Rick Poynor, design historian Frederike Huygen, and curator Dingenus Van De Vrie provide additional context to the event's proceedings, and a generous section of side-by-side plate pairings of Crouwel and Van Toorn's works—often produced for the same clients—reveal telling contrasts." 
—Surface

"This newly translated transcription of an intellectual joust between Wim Crouwel and Jan van Toorn takes the fertile ground of art versus commerce. The sparring happened back in 1972, but this first English translation highlights Crouwel's studious independence up against van Toorn's insistence on the importance of the designer's own politics and place in society. Backed up with context and portfolios from the two participants, this is a small book about big ideas that continue to resonate." 
—Wallpaper* 

"The graphic design book of the year."
—Michael Bierut

"Although significant, The Debate is a piece of history that was little-known to English speakers until now. Indeed it's only in recent years that the discussion has been published at all, and until the recovery of the recording by curator Dingenus van de Vrie in the early 2000s, the debate existed only in people's memories, and as a few fragments published as part of a monograph on Total Design—the studio co-founded by Crouwel in the early 60s. There's something tantalising about seeing finally set in words something that, for decades, had remained a matter of 'folklore.'"
—Grafik

"It's not often that we can witness two giants in their field dispute the very grounds of their discipline. With the recent transcription of a 1972 public debate between notable Dutch graphic designers Wim Crouwel and Jan van Toorn, we can sense what is at stake in such an exchange. The influence of this discussion was far-reaching—the two poles establish a spectrum along which most designers can position their practice. Along with the complete transcription, the book includes a section placing the debate in its historical context and an appendix of the designers' work. The latter, in particular, provides major insight. The two designers' projects for similar—and often the same—clients are placed side by side, and the visual impact of their philosophies becomes readily apparent." 
—Metropolis magazine 
"The first full English translation of this key debate, along with captions, images, glossy examples of the work of each and some fascinating context, in a wonderfully comprehensive publication." 
—
It's Nice That
The Monacelli Press, 9781580934121, 184pp.
Publication Date: February 24, 2015
About the Author
Wim Crouwel (b. 1928) is a graphic designer, typographer, and edu­cator. Inspired by Swiss design, the emerging International Style, and the principles of abstract art, Crouwel pursued clarity and simplicity in design, and embarked on experiments with letterforms and graphic systems, and a rigorous examination of the grid. In 1963 he cofounded Total Design, the first multidiscipli­nary design studio in the Netherlands, which was to become a dominant force in Dutch design. Presaging the era of digital typesetting, he designed the legendary typeface New Alphabet (1967). He is the subject of numerous books and exhibitions, and has received the British OBE, Knight of the Order of the Dutch Lion, Officer of the Order of Orange Nassau, the BKVB Funds Oeuvre Award, and Doctor Honoris Causa from Delft University.
 
Jan van Toorn (b. 1932) is one of the most significant and influential Dutch graphic designers of our time. Confrontational and idiosyncratic, he led the dissent against the 'objective' approach of design that dominated modernism, paving the way for the more critical, political and playful potential of postmodernism. He has taught graphic design and visual communication in The Netherlands and internationally, at institutions includ­ing Gerrit Rietveld Academie, the Department of Architecture at Eindhoven Technical University, and Rhode Island School of Design. From 1991 until 1998 he was director of the Jan van Eyck Academie in Maastricht. He was the first recipient of the Piet Zwart prize in 1985, and received Doctor Honoris Causa from the Royal College of Art in 2011. Van Toorn lives and works in Amsterdam.
 
Rick Poynor is a British writer, lecturer, and curator, specializing in design, photography, and visual culture. He was the founding editor of Eye magazine and cofounder of Design Observer. His articles, essays and reviews have appeared in numerous international publications, including I.D., Metropolis, Harvard Design Magazine, Adbusters, Blueprint, Icon, Frieze, The Guardian, and the Financial Times.
 
Frederike Huygen is the former curator of industrial design at the Boijmans Van Beuningen Museum, Rotterdam, the coauthor of the monograph Wim Crouwel: mode en module (1997), and author of two anthologies about Dutch design entitled Visies op vormgeving (2007, 2008).
 
Dingenus van de Vrie is assistant curator of the print collection at the Museum Boijmans Van Beuningen. He has written exten­sively about Dutch graphic designers, including Jac. Jongert, Jurriaan Schrofer, and Benno Wissing.
or
Not Currently Available for Direct Purchase