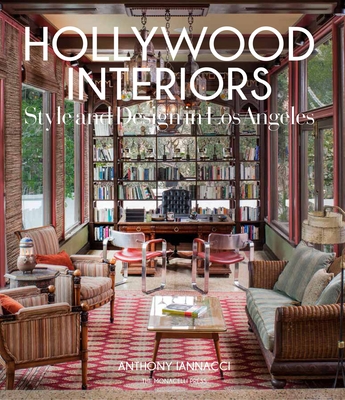 Hollywood Interiors
Style and Design in Los Angeles
Hardcover

* Individual store prices may vary.
Description
Hollywood individualism pervades every aspect of life in Los Angeles including interior design, where it manifests as highly original spaces from Malibu to Silver Lake in a dizzying assortment of styles—from 1920s and 1930s Spanish Revival houses in the Hollywood hills, to highly adorned Storybook houses, and airy and transparent midcentury modern forms.

Status in Los Angeles, like success in the ever-fascinating movie industry that sets it apart, is based on the creation of truly unique moments. A relentless celebration of personality fuels the city, creating a cult of the individual and driving the city's collective exaltation of talents and quirks. This collection of nineteen homes designed by Los Angeles-based architects and designers illustrates this exuberance and diversity. The homes showcased here in over 200 full-color images are in the hills and on the flats—they evoke Old Europe with antique or hand-crafted finishes, keep guests riveted to the moment with intensely rich details, or defer, with restrained palettes, to stunning views of the Pacific Ocean. They are of new construction by iconic figures such as Richard Meier & Partners, as well as classic homes such as a Spanish Revival by George H. Freuhling, a fanciful Storybook streamlined for contemporary life, and immaculately restored midcentury homes by Harwell Hamilton Harris and John Lautner.

Work by individuals who are relatively new to the design world and who are quickly making names for themselves—Courtney Applebaum, Andrew Benson, Chu Gooding, Trip Haenisch, Nickey Kehoe, and Olivia Williams—is featured alongside the city's established, award-winning designers including Commune, Paul Fortune, Melinda Ritz, Rose Tarlow, and Kelly Wearstler. The California Dream relies first and foremost on a willingness to be seduced by the place itself, and these architects and designers actively participate in a love affair with the place that makes their work possible, and which is tangible in this stunning presentation of residential spaces.
Praise For Hollywood Interiors: Style and Design in Los Angeles…
"It was love at first white-stucco wall when Big Bang Theory star Jim Parsons and partner Todd Spiewak walked into this 1922 Spanish-Moorish revival in Los Angeles, designed by Stiles O. Clements, the architect of the city's El Capitan Theatre. Seeking décor that honored the house's character, especially those ceilings, the pair chose Steven Johanknecht, a painter and student of art history who is a co-founder of L.A. design firm Commune. The designer's answer: Look at the home as an artwork itself, and choose furnishings whose textures, shapes and colors align with the house. The result, featured in Anthony Iannacci's book Hollywood Interiors: Style and Design in Los Angeles, is an artistic but livable oasis for the owners and their two dogs."
—The Wall Street Journal

"Over the last decade, Los Angeles has become known as a hub for great design, thanks in part to the industry that drives its culture and distinguishes it from every other city: Hollywood. In his new book, Hollywood Interiors, art critic and architecture historian Anthony Iannacci sets out to illustrate some of the most interesting interior design being done by L.A.–based decorators, discussing some of the conditions that have fostered the city's current aesthetic."
—Architectural Digest
The Monacelli Press, 9781580934169, 328pp.
Publication Date: May 10, 2016
About the Author
After studying art and architecture at the Cooper Union in New York City, Anthony Iannacci moved to Milan, where he established himself as an art critic, journalist, and curator. During his eleven-year tenure there, he was published regularly in Artforum, Artscribe, and Vogue Italia. He also orchestrated exhibitions across Northern Italy and consulted with collectors and dealers on American artists. Upon returning to New York, Iannacci dedicated his professional efforts to publishing volumes on architects and designers; he founded Edizioni Press, and, later, Architecture/Interiors Press in Los Angeles. He currently edits and art directs books on design, interior design, and architecture.