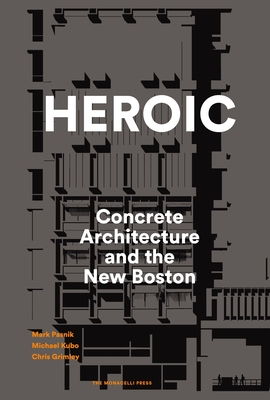 Heroic
Concrete Architecture and the New Boston
Hardcover

* Individual store prices may vary.
Description
Often problematically labeled as "Brutalist" architecture, the concrete buildings that transformed Boston during 1960s and 1970s were conceived with progressive-minded intentions by some of the world's most influential designers, including Marcel Breuer, Le Corbusier, I. M. Pei, Henry Cobb, Araldo Cossutta, Gerhard Kallmann and Michael McKinnell, Paul Rudolph, Josep Lluís Sert, and The Architects Collaborative.
 
As a worldwide phenomenon, building with concrete represents one of the major architectural movements of the postwar years, but in Boston it was deployed in more numerous and diverse civic, cultural, and academic projects than in any other major U.S. city. After decades of stagnation and corrupt leadership, public investment in Boston in the 1960s catalyzed enormous growth, resulting in a generation of bold buildings that shared a vocabulary of concrete modernism. The period from the 1960 arrival of Edward J. Logue as the powerful and often controversial director of the Boston Redevelopment Authority to the reopening of Quincy Market in 1976 saw Boston as an urban laboratory for the exploration of concrete's structural and sculptural qualities. What emerged was a vision for the city's widespread revitalization often referred to as the "New Boston."
 
Today, when concrete buildings across the nation are in danger of insensitive renovation or demolition, Heroic presents the concrete structures that defined Boston during this remarkable period—from the well-known (Boston City Hall, New England Aquarium, and cornerstones of the Massachusetts Institute of Technology and Harvard University) to the already lost (Mary Otis Stevens and Thomas F. McNulty's concrete Lincoln House and Studio; Sert, Jackson & Associates' Martin Luther King Jr. Elementary School)—with hundreds of images; essays by architectural historians Joan Ockman, Lizabeth Cohen, Keith N. Morgan, and Douglass Shand-Tucci; and interviews with a number of the architects themselves. The product of 8 years of research and advocacy, Heroic surveys the intentions and aspirations of this period and considers anew its legacies—both troubled and inspired.
Praise For Heroic: Concrete Architecture and the New Boston…
"As Mark Pasnik, Michael Kubo, and Chris Grimley document in their excellent history Heroic: Concrete Architecture and the New Boston, the roster of designers enlisted to recast the creaking Hub of the Universe as an up-to-date metropolis included several of the biggest names in twentieth-century architecture: Le Corbusier, Walter Gropius, Josep Lluís Sert, Breuer, Pei, and Rudolph." 
—Martin Filler, New York Review of Books

"In a fascinating new book, architects Mark Pasnik, Michael Kubo, and Chris Grimley extol the creative energy of the period from 1960 to 1976. And as Bostonians from Mayor Marty Walsh on down express disappointment in recent architecture, most notably the blocklike Seaport District structures designed by a handful of high-profile firms, there are lessons to learn from the age of monumental concrete." 
—The Boston Globe

"During the 1960s and '70s, tony Boston became the proving ground for a new generation of architects creating massive civic and university buildings of austere concrete. Heroic captures the strange beauty of Paul Rudolph's imaginative Government Service Center; Sert, Jackson & Associates' Peabody Terrace apartments; and other controversial structures." 
—Elle Decor 

"Heroic rebrands the concrete architecture built in Boston between 1960 and 1976 and, through a series of historical essays, interviews with architects and building profiles, digs into the intentions behind this oft-reviled period. The smartly illustrated building profiles are among the most revelatory, showing intricate spaces hidden under concrete skins."  
—Alexandra Lange, Curbed

"You can't fight City Hall—love it or hate it, the Brutalist edifice, like many others in Boston, is probably here to stay. But in a new book out this month, Heroic: Concrete Architecture and the New Boston, three local architecture academics argue that we all need to stop bitching and embrace our city's imposing slab-poured masterpieces." 
—Boston Magazine 

"Boston, city of charming Colonial-era brick rowhouses lining narrow cobblestone streets. Not exactly the place you'd expect to incubate a modern design revolution. And yet, when Brutalism first came to the US, the hard-edge architectural movement took its firmest hold here. The new book Heroic: Concrete Architecture and the New Boston by Mark Pasnik, Chris Grimley and Michael Kubo explores how Boston became an unlikely home for many of the world's great concrete buildings." 
—Alissa Walker, Gizmodo 

"A bravura history, capturing the energy, optimism, idealism and creativity of an architecture that is too often dismissed."
—Mark Lamster, Dallas Morning News

"The past several years have seen a campaign to erase an entire chapter of America's 20th-century architectural heritage, targeting the Brutalist public buildings of the 1960s and 1970s. But, says this book, which catalogs Boston's great concrete buildings from that period, the movement's defenders could use a better PR strategy—not Brutalist but Heroic."
—Metropolis

"A deep appreciation of a much-maligned movement. In the ancient world, concrete was not considered at first a finish material suitable for monumental architecture. As its plastic nature was valued and its technique refined, concrete formed curvilinear buildings such as the Pantheon in Rome. In the modern era and in combination with steel reinforcement bars that compensate for the weakness of the material in tension, poured-in-place (and perhaps even more so precast) concrete in architecture came to symbolize vestiges of totalitarianism and unforgiving designs. For coauthors Pasnik, Michael Kubo, and Chris Grimley, principals in the Boston-based design company, over,under, there is little irony in the adaptation of béton brut (raw concrete) into the style descriptor brutalism. Rather, the four essays, a catalog of buildings in and around Boston, and interviews with seven practitioners provide a persuasive and compelling defense of the possibilities of concrete. Page design evokes the era, full-spread illustrations communicate the texture and rigor of the designs, and the straightforward copy deftly chronicles the history and describes the structures. Essential for architecture collections."
—Library Journal

Heroic: Concrete Architecture and the New Boston by Bostonians Mark Pasnik, Michael Kubo and Chris Grimley (Monacelli Press) is a big, new, book-length argument that Boston City Hall and other much-unloved monumental concrete buildings erected here in the 1960s and '70s are unfairly maligned. The authors say these so-called 'brutalist' structures were actually attempts at a new, utopian civic architecture; the concrete intended to echo the classic brick and stone buildings for which the city is known. But the beautiful book is also a revelatory history, showing how these buildings reflected Boston's recovery from the Great Depression, unhappy experience of urban renewal, and bitter battles over school desegregation."
—Greg Cook, WBUR, The Artery

"I'm grateful to you all for what you've done. People used to come up to me and say, 'oh, you're a brutalist.' now, I say 'I'm Heroic!'"
—Michael McKinnell, Architect, Boston City Hall, Five Cents Savings Bank, Government Center Garage

"One of the very best books on Boston's architecture, of any period. And also one of the finest books on concrete brutalism, of any place."
—Daniel M. Abramson, Associate Professor, Art History & Director, Architectural Studies at Tufts University

"Every city has its architectural DNA, and Boston's lies partly in its monumental concrete architecture of the 1950s and 1960s. Heroic presents a magnificently perceptive view of this—and through a wonderful series of interviews with some of the architects responsible, gives a rare insight into that generation's attraction to concrete."
—Adrian Forty, Professor Emeritus of Architectural History at The Bartlett School of Architecture, University College London, author of Concrete and Culture: A Material History (Reaktion Books, 2012)

"Heroic successfully redefines the terms for discussing the monumental, concrete architecture of the 1960s, a critical step for thinking about its past and future."
—Timothy M. Rohan, Associate Professor of Architecture at University of Massachusetts, Amherst, author of The Architecture of Paul Rudolph (Yale, 2014)

"Open your hearts: concrete architecture is beautiful, inspiring, excessive, heroic. This book is a work of a passion to architecture, the people of, and the city where remarkable buildings of exceptional quality and urban poise blossomed in the 1960s. Do enjoy the deserved celebration of such amazing legacy!"
—Ruth Verde Zein, Professor at Mackenzie University, São Paulo, Brazil, author of "Brutalist Connections: a refreshed approach to debates and buildings."

"An extraordinary collection of civic architecture is now given its proper due after decades of being tagged with the unfortunate misnomer of 'Brutalism.' The historical articles and full visual documentation in this roster of 'new monumentality' should hasten its appreciation as an architecture heritage, while offering a salutary example of public investment in this present era of private greed."
—Anthony Vidler, Professor of Architecture, School of Architecture, The Cooper Union
Vincent Scully Visiting Professor of Architectural History, Yale University
The Monacelli Press, 9781580934244, 336pp.
Publication Date: October 27, 2015
About the Author
Mark Pasnik, Michael Kubo, and Chris Grimley are collaborators in the design firm OverUnder and codirectors of pinkcomma gallery, Boston.
 
Mark Pasnik is an associate professor of architecture at Wentworth Institute of Technology and has taught previously at the California College of the Arts, Carnegie Mellon University, Northeastern University, and Rhode Island School of Design.
 
Michael Kubo is an assistant professor of architectural history and theory at the Gerald D. Hines College of Architecture and Design, University of Houston. He holds an M.Arch from Harvard and a Ph.D. from MIT, where his dissertation focused on The Architects Collaborative and the rise of the architectural corporation after 1945.
 
Chris Grimley is an adjunct professor at Northeastern University and has taught previously at the University of British Columbia, Rhode Island School of Design, and Wentworth Institute of Technology.
 
The Heroic Project was launched in 2009 with an exhibition at pinkcomma gallery and has since appeared at the Art Institute of Chicago, Boston Architectural College, Boston City Hall, Carnegie Museum of Art, Cooper Union, National Trust for Historic Preservation, and other venues. Heroic has received honors from Docomomo US, Boston Preservation Alliance, Historic New England, and the Boston Society of Architects, and has been the topic of more than fifty reviews in journals and publications ranging from the New York Review of Books and Harvard Design Magazine to Slate and Gizmodo. They have also collaborated in the production of Imagining the Modern: Architecture, Urbanism, and the Pittsburgh Renaissance (2019), and Henry N. Cobb: Words & Works 1948–2018 (2018), both published by The Monacelli Press.
or
Not Currently Available for Direct Purchase