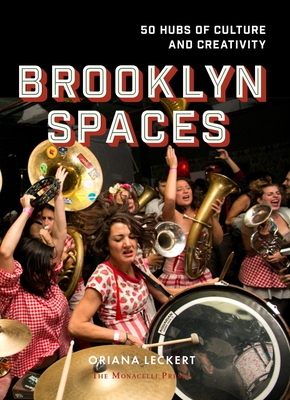 Brooklyn Spaces
50 Hubs of Culture and Creativity
Paperback

* Individual store prices may vary.
Description
As an incubator of culture and creativity, Brooklyn is celebrated and imitated across the world. The settings for much of its dynamic underground scene are the numerous industrial spaces that were vacated as manufacturing dwindled across the huge borough. Adapted, hacked, and reused, these spaces host an eclectic range of activities by and for Brooklyn's unique creative class, from DIY music venues to skillsharing centers. These are spaces to make art together, throw parties and concerts, host classes and performances, grow vegetables, build innovative products, and, most importantly, to support and inspire one another while welcoming more and more collaborators into the fold.
 
In Brooklyn Spaces: 50 Hubs of Culture and Creativity, Oriana Leckert introduces us to the creators driving Brooklyn's cultural renaissance, and in their company takes us on a tour of these unique alternative spaces. Whether a graffiti art show in an abandoned power station, a circus school in a former ice house, or a shuffleboard club in a disused die-cutting factory, these spaces present a vibrant cross-section of life in the borough where trends in music, fashion, food, and lifestyle are set. A chronicle of a thriving and ever-renewing scene, this book will appeal to everyone who's interested in the unique energy that makes Brooklyn Brooklyn.
Praise For Brooklyn Spaces: 50 Hubs of Culture and Creativity…
"As postindustrial Brooklyn inevitably goes the way of postindustrial Manhattan—i.e., double strollers and eager developers pushing out all the weirdos—Oriana Leckert sought to document this endangered landscape before it was too late. Check them out now while you can."
—New York Magazine's "Vulture"

"More than Oriana's stamina, I'm most awed by her honest enthusiasm for all of the creative endeavors she sees throughout Brooklyn (and parts of Queens). It is truly boundless. It is the perfect antidote for when I've seen one too many terrariums and feel so annoyed at Brooklyn's self-parodying that I just want to knock the damned things over. Brooklyn Spaces reads like a field guide to the underground creative culture of the borough—and like a love letter to it, from one of its biggest appreciators."
—Hyperallergic
 
"A visually compelling, totally unexpected tour." 
—Publishers Weekly

"If you think you know Brooklyn—the real Brooklyn—you have no idea. In Brooklyn Spaces: 50 Hubs of Culture and Creativity, Oriana Leckert takes you on an adventure into many of the still-thriving underground (or lesser known) scenes going on in the borough right now. Find out where you can play giant shuffleboard, see fire-breathers, make anarchist art, throw crazy parties, and keep the DIY spirit of Brooklyn alive. Full of beautiful photographs and interviews with the founders, owners, or guardians of these spaces, this book is the perfect road map for exploring Brooklyn this summer: just open it anywhere and go!" 
—Flavorwire

"Given the chance, most of us would have liked to have been a fly on the wall at Andy Warhol's Factory parties, or checked out the Mudd Club when it was still around. Even now there is a generation of music fans who will only be able to read about shows at legendary DIY venues like 285 Kent or Death By Audio. But such is the nature of creative, DIY spaces. Whether they abide by all of the rules or fly under the radar of liquor laws and building codes, they are forever subject to the whims of development and the stamina of their founders, existing only temporarily in the evolution of New York. So when Oriana Leckert visited three of these spaces over the span of a weekend around six years ago—The House of Yes, the Bushwick Trailer Park, and 123 Community Space—she recognized that she was witnessing the work of some creative, adventurous spirits that would not be around forever. When people stumble upon records of art movements past, said Leckert, 'Everybody is so excited because you want to know, "What did it feel like then? What did it look like? What did it sound like? Why were these people doing this?"…I wanted to make a cultural record of a moment in time that I thought was important.'" 
—Brooklyn Based

"Leckert's exploration of Brooklyn through 50 of its iconic 'spaces' (everything from art galleries to DIY hubs) is both a paean to the borough's current cultural climate as well as a testament to the fact that, no matter how much rents have spiraled and no matter how far out onto the fringes Brooklyn's creative class has needed to go to find viable venue space, art—to paraphrase Jeff Goldblum in that movie about dinosaurs—finds a way."  
—The L Magazine

"Getting lost and finding yourself in a Brooklyn DIY space can turn out to be the best adventure of your life. The fascination over these repurposed spaces lead Williamsburg-based blogger and writer, Oriana Leckert to create a website where she aggregated and told the story of 120+ of them over the course of several years. Now the 50 most prominent are being featured in an eponymous book. Several of the featured spaces closed between writing and publishing of the book, which only reminds us how dearly important books like Brooklyn Spaces are. The spark of inspiration coming from these repurposed factories influences reaches far beyond the borders of Brooklyn." 
—Bushwick Daily

"Documents the eccentricity that keeps this place so darn cool." 
—Brokelyn

"There are many Brooklyns. There's the Brooklyn you get when you walk the streets of Williamsburg with a map in your hands. There's the Brooklyn down by the Smith Street bars. The Brooklyn along the Promenade. The Brooklyn at the McKibbin lofts. The Brooklyn that is Little Russia by the Sea. The Brooklyn on 9th Street. Anyone who comes here for a day or for a lifetime has their own Brooklyn—their own café, bar, park, deli, and party that they insist you must try. 'The best,' they claim, 'in Brooklyn.' 'But, how can they be so sure?' you wonder. 'Have they tried all the other places?' Cultural hipstorian and author Oriana Leckert has—or it seems like it."  
—Greenpointers

"Leckert wrote her book based on her website of the same name, where she has been highlighting cool spots in the borough for five years. Locations include urban garden Bushwick City Farm, Red Hook's floating Waterfront Museum, and Sunset Park vodka-maker Industry City Distillery, along with quirky performance venues, artist collectives, and art galleries."
—The Brooklyn Paper
The Monacelli Press, 9781580934282, 224pp.
Publication Date: May 19, 2015
About the Author
Oriana Leckert is a writer, editor, and cultural "hipstorian" whose love for Brooklyn borders on obsession. She is the creatrix of the website Brooklyn Spaces (brooklyn- spaces.com), a compendium of the borough's creative and underground culture; a writer for Atlas Obscura, the definitive guide to the world's wondrous and curious places; and a matchmaker for ghosts at Gotham Ghostwriters. Her writing has also  appeared on Slate, Matador, Hyperallergic, Untapped Cities, and Brooklyn Based. She is relentlessly happy and will probably correct  your grammar.
or
Not Currently Available for Direct Purchase