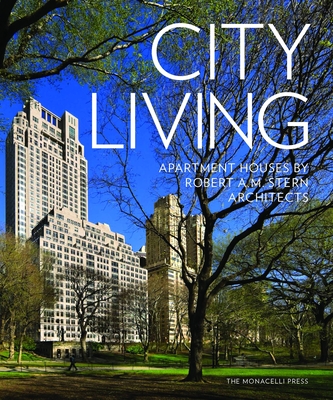 City Living (Hardcover)
Apartment Houses by Robert A.M. Stern Architects
The Monacelli Press, 9781580934350, 360pp.
Publication Date: January 12, 2016
* Individual store prices may vary.
Description
Today we build all over the world. We bring what we know, and we learn from our clients and our travels. And the fundamental reason that we succeed is that we are committed to architecture as portraits of places.
—Robert A.M. Stern

In City Living, Paul L. Whalen, Daniel Lobitz, and Michael D. Jones, partners at Robert A.M. Stern Architects, present sixteen completed apartment complexes and a portfolio of sixteen further projects in progress in New York and major cities across the United States and in Europe, Asia, and South America.

Over the past fifteen years, the high-rise residential apartment house has emerged as the focus of contemporary architectural practice, challenging the commercial office building for pride of place on city skylines around the world. Drawing on the rich heritage of apartment house design in New York City from the 1920s and 1930s, the RAMSA partners bring a unique perspective to this building type, creating strong forms with visually intriguing facades that meet the ground and touch the sky with elegance and dignity. These designs extend the classical tradition while inflecting toward the simplicity and abstraction of modernism.

Essential to the planning process is the integration of buildings into the cityscape and the urban neighborhood setting. The base of the apartment houses is articulated to reflect the scale of the surrounding buildings, and a portion of the site can be reserved for townhouses that create a transition between old and new.
About the Author
Architect, educator, and architectural historian, Robert A.M. Stern is the founding partner of Robert A.M. Stern Architects and dean of the Yale School of Architecture. He is co-author of a five-volume history of New York's architecture and urban development, culminating with New York 2000, as well as the monumental historical survey Paradise Planned: The Garden Suburb and the Modern City.

In addition to his central role in Robert A.M. Stern Architects' multifamily residential practice, Paul L. Whalen was partner-in-charge of two of the most influential urban planning projects of our time: the new town of Celebration, Florida, and the revitalization of the theater block of New York's 42nd Street. He is the principal in charge of the firm's representative office in Beijing.

Daniel Lobitz has been responsible for the design of residential and hotel projects from London to Los Angeles and has contributed to Robert A.M. Stern Architects' large-scale planning work, including an urban infill project in the Netherlands that was honored with a Charter Award by the Congress for the New Urbanism. He also leads the design of the firm's products collections.

Michael D. Jones has been responsible for the design of residential buildings in New York, Peru, Taiwan, and China. In addition to his residential work, he has been responsible for institutional buildings such as the Federal Reserve Bank of Atlanta headquarters.
Praise For City Living: Apartment Houses by Robert A.M. Stern Architects…
"In the monumental book City Living, presenting residential buildings by Robert A.M. Stern Architects, we find a good amount of graphic information and short explanations about the high-rise apartment houses raised by this practice in the past decades."
—Arquitectura Viva

"By now, most New Yorkers with any interest in real estate or architecture have an intuitive sense of just how active Robert A.M. Stern Architects has been in the city over the past decade and a half. But it takes a book like City Living, sumptuously published in January by The Monacelli Press, to remind us of the variety and quality that characterize the firm's work. This oversized 360-page tome runs through 15 projects completed by the firm as well as 16 more that are in the works, providing a brief discussion of each. With lavish and abundant photographs, it also includes excerpts from a lengthy discussion moderated by the architecture critic Paul Goldberger with Stern and his colleagues Paul Whalen, Daniel Lobitz and Michael Jones. Their shoptalk about creating iconic buildings in the Big Apple was great fun to read—and added some welcome and insightful substance to the visual delights of the book."—The Real Deal

"In the new book, four partners of Robert A.M. Stern Architects—Robert A.M. Stern, Paul L. Whalen, Daniel Lobitz and Michael D. Jones—present 15 completed apartment complexes and a portfolio of 18 projects under construction or in design around the world."
—Real Estate Weekly
or
Not Currently Available for Direct Purchase