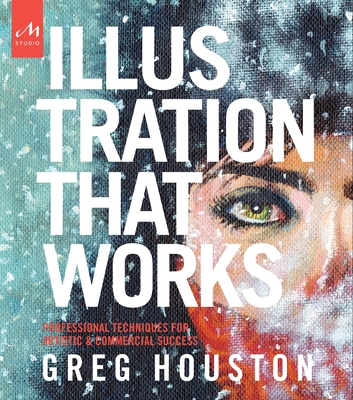 Illustration that Works
Professional Techniques for Artistic and Commercial Success
Paperback

* Individual store prices may vary.
Description
A straight-to-the-point "everything-you-need-to-know" guide to the world of professional illustration for aspiring artists and recent art-school graduates—not only the technical essentials (the difference between narrative versus conceptual illustration, diagramming a composition, mastering negative space, and the impact of different mediums from watercolor to digital to textiles), but industry insights, real-world insider advice, and honest personal development tips from an experienced teacher ("if you say your style is 'manga' or 'anime' then you have no style").

From a Newsweek cover depicting the Bush family as characters on Game of Thrones; to the Sistine Chapel (the complete illustrated bible)—visual storytelling through illustration has been an important mode of communication in every culture since ancient times. Unlike a fine artist, an illustrator creates images that serve a specific purpose, and successful illustrators need much more than just talent.

Drawing on a decade of teaching, including at Maryland Institute College of Art and as cofounder of the new Baltimore Academy of Illustration, along with over three decades of professional experience as an illustrator for clients like Marvel Comics, Relapse Records, and The Village Voice—Greg Houston places aspiring artists and recent graduates squarely in the current marketplace, and inspires them to pursue work in the large and lucrative field of professional illustration in a way that will be personally and professionally rewarding for years to come. Illustration that Works demonstrates exactly why illustration is so important to the way we see and communicate today, and how it can be done effectively in an infinite number of styles.

Includes:

Thought-provoking assignments
-        Illustrate an op-ed that's either pro or against religion in the public sphere
-        Create 3 posters for an HBO documentary series on sex (that can still be displayed anywhere)
-        Illustrate a pair of identical twins whose lives have veered apart dramatically
 
400 examples of artwork
-        Assignments completed by talented students
-        Pieces from 50 classic and contemporary master illustrators including Brian Sanders, Marshall Arisman, Roberto Parada, Steve Brodner, Paul Rogers, and Greg Spalenka
-        Houston's own pieces, both finished and failed
Praise For Illustration that Works: Professional Techniques for Artistic and Commercial Success…
"If you're an illustrator looking for guidance on how to create effective visuals that speak, this is the book you'll want to read. Greg Houston's lessons are delivered through short chapters with a right-to-the-point style that's full of energy. Though at times the book takes on the tone of a well-meaning drill sergeant, it packs in a ton of practical information that ranges in style and genre, with plenty of examples and exercises for budding illustrators. Houston's personal rules for success pop up intermittently between chapters."
—Communication Arts

"When it comes to commercial art, this is someone you'd want to listen to. So it's fitting that he's just published a book on the subject, Illustration That Works. As the title suggests, Houston's blue-collared approach to a successful career in commercial art preaches a strong work ethic.

Written at a quick pace not usually found in vocational guides, Illustration That Works is certainly informative and it's also entertaining as hell."
--AIGA Baltimore
 
Monacelli Studio, 9781580934473, 208pp.
Publication Date: March 15, 2016
About the Author
Greg Houston was born and raised in Baltimore, MD (the Baltimore Orioles celebrated by winning their first World Series that fall). He earned his BFA from Pratt Institute and has been illustrating professionally since 1988. His portfolio is large and stylistically varied.
 
Greg has worked for a wide variety of clients in nearly every aspect of the illustration field, including The Village Voice, Utne Reader, Warner Lambert Pharmaceuticals, Marvel Comics, LA New Times, Relapse Records, Miami New Times, Baltimore City Paper, Washington City Paper, Seattle Weekly, San Diego Union Tribune, John Wiley and Sons Publishing, Agora Financial, Johns Hopkins University, Baltimore Symphony Orchestra, BWI Airport, Atlas Games, Houston Press, Texas Monthly, Pop Smear, E! Channel, and Cleveland Scene. He also wrote and illustrated two graphic novels—Vatican Hustle and Elephant Man.
 
Greg has taught classes ranging from cartooning for kids to pre-college illustration classes, to courses for undergraduates and continuing studies students at Maryland Institute College of Art. He also teaches an online class for Craftsy. He is a cofounder of and instructor at the Baltimore Academy of Illustration, which opened fall 2015. He lives in Baltimore, MD, with his wife and cats.
 
www.greghoustonillustration.com
or
Not Currently Available for Direct Purchase