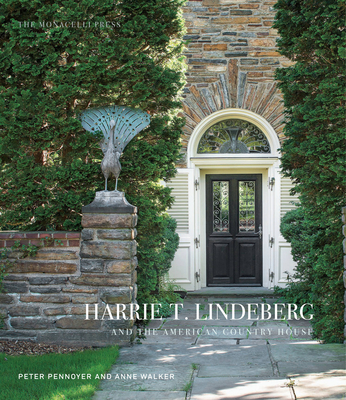 Harrie T. Lindeberg and the American Country House
Hardcover

* Individual store prices may vary.
Description
This architectural tour brings to light the genius and influence of Harrie T. Lindeberg, a leader of the American Country House Era who synthesized Scandinavian, European, and American traditions.
 
Harrie T. Lindeberg (1880–1959) was born of Swedish immigrants who settled in New Jersey. He apprenticed with architect George A. Freeman, joined the prestigious firm McKim, Mead & White in 1901, and forged out on his own in 1906, beginning fifty years of independent practice. An impressive client list includes the leading American families—Du Pont, Havemeyer, Doubleday—for whom he built houses in affluent suburbs and resorts across the country—Rhinebeck, Newport, Grosse Point, Lake Forest, and the Gold Coast of Long Island.
 
As a designer, Lindeberg drew inspiration from the English Arts and Crafts movement, with touches from the Beaux-Arts, mixed with Norman, Tudor, and Georgian elements. He borrowed ideas from his ancestral Sweden, including steep roofs and a floor plan that interacted closely with the landscape. Today, as his country houses enter their second century, a remarkable number stand as they were originally built, prized by their owners for their livability and their elegantly wrought design.
 
Architect Peter Pennoyer and historian Anne Walker bring Lindeberg's work to life in Harrie T. Lindeberg and the American Country House. This survey of Lindeberg's most stunning and influential projects includes more than 200 photographs—including new color photography by Jonathan Wallen—floor plans, and sketches. After introducing Lindeberg's personal history and professional background, the book traces his career from his acclaimed debut in Pocantico Hills to larger developments like Meadow Spring and the export of his signature style to the Onwentsia Country Club in Lake Forest, Illinois. Pennoyer and Walker follow Lindeberg as he adapted to the building busts of the Great Depression and the rise of modernism. Experimenting with President Franklin D. Roosevelt's aesthetic mission to bring America's architecture abroad, Lindeberg also designed the United States Legation in Helsinki.
 
A gorgeous entrée to one of America's most recognizable yet underappreciated architects, Harrie T. Lindeberg and the American Country House brings readers insight into how we view country houses today.
Praise For Harrie T. Lindeberg and the American Country House…
"Pennoyer and Walker's book, with sumptuous photography by Jonathan Wallen, is their fifth exploration of early 20th-century architecture by eminent New York practitioners. If you've only seen Lindeberg's houses in the monochromatic photos of previous monographs published in 1912 and 1940, viewing them in color—not just as architectural artifacts but as intricately detailed, richly textured settings in lush green landscapes—comes as a splendid surprise…. Handsomely rendered plans supplement the carefully curated images, and scholarly chapters about client, site, program, and design take this book far beyond the coffee table genre…. His synthesis of rational but gracious planning with simple yet picturesque form-making should be an inspiration to any architect—regardless of stylistic inclination—who seeks to learn lessons from history and apply them to new work that is both subtly original and enduringly beautiful."
—Architectural Record

"Certainly, no one is better qualified to write about historic country houses than architect Peter Pennoyer, a prodigious designer of homes inspired by these stately residences and a master restorer of many original examples.... Now, with his frequent writing collaborator, the architectural historian Anne Walker, he has come out with Harrie T. Lindeberg and the American Country House (Monacelli Press). No less a pooh-bah than Robert A.M. Stern says in his introduction that Lindeberg (1879–1959) 'brilliantly synthesized' previous architectural traditions."
—1st Dibs

"Lindeberg's cult following might widen in the very near future, due to Peter Pennoyer and Anne Walker, two terrific Manhattan architects whose scholarship has laden bookshelves with monographs that are as eloquent, sophisticated, and witty as their building projects. Harrie T. Lindeberg and the American Country House is the latest production for the industrious pair, principal and architectural historian, respectively, at Peter Pennoyer Architects in Manhattan. What they rightly emphasize is the seductive, easygoing charm of Lindeberg's projects."
—Architectural Digest

"In the new book Harrie T. Lindeberg and the American Country House, architect Peter Pennoyer and historian Anne Walker reflect on what makes the homes created by the under-recognized Lindeberg such marvels even today. New as well as historic photography, floor plans, and sketches of 20 of the architect's projects compromise the new tome, which picks up where Lindeberg's out-of-print monograph from the 1940s left off. The enthusiasm and appreciation Pennoyer and Walker have for his work leap off the pages, which are brimming with interesting facts and keen observations on the signatures of his varying style."
—Galerie

"Peter Pennoyer, one of the most prominent classical architects working today, and writer Anne Walker have rediscovered an architect whose simple, symmetrical, yet richly detailed houses delighted great American families in the 1910s, '20s, and '30s. Their new book, Harrie T. Lindeberg and the American Country House, presents 20 projects, many still standing, that convey a sense of gracious ease and restrained elegance that seems more appealing than ever.... Lindeberg embraced charm and whimsy, building in brick and stone, using shingles to mimic thatched roofs, incorporating elements and forms of English cottages (turrets, towers, and dovecotes), and setting his houses within "rooms" created by terraces, walls, and hedges. It is that combination of rigor with an almost story-book appeal that makes his houses so compelling."
—Dering Hall

"It's the perfect coffee table book and conversation piece."
—Long Island Weekly

"A handsome book, with beautiful photography and a persuasive, accessibly informative introduction, the book should prompt lovers of the elegantly simple, subtly innovative, and historically charming to set out on a spring morning to see for themselves (landscapes permitting) these four stunning signature residences. Readers can then appreciate why the authors revisited Lindeberg's achievements and made a strong case for his legacy."
—The Independent

The Monacelli Press, 9781580934497, 256pp.
Publication Date: November 21, 2017
About the Author
Peter Pennoyer founded Peter Pennoyer Architects, an award-winning firm recognized as a leader in classicism and historic preservation, in 1990. He is a member of Architectural Digest's AD100, a trustee of the Morgan Library & Museum, President of the Whiting Foundation, and former Chairman of the Institute of Classical Art and Architecture. He is the coauthor, with Anne Walker, of five books on the important early twentieth-century American architecture firms Delano & Aldrich, Warren & Wetmore, Grosvenor Atterbury, and Cross and Cross.
 
Architectural historian and author Anne Walker joined Peter Pennoyer Architects in 2000, and she has since collaborated with Pennoyer on five books about twentieth-century American architecture. She is the author of Peter Pennoyer Architects, and the The Finest Rooms in America with Thomas Jayne and Life at the Top: New York's Most Exceptional Apartment Buildings with Kirk Henckels.