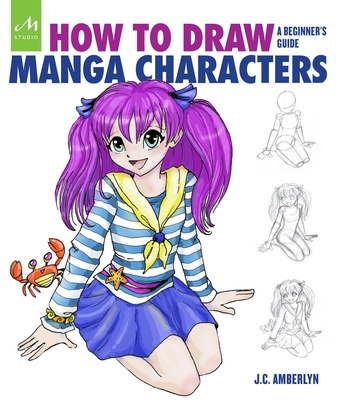 How to Draw Manga Characters
A Beginner's Guide
Paperback

* Individual store prices may vary.
Description
BRING YOUR IMAGINATION TO LIFE

In her second manga book, best-selling author J.C. Amberlyn focuses on favorite manga archetype characters, with a fun and lively how-to-draw book aimed at beginners. Every genre of manga has its typical characters—plucky hero and heroine; school boys and girls; funny friend/sidekick; serious warrior; young innocent; bishounen; genki girls; chibis; chibi animals; cat girls/cat boys; magical girls; adorable animals; strong/scary animals; gothic characters; fantasy characters—and they are all here along with the step-by-step drawing instructions needed to give even beginners the direction they need to create the favorite characters they can't get enough of. A final chapter on backgrounds, scenery, and the environment will further give readers the information they need to pull everything together and create their own manga characters and the worlds they live in. Includes 23 step-by-step demonstrations and exercises.

J.C. Amberlyn takes you through everything you need to know to create your favorite manga characters from Japanese comics or design your own.

INCLUDES IN-DEPTH INSTRUCTION ON:

INTRODUCTION
What Is a Character * Creating a Manga Character * This Book * Materials and Supplies

CHARACTER TYPES
Manga Character Archetypes and Story Genres * Manga Character Types * Some Common Terms and Color Associations

DRAWING THE HEAD AND FACE
Human Heads and Faces * Noses, Ears, and Mouths * Eyes * Hair * Animals

EXPRESSIONS
Emotions * Accessories * Exaggerating Features * Using Fur, Feathers, and Scales * Perspective * Animal Expressions * Dragons

BODIES AND GESTURES
Anatomy of a Chibi, Child, Woman, and Man * Gestures * Posture, Angles, and Character Appeal * Clothing and Accessories * Wings * Animal Bodies

SETTINGS, SCENES, AND SAMPLES
Props * Character Design Examples * Silhouettes * Scenes * Character Sheets
Praise For How to Draw Manga Characters: A Beginner's Guide…
"The perfect book for anyone who wants to understand and draw the Japanese world of Manga characters. If you are new to Manga it explains everything from the different types of humans and creatures as well as the personality traits of each one. The book goes way beyond just simply drawing for drawing sake. You can see how J.C. is able to build a character up from a sketch to a fully clothed and properly posed figure and how to give them the appearance of thought. Something a lot of other books on drawing leave out, but extremely important if you are drawing a comic or creating an animation."
—Marc Spess, author of Secrets of Clay Animation Revealed
Monacelli Studio, 9781580934534, 160pp.
Publication Date: May 17, 2016
About the Author
J.C. Amberlyn is an artist, book author, photographer, and animator. She is the author of Drawing Wildlife; Drawing Manga Animals, Chibis, and Other Adorable Creatures; and The Artist's Guide to Drawing Animals: How to Draw Cats, Dogs, and Other Favorite Pets. J.C. loves art, animation, animals, and adventure in the great outdoors. She seeks to create visual and written works of art that strike a chord with her audience, whether they celebrate the life that shares the planet with us or the rich inner workings of the human mind and experience. With her books, she shares techniques for creating epic stories, engaging characters, and appealing art for readers of all skill levels. Her work has received recognition and a number of awards and has been published in various media. She lives in Arizona.
or
Not Currently Available for Direct Purchase