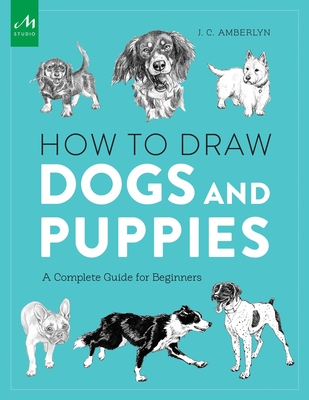 How to Draw Dogs and Puppies
A Complete Guide for Beginners
Paperback

* Individual store prices may vary.
Description
Art and dogs come together in this richly illustrated, in-depth guide to creating charming portraits of dogs big and small.

How to Draw Dogs and Puppies continues a rich tradition of dogs in art. In this step-by-step guide to drawing over 100 different breeds and mixed breeds of dogs and puppies in pencil and pen-and-ink, best-selling author J. C. Amberlyn combines her love of dogs with her beautiful, detailed drawing style.
 
Organized around the American Kennel Club (AKC) dog breed categories and covering many of the most popular breeds as well as the beloved mutt and puppies, the book includes 40 easy-to-follow step-by-step instructions for drawing a wide range of dogs in many poses and a variety of expressions. J. C. includes basic information on art materials and the fundamental mechanics of drawing so that even beginners will feel confident and successful as they learn to produce highly detailed, lifelike drawings of their favorite best friends.
 
This definitive guide includes in-depth instruction on:
 
·      ART MATERIALS AND DRAWING BASICS
·      DOG ANATOMY; POSES; COATS AND COLORS; EXPRESSIONS
·      PUPPIES
·      HERDING GROUP
·      SPORTING GROUP
·      NON-SPORTING GROUP
·      TERRIER GROUP
·      WORKING GROUP
·      TOY GROUP
·      NON-AKC BREEDS AND MIXED BREEDS
Praise For How to Draw Dogs and Puppies: A Complete Guide for Beginners…
"In this drawing guide, Amberlyn first addresses general dog anatomy, then moves on to capturing puppies at various stages of development. A wealth of specific dog breeds, both common, such as the beagle, and more unusual, such as the vizsla, are featured throughout.... A few detailed step-by-step projects and lots of instructive sketches and diagrams are provided in each chapter. This guide will delight and entertain beginner dog-loving artists."
—Library Journal

"This is the how-to book that wannabe-canine artists deserve to find under their Christmas tree. The artist gears instructions toward pencil, pen-and-ink, and digital media users, so it works for a variety of artists and offers step-by-step suggestions for how to capture 100 breeds, from working dogs to the hounds and toy groups. Amberlyn starts at the basics: dog anatomy, covering the dog from head to toe as well as coats, movements, and expressions. Anyone will learn lots about her favorite dogs from studying this useful illustration instruction manual."
—Bay Woof

"What are you waiting for? Find a pencil and some paper and get started—no matter how your drawing turns out, your dog is guaranteed to love it!"
—The Bark
Monacelli Studio, 9781580934541, 240pp.
Publication Date: March 21, 2017
About the Author
J. C. Amberlyn is an artist, book author, photographer, animator, and naturalist. She is the author of Drawing Wildlife; Drawing Manga Animals, Chibis, and Other Adorable Creatures; The Artist's Guide to Drawing Animals: How to Draw Cats, Dogs, and Other Favorite Pets; and How to Draw Manga Characters: A Beginner's Guide. J. C. loves art, animation, animals, and adventure in the great outdoors. She seeks to create visual and written works of art that strike a chord with her audience, whether they celebrate the life that shares the planet with us or the rich inner workings of the human mind and experience. With her books, she shares techniques for creating epic stories, engaging characters, and appealing art for readers of all skill levels. Her work has received recognition and a number of awards and has been published in various media. She lives in Arizona.
or
Not Currently Available for Direct Purchase