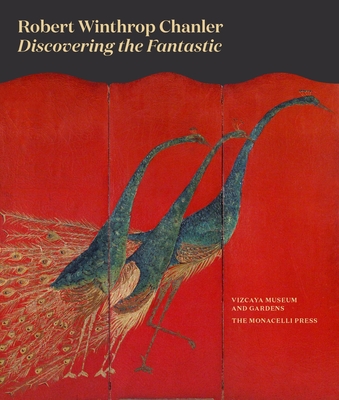 Robert Winthrop Chanler
Discovering the Fantastic
Hardcover

* Individual store prices may vary.
Description
In collaboration with Miami's Vizcaya Museum and Gardens, a rediscovery of a lost figure of American modernism—the early-twentieth-century American painter born into the Astor family, whose imagination and patrician clientele provide a fascinating artistic and biographical saga.

American modernism is populated with a cast of extraordinary characters, but few were as exuberant as Robert Winthrop Chanler, who made his artistic reputation with exotic and brilliantly colored lacquered screens and architectural interiors whose compositions feature fantastical avian, jungle, and aquatic creatures, many overlaid with iridescent metallic finishes. Chanler painted what entertained and interested him, while attracting wealthy Gilded Age patrons and earning popular and critical acclaim at numerous exhibitions—including the 1905 Salon d'Automne, the show featuring paintings by "les fauves," with Henri Matisse as their leader; and the legendary "International Exhibition of Modern Art" in New York City, popularly known as the 1913 Armory Show. But, despite such a prolific career and a fascinating body of work, Chanler quickly became an obscure figure after his death in 1930.

Robert Winthrop Chanler: Discovering the Fantastic is the first comprehensive examination in more than eighty years of an artist who straddled the divide between fine and decorative art, defined notions of originality and authorship during the birth of American modernism, and posthumously challenges twenty-first century preservationists through his idiosyncratic techniques and unorthodox material choices.

Co-published with Vizcaya Museum and Gardens, which preserves Chanler's fantastic undersea mural on the swimming pool grotto ceiling of the historic estate, the book includes essays that explore major commissions and conservation issues, all illustrated with new color photography, as well as a chronology and exhibition history, making this the definitive study on an indelible American modernist.
Praise For Robert Winthrop Chanler: Discovering the Fantastic…
"It could be he's unknown to us because his murals and installations are hard to exhibit. They exist mainly in media-averse private buildings and out-of-the-way estates. Probably, too, because Gilded Age art isn't vogueish anymore. Such a perfect moment for this book, then, the first in 80 years to dust off the luxuriant work of this maverick, this all-but-forgotten rock star."
—World of Interiors

"The focus of Robert Winthrop Chanler: Discovering the Fantastic is the subject's gobsmackingly marvelous works of art. Folding screens, murals, stained-glass windows, portraits, and architectural details—namely a towering bronze-and-plaster chimneypiece for arts patron Gertrude Vanderbilt Whitney that was designed to resemble a furious fire blazing from baseboard to ceiling—were among Chanler's many creations, which often incorporated bizarrely magical, strangely malevolent evocations of the natural world."
—Architectural Digest

"I first learned about the artist Robert Winthrop Chanler during my research writing The World of Gloria Vanderbilt. The artist and Gloria's aunt Gertrude Vanderbilt Whitney were great friends, and he designed the fantastical flame-licked fireplace in her Greenwich Village studio. Chanler was a bohemian aristocrat, related to Astors and Stuyvesants, but lived by his own rules, hardly a model of convention. This is the first major book (out in May) on his life and art in many years, and I look forward to hours poring over every page." 
—New York Magazine's "Design Hunting"

"Born in 1872, died in 1930, Robert Chanler was a brilliant artist. He worked in a variety of media—paint, lacquer, plaster—and a variety of formats—folding screens, murals, canvas. In New York and Europe, he ran with a swell crowd of influential artists and bohemians. The iconic Greenwich Village house of his friend, Gertrude Vanderbilt Whitney, features a spectacular Chanler fireplace. In a new book edited by Gina Wouters and Andrea Gollin, Robert Winthrop Chanler: Discovering the Fantastic, Chanler's life and work are detailed in a series of excellent essays by art historians, museum curators and family members." 
—Rural Intelligence

"Chanler influenced modernism with his fluidity between hiand low, representation and imagination, and screens and sculptures. Robert Winthrop Chanler: Dicsovering the Fantastic is a welcom contribution to conversations we have about making art today—and what it means to call yourself avant-garde in 2016 given the modernism that came before us."
—Miami Rail 

 
The Monacelli Press, 9781580934572, 256pp.
Publication Date: May 3, 2016
About the Author
Gina Wouters is curator at Vizcaya Museum and Gardens. Responsible for the research and display of a multifaceted collection, Wouters's focus centers on the twentieth century, including the commissioning of contemporary artists in a Gilded Age context.

Andrea Gollin is an independent editor and writer working with Vizcaya, The Wolfsonian, High Museum of Art, and other institutions.

Vizcaya Museum and Gardens is a National Historic Landmark that preserves the Miami estate of agricultural industrialist James Deering. Built between 1914 and 1922, Vizcaya is one of the most intact remaining examples from this era in United States history.
or
Not Currently Available for Direct Purchase