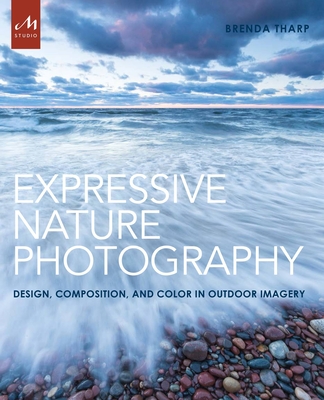 Expressive Nature Photography (Paperback)
Design, Composition, and Color in Outdoor Imagery
Monacelli Studio, 9781580934671, 240pp.
Publication Date: July 25, 2017
* Individual store prices may vary.
Description
Photographer and teacher Brenda Tharp marries photography craft with artistic vision to help intermediate photographers translate what they see into a personal impression of a subject in nature.
 
Using single images, along with before-and-after and with-or-without examples, Expressive Nature Photography teaches how to make exposures that are creative, not necessarily correct. Inspiring photographers to get out early and stay out late, this book explains how to use light, an essential element of outdoor photography. Readers will learn how to "see in the dark," use filters to create very long exposures, create a natural effect using light painting, photograph night skies and moonlit landscapes, and make the best use of available natural light. This book also covers how to use shutter speeds to express motion and capture the energy of fast-moving subjects, such rushing streams, ocean swells, and bounding wildlife. A chapter on the art of visual flow discusses how to create compositions that direct the viewer's eye through the frame for maximum impact. Photographers will develop a sense of when to break the "rules" of composition, how to use elements to frame subjects, what to include and exclude in the frame, how to create the feeling of depth and dimension in a scene, and how to push the boundaries of composition to make memorable nature images that capture and convey fresh viewpoints.
 
High-tech cameras can help create a good exposure and focused image, but they can't replace the artist's eye for composition, visual depth, and design, nor their instinct for knowing when to click the shutter. There are many books on photography technique focused on technical quality, but Expressive Nature Photography goes beyond the technical. It guides the way to pulling emotion and meaning out of a dynamic landscape, a delicate macro study, or an outstanding nighttime image.
About the Author
Brenda Tharp is an award-winning photographer, writer, and teacher specializing in travel, nature, and outdoor photography. Her images have been featured in numerous magazines and books, and she teaches throughout the United States, including Maine Media Workshops, Santa Fe Photographic Workshops, the Rocky Mountain School of Photography, Point Reyes Field Seminars, and BetterPhoto.com. Brenda is the author of three best-selling photography technique books—Creative Nature & Outdoor Photography (two editions) and Extraordinary Everyday Photography. She can be found at www.brendatharp.com.

A short list of her clients includes British Gas, Canon USA, Audubon, Nature Conservance, Outdoor Photography, Travel-Holiday Magazine, The Natural Museum of Chicago, Sierra Club, several inflight magazines, ATT, United Way, and the Red Cross. Getty Images and Danita Delimont represent Brenda's stock photography. Her fine art images are in private collections across the country. She lives in Santa Rosa, CA.