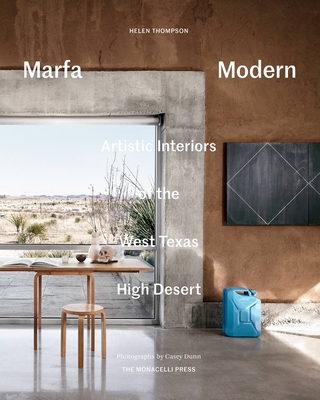 Marfa Modern
Artistic Interiors of the West Texas High Desert
Hardcover

* Individual store prices may vary.
Description
Twenty-one houses in and around Marfa, Texas, provide a glimpse at creative life and design in one of the art world's most intriguing destinations.
 
When Donald Judd began his Marfa project in the early 1970s, it was regarded as an idiosyncratic quest. Today, Judd is revered for his minimalist art and the stringent standards he applied to everything around him, including interiors, architecture, and furniture. The former water stop has become a mecca for artists, art pilgrims, and design aficionados drawn to the creative enclave, the permanent installations called "among the largest and most beautiful in the world," and the austerely beautiful high-desert landscape.
 
In keeping with Judd's site-specific intentions, those who call Marfa home have made a choice to live in concert with their untamed, open surroundings. Marfa Modern features houses that represent unique responses to this setting—the sky, its light and sense of isolation—some that even predate Judd's arrival.
 
Here, conceptual artist Michael Phelan lives in a former Texaco service station with battery acid stains on the concrete floor and a twenty-foot dining table lining one wall. A chef's modest house comes with the satisfaction of being handmade down to its side tables and bath, which expands into a private courtyard with an outdoor tub. Another artist uses the many rooms of her house, a former jail, to shift between different mediums—with Judd's Fort D. A. Russell works always visible from her second-story sun porch.
 
Extraordinary building costs mean that Marfa dwellers embrace a culture of frontier ingenuity and freedom from excess—salvaged metal signs become sliding doors and lengths of pipe become lighting fixtures, industrial warehouses are redesigned after the area's white-cube galleries to create space for private or personally created art collections, and other materials are suggested by the land itself: walls are made of adobe bricks or rammed earth to form sculptural courtyards, or, in one remarkable instance, a mix of mud and brick plastered with local soils, cactus mucilage, horse manure, and straw.
Praise For Marfa Modern: Artistic Interiors of the West Texas High Desert…
"This book of modern interiors captures both the unique sense of place and the vibrant artistic community of Marfa, Texas, a mecca for art pilgrims, design aficionados, and international hipsters. The idea of 'a place where the demand to live for art is so compelling as to be unavoidable' might sound hyperbolic, but when readers see how these residents live, they'll understand."
—Publishers Weekly

"Thompson's clear, brief essays describe how each homeowner arrived in Marfa—a nice contextual touch, given that it's a remote place where residents and visitors have to decide very consciously to be. Her descriptions of plans, materials, and design concepts give heft to what could have simply been a lifestyle coffee table book. Photographer Casey Dunn leaves people and styling (extraneous food, flowers, and props) out of his shots, for the most part, which keeps the focus on design choices as well as the play of the desert light inside. The result is a visual page-turner and is clearly a result of Thompson's reporting skills from her days at Metropolitan Home magazine. Marfa Modern serves as a primer on how a "watering hole" that [Donald] Judd put on the map has evolved without him, and lets it lay claim to importance as a place of vernacular design, not solely an art destination."
—Architectural Record

"Each of 21 houses showcases a different response to the landscape—from artful transformations of a former service station and a onetime jail to new builds with 360-degree views. Helen Thompson's brightly knowledgeable tone makes her a welcome guide, but Casey Dunn's 200 photos prove that the least expensive material—the light—remains key to each project's success."
—Interiors

"Marfa has grown to be an enclave for artists, chefs, hoteliers, and forward-thinking entrepreneurs. Helen Thompson describes the architecture as intensely personal, an oddball mix of funky vibes with ultra-modern art: 'Each home is a site-specific construction that exists in the spirit of Judd's command to make art suit its space. In the best sense, the thoughtful creatives who have settled lately in Marfa carry on the tradition of Marfa as Donald Judd saw it—as a place where the demand to live for art is unavoidable and compelling.'"
—Styleblueprint
The Monacelli Press, 9781580934732, 224pp.
Publication Date: October 25, 2016
About the Author
Helen Thompson is a nationally known writer whose areas of specialty include interior design, architecture, and food. She was formerly a food writer and editor for Texas Monthly magazine and the Texas city editor for Metropolitan Home magazine. She has also written and produced articles for Architectural Digest, Dwell, Elle Decor, House Beautiful, Martha Stewart Living, Traditional Home, Veranda, and many other magazines. She is the author of The Big Texas Steakhouse Cookbook and The Mansion on Turtle Creek Cookbook.
 
Casey Dunn is an Austin-based architectural and landscape photographer whose work has appeared in Architectural Digest, Architectural Record, Dwell, Interior Design magazine, the New York Times Magazine, and Paper City.