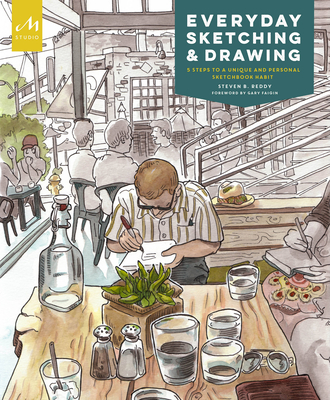 Everyday Sketching and Drawing
Five Steps to a Unique and Personal Sketchbook Habit
Paperback

* Individual store prices may vary.
Description
Everyday Sketching and Drawing offers an easy-to-follow, 5-step formula, which teaches beginner-friendly techniques for learning the skills necessary to make drawing and sketching an everyday habit. For those who have always wanted to or tried and failed to learn to draw it provides simple step-by-step instruction, plus easy-to-follow practice exercises, and provides the motivation and inspiration readers need to be successful. For those who already draw, Everyday Sketching and Drawing offers another technique to add to their drawing arsenal.

Why do so many adults come to view drawing as difficult or fraught with anxiety? Traditional art instruction is often bogged down with jargon, rules, and admonishments that unintentionally stifle the joy of drawing for its own sake.

Steven Reddy's new and easy approach to drawing instructs sketchers to document their unique and compelling lives in realistic yet playful sketches that record the places, spaces, and objects that help define them as individuals. He reminds artists to slow down, notice, and attend to the sketch-worthy scenes and subjects that are unstaged and always there in our everyday lives. He offers a versatile technique that can lead to a skill that fills sketchbooks with the visual details that differentiate one life from another. This approach is a meditative, relaxing alternative to academic concerns about perspective, proportion, and accuracy. Reddy encourages artists to capture in whimsical but detail-specific illustrations their unique, subjective interpretation of their visual surroundings.

Steven Reddy's drawing method produces extremely detailed and realistic scenes of objects and scenes in everyday life in a relatively short period of time (60 minutes to 3 hours or more, depending on the sketcher's preference). Modifying a technique utilized by Old Master oil painters, the drawings pass through 5 clearly articulated stages where each step focuses on one visual concept at a time.
Praise For Everyday Sketching and Drawing: Five Steps to a Unique and Personal Sketchbook Habit…
     "How to draw. Why to draw. What to draw. When to draw. Steve answers all these questions and so many more in this delightful, in-depth exploration of the drawing habit. It's not just a beautiful book—it's the doorway to a lifelong love affair with art." 
—Danny Gregory, founder of SketchBookSkool.com and author of An Illustrated Life

    "Making art and teaching art are two different skill sets. Steve Reddy is one of the few artists who excels at both. In this book, drawing enthusiasts of all levels will not only learn useful approaches to drawing from life and imagination, but also the confidence that only comes from learning from an exceptional teacher."
—Gabriel Campanario, founder of Urban Sketchers and author of The Art of Urban Sketching
 
     "Readers will notice immediately that they are in the presence of a gifted and empathetic instructor, more than familiar with the problems and hesitations beginners like to think are original to them. I've never read a how-to book that felt more like being in an actual class, with the teacher's encouraging voice in one's ear, anticipating our questions and needs. 
     Many people believe that drawing what one sees is a difficult, esoteric skill available only to the talented. Steve does as much to demystify and dethrone that misconception as he can fit between two covers. Repeatedly, Steve makes the crucial point—you can do this! And he clearly believes it, based on long classroom experience; by the time we finish the book, we do too."  
—from the Foreword by Gary Faigin, co-founder and artistic director of Gage Academy of Art and author of The Artist's Complete Guide to Facial Expressions

     You may say, "But there is nothing interesting to draw where I live." My response is to simply look at the amazing work of the prolific Steven Reddy. For me, an architect who likes to draw buildings and spaces, the magic of Steve's work is that his sketches capture the ordinary, everyday things that you might never even notice, like his next door neighbor's house, cozy cafes and stores, or a collection of objects on a shelf. His drawings are accessible and fun and chock full of details that add character and invite you in to examine each and every form. Best of all, his sketches have the power to elevate the mundane and often overlooked elements of life to the level of Art. By looking at how Steve views his world through his sketches, he teaches us to look at our world a little differently, to really see what is around us every day.
—from the Afterword by Stephanie Bower, architectural illustrator, blog correspondent for Seattle Urban Sketchers, and author of The Urban Sketching Handbook: Understanding Perspective.
 


Monacelli Studio, 9781580935050, 192pp.
Publication Date: April 19, 2018
About the Author
Steven B. Reddy teaches drawing and illustration at Gage Academy of Art in Seattle. He has also taught for the Seattle Public Schools since 1998. Reddy has a passion for creating detailed illustrations of urban scenes, cluttered interiors, and complex still lifes on location in ink and watercolor. His drawings from China and Mexico appear in Danny Gregory's An Illustrated Journey. Reddy also self-published Now Where Was I? An Illustrated Memoir, which showcases drawings that span 35 years from his daily sketchbook diaries. Gary Faigin trained at the Art Students League of New York and at the École nationale supérieure des beaux-arts in Paris. He has taught at the National Academy School of Design and at Parsons School of Design; currently he is the artistic director of the Gage Academy of Art in Seattle, which he also co-founded. He's the best-selling author of The Artist's Complete Guide to Facial Expressions, an art instruction classic. Stephanie Bower is an architectural illustrator, workshop instructor, blog correspondent for Seattle Urban Sketchers, and author of The Urban Sketching Handbook: Understanding Perspective.